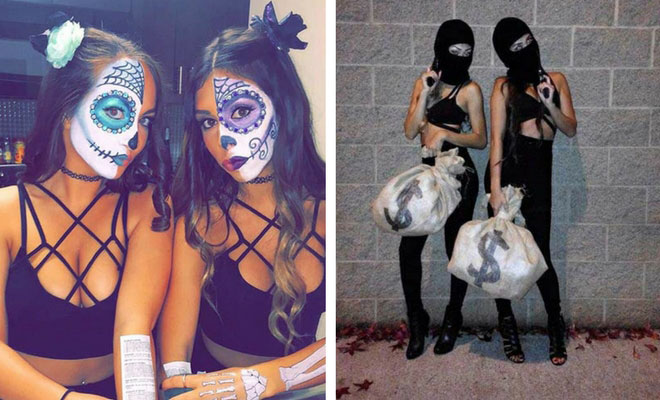 Instagram
Lifestyle
51 Halloween Costume Ideas for You and Your BFF
By
|
21. Easy DIY Pinatas
It's cute and colourful – two things that are guaranteed to brighten up anyone's Halloween party. We think this would make for great Halloween costume ideas for you and your BFF, or even for twins, and you could even consider trying to persuade your BAE to come dressed as a piñata too. Do you think you could get him to say yes as easily as you could your BFF? Lots of crepe paper will be your best friend for this look, and you'll want to start preparing the costume early too. Leaving this to the last minute will more than likely result in disaster. You know how nothing goes right when you have no time to correct your mistakes!
22. Unicorns
Doesn't everyone want to be a unicorn this year? They're everywhere – these fictional creatures that are never seen anywhere, and we think it's because they're so magical. What would you rather be if you could – a unicorn or a mermaid? The best thing about this best-friends-forever outfit is that all you really need is a unicorn horn. The rest of the outfit could either be white, or rainbow colours, dependant on how you feel. You can find these unicorn horn-headbands all over the place right now too. We'd suggest ordering now before they sell out.
23. Toddler Pageant Stars
Check your TV guide these days and there's a good chance you'll find a bunch of shows dedicated to toddler pageants, and this works on both side of the globe too. There's something about those pageants that really get people talking … usually on completely different sides of the argument too. It's a great idea if you and your BFF are known to be … well, brats. Go for a tutu and a leotard, add a tiara, and stick the pacifier in for good measure. We think it's bound to get people giggling, how about you?
24. Anna & Elsa
They weren't really enemies, but sisters are just as bad as enemies, and that's why we totally related to this Anna and Elsa costume – perfect when you're looking for Halloween costume ideas for you and your BFF. It's a hot topic. Everyone's still singing 'Let It Go', and it's coming up to Christmas again so you know that song will be overplayed to death within a few short weeks. For some people, just hearing "Frozen" is enough to remind them of how MASSIVE that movie got … and how much everyone was obsessed with it. Frightening enough!
25. Daria and Jane
Daria was the TV show, the one in the green coat that you can see here, but the girl in the red coat was Jane Lane, Daria's BFF, and we think together they make for the perfect BFF costume for Halloween. Jane is the more outgoing of the two, but she's also the most well-adjusted to. Which one do you think you'd be good at playing? Which of the two girls would you most like to play?
26. Dark & White Angel
If you've never found anything fun about being good, behave in certain manner and dressing in white, this dark angel costume is for you! But where there is bad there is good, right? Channel your inner dark and white angel and give people some insight into your dramatically different personalities.
27. The Handmaid's Tale Costumes
If you two loved watching The Handmaid's Tale then you'll love dressing up as Handmaids. For these costumes you will need red dresses, white bonnets and boots.
28. DIY Gumball Machines
This look is sure to create some long-lasting memories!
Here is how you can DIY this cute costume:
https://youtu.be/MMJmTbIhJ_s
29. Chucky and Tiffany
If you and your best friend are horror movie fans, you'll gonna love this awesome costume idea. Here we have a murderous doll duo that will freak everyone out! Luckily, we found YouTube tutorials for these two awesome looks, so your transformation can be as easy as it gets.
Bride of Chucky makeup tutorial:
Chucky makeup tutorial:
30. Easy KISS Halloween Costumes
We love this easy KISS costumes and think you will too! They are a perfect choice for last minute costume ideas.