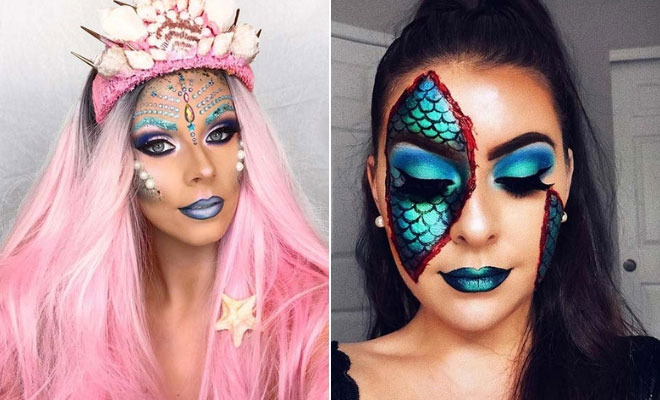 Instagram
Lifestyle
45 Mermaid Makeup Ideas for Halloween
By
|
One of the most popular makeup looks for costume parties is the mermaid. This is no surprise because the idea is so versatile. You can be as creative as you like and be a beautiful mermaid, a scary mermaid or even look magical! From Halloween to themed parties, there is a mermaid look to suit any occasion. To give you some inspiration, we have found 45 mermazing mermaid makeup ideas. There is something for every skill level, so take a look and see which mystical mermaid you want to be!
1. Illusion Half Mermaid Makeup
First up, we have a mermaid makeup idea that features a super cool illusion. The makeup artist has made it look like there are mermaid scales under her skin. We love this idea because it is super creative and very unique. The blood makes the mermaid makeup look a little scarier so it would be perfect for Halloween. There are tutorials online that can show you how to create the scales and you can just add a little fake blood around the scaly area to recreate the look.
2. Stunning Makeup Idea
If you want to go all out with your makeup, then this could be perfect for you! Here we have amazing mermaid makeup complete with fins, shells and more! We love the use of fins because it creates a more mystical mermaid look. If you love crafts, then you can create fins yourself, but you can find ear cuffs and headbands with mermaid fins already attached on stores like Etsy. You would definitely win best costume at a party with makeup like this.
3. Easy Mermaid Makeup
Need simpler makeup or maybe you need a last minute makeup look? If so, you need to check out this next idea. Here we have easy and beautiful mermaid makeup. The makeup artist has created colorful scales, worn pearls and there is a little starfish too. Her actual makeup is glam like you could wear to any party. Similar scales can be created with net and makeup, there are tutorials online that can show you. You can recreate with or without the starfish and pearls.
4. Makeup and Costume Idea
The next idea is perfect for those who need makeup and costume inspiration. For this look, the artist has created simple and cute mermaid makeup. You can recreate this with blue and purple makeup colors and use the net technique for the scales. The mermaid costume is finished off with a wig, shell crown and cute top. You could wear a longer top if you were not comfortable in the bikini style. Similar shell accessories can be bought online or made yourself if you like crafts.
5. Gory Hooked Mermaid
This next makeup look is one of our favorites! It is such a unique idea and it is a little gory too which is perfect for occasions like Halloween. The makeup artist has created a "hooked mermaid". She has a fishing hook attached to her lip and she has scales under her skin. The look is finished off with shells and a starfish that are stuck in her skin. It is an awesome and creative idea. You can check out the full list of products used to create the look on the page below.
6. Simple, Mermazing Makeup
Next, we have a mermazing makeup idea! This is another look that is quite simple to recreate. The makeup artist has used the net technique to create the scales, has created stunning eye makeup and has worn a wig. It is a cool and beautiful look. If you want to try this makeup yourself, then you will find a tutorial and a list of the products used on the page featured below the image.
7. Cute Mermaid Look
Looking for a cute makeup idea? If so, this is could be for you. Here we have a stunning mermaid look. The artist has created small scales, gorgeous blue eye makeup, blue lips and has finished off the look with shells and pearls. We also love the shell headband which you could create with a small pack of shells, a plain headband and hot glue. Makeup like this is easy to wear and is perfect for a party.
8. Pretty and Magical Mermaid Makeup
Bring beauty and magic to any party with mermaid makeup like this! The mermaid makeup features purple scales with sparkle, purple eye makeup and accessories like pearls and starfish. It is a stunning look and it will wow everyone. You could even wear a wig to make your makeup look even more mystical.
9. Colorful Mermaid Makeup Idea
Next, we have a colorful and bright makeup idea to show you. The artist has created purple and blue scales with beautiful eye makeup and there are even accessories like gems and glitter too. It is a mermazing look and it will suit everyone. There is a tutorial for this makeup on the page below and it features a super cool mermaid scale stencil.
10. Mermaid Skull Makeup
If you are looking for more unique mermaid makeup, then you need to check this out! Here we have a mermaid and skeleton combination! The mermaid elements are the gold shell, blue makeup colors, hair and the stunning shell crown while for the skull makeup, she has a gold skeletal mouth and nose. It is such a cool and creative idea and it is giving us Pirates of the Caribbean vibes.