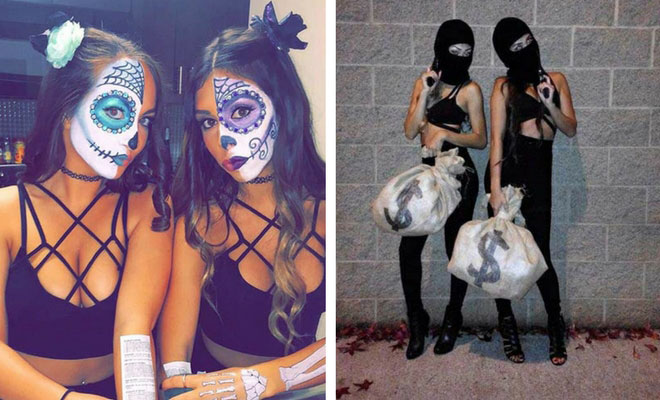 Instagram
Lifestyle
25 Halloween Costume Ideas for You and Your BFF
By
|
If there's one thing harder than trying to find matching costumes for you and your BAE, it's trying to find matching costumes for you and your BFF. Finding something that pleases you both, whilst being flattering to both of your body types, can be hard work. Luckily, we think we've found a few genius ideas to get you started.
Perhaps it's time that your BFF saw a few of these … ?
1. Hot Burglars
Burglars are scary. Perhaps hot burglars aren't that scary, but it's definitely a great idea for a last minute Halloween costume. The clothes just need to be black (and as revealing as you dare), and the balaclavas can easily be replaced by tights or leggings if you don't happen to have them to hand. Because, let's face it, who does?
Complete the look with those swag-bags, and you have one of the greats when it comes to Halloween costume ideas for you and your BFF.
2. Half Face Sugar Skull
You could always go as the mirror image of each other too, just like these half face sugar skull costumes. Again, an all-black-everything outfit is perfectly matched with half a face of crazy-beautiful makeup.
And you still have one side of your face to show off your great 'normal' makeup skills too. What's not to love about this one?
3. Stormtrooper + Princess Leia
Who said stormtroopers needed to be male anyway? We certainly didn't, and when we're talking about Halloween costume ideas for you and your BFF, this one's definitely one to add right to the top of the list.
One thing is for sure – we bet you won't be buying many of your own drinks with this sassy get-up. And when you think about it, there are plenty of ways you could mix this one up – Darth Vader, in fact, any of the Star Wars cast. Go crazy with it!
4. Spooky Alice & Little Red Riding Hood
Alice in Wonderland and the Little Red Riding Hood could totally have been friends in a past life, and we love this spooky little combination of the two – a great way to bring two fairy-tales together in a way that you and your BFF will both love.
You could use these two characters, or even add a wolf into the mix, and you could even go dressed as one of the little piggies if you wanted to. There's so many options to choose from!
5. Strawberry + Pineapple
There's nothing really scary about a strawberry and a pineapple, but it's definitely a fruity little number that should get everyone all juiced up … Do you see what we did there?
These costumes are so easy, you'll kick yourself for not thinking about it first. One outfit is red, one is yellow, and you could use dresses, skirts and tops, trousers, leggings, shoes, or anything else you wanted. It's another of those costumes that can be completely customised. Just add the greenery to the top so it's easy to recognise what you're actually meant to be.
6. Crazy Cat Lady + Cat
Let's be honest about this – most of us our crazy cat ladies deep down, and what better way to pay homage to that than with this crazy cat lady Halloween costume, complete with cute kitty-cat. The only problem you'll have here is working out which of you will portray who. (Cue the big fight to play the sexy kitty!)
Raid your Nan's closet for the crazy cat lady costume, and wear all black with kitten ears and some cleverly designed kitty makeup for the feline sidekick. It's a great costume to consider when you've left things to the last minute … which we all do.
7. Poison Ivy + Catwoman
Why wouldn't Poison Ivy want to hang out with Cat Woman? If there's three of you, you could even throw Harley Quinn into the mix too. They've had their fair share of adventures over the years, and they've had each other's backs, just as all good BFF's should.
There are so many versions you could play this too. If you didn't want to play the female superheroes and villains, you could just play female version of the male ones – Batwoman, Spiderwoman, Wonderwoman … All kicks babes, obviously.
8. Super Mario + Luigi
Here's a fun fact about the Super Mario – if you stay in one place for long enough during the game, hesitating on your next move, the Hammer Bros will actually come and chose you, and they'll try and kill you too!
In the real world rather than game world, we can't think of anything cooler to dress up as with your BFF than Mario and Luigi. If there's a whole gang of you, you could even throw Princess Peach in there too!
9. Marilyn Monroe + Audrey Hepburn
They are two of the most iconic women in the world, so shouldn't you and your BFF dress up as Marilyn Monroe and Audrey Hepburn? Any excuse to wear that infamous white dress … for Marilyn, obviously. Audrey just needs to put up with some pearls and a long cigarette holder.
If you wanted to make Halloween costume ideas for you and your BFF like this one even better for the special occasion, you could even 'zombie' the two stars up – add some fake blood and some gory / green makeup. Only if you want to, of course.
10. BFF's with Superpowers
Remember we spoke about superheroes and super villains? Well, what about these two saucy and sassy ladies? Super-friends with super-powers … A perfect combination for a great movie if you ask us.
Before you think about turning away the trick-or-treaters that come to your house this year, it might be wise to reconsider. In the medieval times, if a beggar was to turn up at your door dressed up in a spooky costume and you turned them away empty-handed, the wrath of the spirits and spooks would fall down upon you. Okay, we get it, make sure we pick up plenty of treats! Otherwise these two will use their superpowers for bad, and not good!