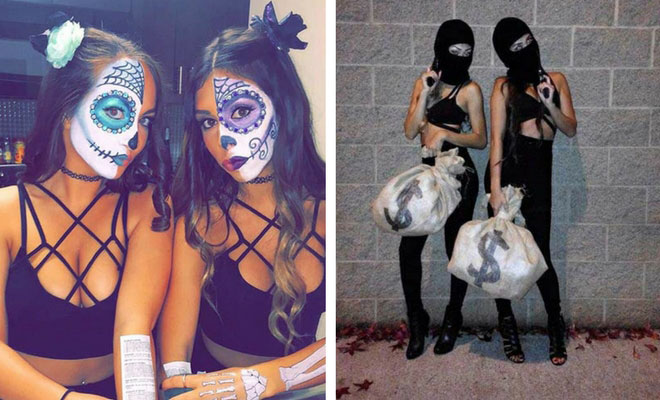 Instagram
Lifestyle
51 Halloween Costume Ideas for You and Your BFF
By
|
If there's one thing harder than trying to find matching costumes for you and your BAE, it's trying to find matching costumes for you and your BFF. Finding something that pleases you both, whilst being flattering to both of your body types, can be hard work. Luckily, we think we've found a few genius ideas to get you started.
Perhaps it's time that your BFF saw a few of these … ?
1. Hot Burglars
Burglars are scary. Perhaps hot burglars aren't that scary, but it's definitely a great idea for a last minute Halloween costume. The clothes just need to be black (and as revealing as you dare), and the balaclavas can easily be replaced by tights or leggings if you don't happen to have them to hand. Because, let's face it, who does? Complete the look with those swag-bags, and you have one of the greats when it comes to Halloween costume ideas for you and your BFF.
2. Half Face Sugar Skull
You could always go as the mirror image of each other too, just like these half face sugar skull costumes. Again, an all-black-everything outfit is perfectly matched with half a face of crazy-beautiful makeup. And you still have one side of your face to show off your great 'normal' makeup skills too. What's not to love about this one?
3. Stormtrooper + Princess Leia
Who said stormtroopers needed to be male anyway? We certainly didn't, and when we're talking about Halloween costume ideas for you and your BFF, this one's definitely one to add right to the top of the list. One thing is for sure – we bet you won't be buying many of your own drinks with this sassy get-up. And when you think about it, there are plenty of ways you could mix this one up – Darth Vader, in fact, any of the Star Wars cast. Go crazy with it!
4. Spooky Alice & Little Red Riding Hood
Alice in Wonderland and the Little Red Riding Hood could totally have been friends in a past life, and we love this spooky little combination of the two – a great way to bring two fairy-tales together in a way that you and your BFF will both love. You could use these two characters, or even add a wolf into the mix, and you could even go dressed as one of the little piggies if you wanted to. There's so many options to choose from!
5. Strawberry + Pineapple
There's nothing really scary about a strawberry and a pineapple, but it's definitely a fruity little number that should get everyone all juiced up … Do you see what we did there? These costumes are so easy, you'll kick yourself for not thinking about it first. One outfit is red, one is yellow, and you could use dresses, skirts and tops, trousers, leggings, shoes, or anything else you wanted. It's another of those costumes that can be completely customised. Just add the greenery to the top so it's easy to recognise what you're actually meant to be.
6. Crazy Cat Lady + Cat
Let's be honest about this – most of us our crazy cat ladies deep down, and what better way to pay homage to that than with this crazy cat lady Halloween costume, complete with cute kitty-cat. The only problem you'll have here is working out which of you will portray who. (Cue the big fight to play the sexy kitty!) Raid your Nan's closet for the crazy cat lady costume, and wear all black with kitten ears and some cleverly designed kitty makeup for the feline sidekick. It's a great costume to consider when you've left things to the last minute … which we all do.
7. Poison Ivy + Catwoman
Why wouldn't Poison Ivy want to hang out with Cat Woman? If there's three of you, you could even throw Harley Quinn into the mix too. They've had their fair share of adventures over the years, and they've had each other's backs, just as all good BFF's should. There are so many versions you could play this too. If you didn't want to play the female superheroes and villains, you could just play female version of the male ones – Batwoman, Spiderwoman, Wonderwoman … All kicks babes, obviously.
8. Super Mario + Luigi
Here's a fun fact about the Super Mario – if you stay in one place for long enough during the game, hesitating on your next move, the Hammer Bros will actually come and chose you, and they'll try and kill you too! In the real world rather than game world, we can't think of anything cooler to dress up as with your BFF than Mario and Luigi. If there's a whole gang of you, you could even throw Princess Peach in there too!
9. Marilyn Monroe + Audrey Hepburn
They are two of the most iconic women in the world, so shouldn't you and your BFF dress up as Marilyn Monroe and Audrey Hepburn? Any excuse to wear that infamous white dress … for Marilyn, obviously. Audrey just needs to put up with some pearls and a long cigarette holder. If you wanted to make Halloween costume ideas for you and your BFF like this one even better for the special occasion, you could even 'zombie' the two stars up – add some fake blood and some gory / green makeup. Only if you want to, of course.
10. BFF's with Superpowers
Remember we spoke about superheroes and super villains? Well, what about these two saucy and sassy ladies? Super-friends with super-powers … A perfect combination for a great movie if you ask us. Before you think about turning away the trick-or-treaters that come to your house this year, it might be wise to reconsider. In the medieval times, if a beggar was to turn up at your door dressed up in a spooky costume and you turned them away empty-handed, the wrath of the spirits and spooks would fall down upon you. Okay, we get it, make sure we pick up plenty of treats! Otherwise these two will use their superpowers for bad, and not good!
11. Zombie School Girls
And, as we've already discussed, there's not much you can't 'zombie' up these days, and zombie-style costumes have become increasingly popular as TV shows such as The Walking Dead. Who doesn't love a good zombie movie? Better than that, who doesn't love a good zombie TV show binge!
12. That Miss Universe Scandal
If you're looking for Halloween costume ideas for you and your BFF that are beyond hilarious and brilliant, this is definitely one of the ones you should look towards. Do you remember THAT Miss World scandal? They crowned the wrong woman, had to take the crown off her, and then crown the actual winner… If the rivalry between you has been the subject of jokes for some time, why not make the most of it and go with this Miss World scandal costume idea? It's brilliant, and everyone will love it. (If they've seen the news and know the story … )
13. Angel & Devil
You can't get more classic when it comes to Halloween costume ideas for you and your BFF than using the classic good / bad combo – heaven and hell, devil and angel, white and red. It's a classic combo for Halloween, and with everyone else going super-extravagant and playing around with complex makeup and fake blood looks, sometimes it pays to go back to basics. There's a good chance no one else in the room will be dressed the same as you two.
14. Cruella De Vil + Dalmatian
It's Halloween done the Disney way – the way you definitely don't want to show the kids. They certainly wouldn't want to see what happened to those poor dalmatian puppies once the queen of animal-cruelty, Cruella De Vil, gets hold of them, and this brilliant Halloween costume shows you just that. You don't need to take things this far if the kids are involved, of course. Perhaps leave the (fake) culling of (fake) puppies out of it this year, eh?
15. Pizza Delivery Guy + Pizza
If you were wondering what to do with that massive pizza inflatable pool toy you bought for the summer and never actually ended up using, you've just found a great job for it. Pizza delivery guy (or girl), and fresh pizza – the perfect Halloween costume ideas for you and your BFF! What's your favourite? Pepperoni? Are you a fan of anchovies? Do you like extra mushrooms? Whatever it is, wear it with pride. Repeat after us – we love pizza!
16. Starbucks Coffees
What's the first thing you do in the day when you hang out with your BFF? You go and get yourselves a Starbucks, of course, and it's about that time that all the pumpkin-spiced delights come on offer. If you can't live without coffee, why not dress up as a cup of one for this Halloween season? Now what would you dress as? Pumpkin spiced latte? Skinny latte macchiato? Perhaps something chocolate-based?
17. Cool Skeletons
Halloween is the time that the divide between the spirit world and our world is at its thinnest, and that's why we dress up as ghouls and ghosts – to stop the actual ghouls and ghosts realizing its us and coming after us. Well, something like that. The story has been twisted so many times over the years, and different places in the world celebrate Halloween in different ways, and for different reasons. That's where the skeleton comes into play, and the connection it has to Halloween – it's the symbol of death for many cultures, especially the skull image, and that's what's been used so brilliantly to create this stunning Halloween makeup look that you could totally rock with your BFF. (Or BFF's!)
18. Gossip Girls
There was nothing scarier at school than coming face to face with one of the mean girls, or gossip girls. They were called different things in different schools, right? But they all amounted to the same thing – if you weren't in their group, you just weren't one of the cool kids. The movie had it right … As did the TV show. Maybe it's time to dig out your old uniform? Would it still fit? (We tried, ours doesn't!)
19. Jack + Sally (The Nightmare Before Christmas)
It's Halloween, which means it's almost Christmas, and you can combine the two with this fabulous Nightmare Before Christmas inspired Halloween costume for you and your BFF – Jack and Sally. The costs are fabulous here, but it's the makeup that really does the trick, especially with such an iconic look as this one. All you need to do is work out who will play Jack, and who will play Sally.
20. Maleficent + Aurora
It was one of the biggest movies of 2014, and for once, it featured the villain of the story, in this case – Maleficent from Sleeping Beauty. The good versus bad divide is a great one to play out when looking at Halloween costume ideas for you and your BFF, and there's so many you could pick from too – so many Disney movies you could choose. This one features Aurora (Sleeping Beauty) and her nemesis, Maleficent, but you could always look at Jasmine or Aladdin and their nemesis, Jafar? Or Simba and Mufasa … You see where we're going with this?
21. Easy DIY Pinatas
It's cute and colourful – two things that are guaranteed to brighten up anyone's Halloween party. We think this would make for great Halloween costume ideas for you and your BFF, or even for twins, and you could even consider trying to persuade your BAE to come dressed as a piñata too. Do you think you could get him to say yes as easily as you could your BFF? Lots of crepe paper will be your best friend for this look, and you'll want to start preparing the costume early too. Leaving this to the last minute will more than likely result in disaster. You know how nothing goes right when you have no time to correct your mistakes!
22. Unicorns
Doesn't everyone want to be a unicorn this year? They're everywhere – these fictional creatures that are never seen anywhere, and we think it's because they're so magical. What would you rather be if you could – a unicorn or a mermaid? The best thing about this best-friends-forever outfit is that all you really need is a unicorn horn. The rest of the outfit could either be white, or rainbow colours, dependant on how you feel. You can find these unicorn horn-headbands all over the place right now too. We'd suggest ordering now before they sell out.
23. Toddler Pageant Stars
Check your TV guide these days and there's a good chance you'll find a bunch of shows dedicated to toddler pageants, and this works on both side of the globe too. There's something about those pageants that really get people talking … usually on completely different sides of the argument too. It's a great idea if you and your BFF are known to be … well, brats. Go for a tutu and a leotard, add a tiara, and stick the pacifier in for good measure. We think it's bound to get people giggling, how about you?
24. Anna & Elsa
They weren't really enemies, but sisters are just as bad as enemies, and that's why we totally related to this Anna and Elsa costume – perfect when you're looking for Halloween costume ideas for you and your BFF. It's a hot topic. Everyone's still singing 'Let It Go', and it's coming up to Christmas again so you know that song will be overplayed to death within a few short weeks. For some people, just hearing "Frozen" is enough to remind them of how MASSIVE that movie got … and how much everyone was obsessed with it. Frightening enough!
25. Daria and Jane
Daria was the TV show, the one in the green coat that you can see here, but the girl in the red coat was Jane Lane, Daria's BFF, and we think together they make for the perfect BFF costume for Halloween. Jane is the more outgoing of the two, but she's also the most well-adjusted to. Which one do you think you'd be good at playing? Which of the two girls would you most like to play?
26. Dark & White Angel
If you've never found anything fun about being good, behave in certain manner and dressing in white, this dark angel costume is for you! But where there is bad there is good, right? Channel your inner dark and white angel and give people some insight into your dramatically different personalities.
27. The Handmaid's Tale Costumes
If you two loved watching The Handmaid's Tale then you'll love dressing up as Handmaids. For these costumes you will need red dresses, white bonnets and boots.
28. DIY Gumball Machines
This look is sure to create some long-lasting memories!
Here is how you can DIY this cute costume:
https://youtu.be/MMJmTbIhJ_s
29. Chucky and Tiffany
If you and your best friend are horror movie fans, you'll gonna love this awesome costume idea. Here we have a murderous doll duo that will freak everyone out! Luckily, we found YouTube tutorials for these two awesome looks, so your transformation can be as easy as it gets.
Bride of Chucky makeup tutorial:
Chucky makeup tutorial:
30. Easy KISS Halloween Costumes
We love this easy KISS costumes and think you will too! They are a perfect choice for last minute costume ideas.
31. Gangster Clowns
32. Wayne's World Costumes
Next, we have costumes for those who love the movie Wayne's World. These two have dressed up as Wayne and Garth. It is a fun and unique idea that is perfect for fans of the movie. Not only that, but the costumes are quite easy to recreate too. Costumes like these would be great for a Halloween party.
33. Beetlejuice and Lydia
Beetlejuice is one of the most iconic horror/comedy films ever made. As soon as someone hears the name or sees the striped suit they know exactly what movie it comes from. These two have chosen to dress up as Beetlejuice himself and one of the other characters Lydia. It is a fun and spooky idea that is perfect for Halloween. Recreate costumes like these or more of your friends can get involved and dress up as other characters from the film too.
34. Magical Mermaid Costumes
Maybe you would like to look more magical and cute rather than creepy this Halloween. If so, you should consider dressing up as mermaids like these two. These friends are wearing long skirts that look like mermaids tails, shell bras and under the sea theme crowns. Mermaid costumes are mystical and will allow you join in the Halloween fun but also look gorgeous too.
35. Halloween Cheerleaders
Always wanted to be a cheerleader? Well, now you can! Here we have cheerleader costumes with a Halloween twist. These two best friends are wearing Devils cheerleading costumes. The costumes are creepy, cute and have the scary number 666 wrote on them too. It is a fun and unique idea. You can buy these cheerleading costumes online and your whole girl squad can be cheerleaders too!
36. Super Girl Squad
Get your whole girl squad together this Halloween with a group costume idea like this! Here we have four friends who are all wearing superhero inspired costumes which include Wonder Woman, Captain America and more. This is a fun costume idea that will show everyone how fierce you and your girls are. Of course, any guys can get involved too! Recreate these costumes or base your costume on any superhero or villain that you like!
37. Hocus Pocus Costumes
Another classic Halloween movie is Hocus Pocus and these three friends have dressed up as the famous Sanderson sisters. You can buy Hocus Pocus inspired costumes online or you can make the outfits yourself. The makeup can be simple to recreate too and you can find tutorials online. We love this witchy costume idea and it will be a hit at any Halloween party.
38. The Powerpuff Girls
Grew up watching Cartoon Network? Loved the show The Powerpuff girls? If so, this costume idea is for you! These three have created costumes inspired by Blossom, Bubbles and Buttercup who are the crime fighting sisters. This is a unique and cool costume idea that will remind you of those childhood days watching the show. Recreate something like this or you can try wearing costumes like they wore on TV.
39. Angel and Devil Costume Ideas
The next costume idea that we have to show you features the devil and an angel. One friend has a dark costume and spooky eye makeup while the other is dressed in white like an angel. This is such a cool idea because it is creepy for Halloween and fun too. You can recreate these costumes or maybe go for more classic looks like a red devil or an angel with wings and a halo. Either way, your costumes will be awesome.
40. Mario and Luigi
This next idea is perfect for anyone who is a fan of the game Super Mario Bros. One of the friends is dressed up as Mario and the other is Luigi. You can buy Mario and Luigi costumes online and this would be a great last minute idea. You can also have friends wearing other character costumes to such as Yoshi and Princess Peach.
41. Demon Costumes
Looking for a unique costume for you and your BFF? If so, this could be perfect. Here we have two demon or devil costumes. One is wearing blue makeup and the other is wearing pink. Both are complete with horns. This is a bold and unusual makeup idea that would be perfect for a party. You can recreate this look or chose any colors for the makeup that you like. A full list of the products used and a short tutorial is available on the page below.
42. The Purge Costumes
Next, we have costumes inspired by the movie The Purge. Both friends are wearing matching outfits complete with a scary mask, plastic weapon and fake blood. It is a frightening costume idea that is perfect for Halloween. You can recreate this look or recreate any of the other characters.
43. Sexy SWAT Team
Maybe you want to look more law abiding than The Purge above? If so, this idea could be perfect for you. Here we have a group of friends who have dressed up as a SWAT team. These costumes are obviously glammed up with heels and cute outfits which makes them great for a party or a night out. There are lots of different SWAT team costumes available online.
44. Glam Mermaids
Earlier in the post we shared mermaid costumes. If you loved the mermaid idea, then you need to check out these costumes too. Here we have four friends who are dressed up as very glam mermaids. We love this idea because they are all mermaids but each costume is different, so each one can show off their own style and personality which you could do too. Mermaid skirts can be bought online and you can wear any top with the skirt.
45. Flintstones Inspired Costume
The next costume idea is fun and super cute. These two best friends have chosen to dress up as Wilma and Pebbles from the Flintstones. This idea is perfect for anyone who loves the Flintstones or for those who want unique costumes. You can buy costumes like these online or if you are a little creative and crafty, you could make them yourself. Also, if you have more friends that are celebrating Halloween, then they can be the other characters too.
46. Jack Skellington and Sally
If you are a fan of the movie The Nightmare Before Christmas, this idea is perfect for you! One is dressed up as the Pumpkin King himself Jack Skellington and the other is the ragdoll Sally. These are cool and creepy costumes which are perfect for Halloween. You can buy The Nightmare Before costumes online and you can also view makeup tutorials for both characters too.
47. Superhero Costumes
Next, we have another idea for those who love superheros. These two have chosen to dress up as a Batman and Superman and both are wearing comic book style makeup. This is a cute costume idea for Halloween and both would be great for any last minute events too because all you will need are t-shirts and makeup. You can find comic book style makeup tutorials online.
48. Spooky Clowns
Clowns are very scary so they are the perfect costume for Halloween. You and your BFF could wear clown costumes like these. They are wearing classic clown makeup but they have glammed it up by wearing stylish outfits. Costumes like these are great for those who want to look creepy and fun but also ready to party too. This is another idea that would be perfect for any last minute Halloween events.
49. Orange is the New Black Costumes for Halloween
The next idea is another one inspired by TV. This time, these friends have chosen to dress up as characters from the show Orange is the New Black. Costumes like these are great for a party as it is a popular show and most people will recognize who you are supposed to be. You can recreate these costumes or choose different characters.
50. Beetlejuice and Harley Quinn
You and your BFF don't have to wear matching costumes for Halloween. Maybe the theme could be wearing your favorite movie characters. These two have created costumes inspired by Beetlejuice and Harley Quinn. Even though they do not match, they still look awesome together. Recreate these costumes or choose any two movie characters of your choice.
51. Married… with Children Costumes
Fan of the TV sitcom Married… with Children? If so, this idea is perfect for you! Here we have two friends that have dressed up as Peggy and Kelly Bundy from the show. This is a fun and unique costume idea that fans of the show will love. It is another idea that will allow you to dress up for Halloween without being scary and it will be quite easy to recreate too.
And there you have them – 51 Halloween costume ideas for you and your BFF which we think are brilliantly genius personally. We hope you've found plenty of inspiration to get your costumes started, but we'd love to know your thoughts too! Remember to check out StayGlam on Facebook to get involved with the conversation.