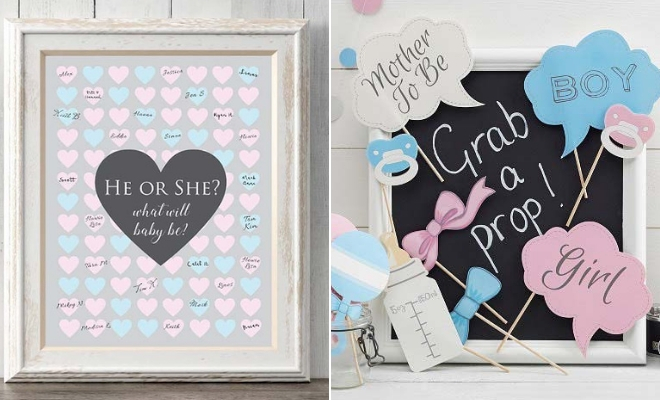 Instagram
Lifestyle
41 Gender Reveal Games Everyone Will Absolutely Love
By
|
11. Baby Trivia
Everyone enjoys a quiz, so consider having one at your gender reveal party. Here is one you can try. All the questions are about babies and will test the guests knowledge. It is a fun and simple idea that can easily be recreated. Give a quiz to each person or have everyone in teams, and whoever wins can receive a small prize.
12. Gender Reveal Confetti
Confetti can be used to reveal the gender of the baby. You can have confetti cannons like these at your party. To make it into more of a game, you can have all the guests choose the color confetti of their choice, either pink or blue, then have everyone set off their cannon. A winning guess can be made and then the parents-to-be can reveal the correct gender with their own cannon.
13. Guess the Baby Game
Next, we have a fun idea that everyone will enjoy. It is a guess the baby game. The game involves baby pictures being put on display and then you have to guess who's baby photo it is. You can recreate this with all the guests baby photos and each person can have a try at guessing. It is a unique game that everyone will love.
14. Gender Reveal Cards
If you are looking for a simple but cute game, this next idea is for you. A set of cards has been put on a table and then the guests take a card and tick which box they think for either a boy or a girl. The cards can be counted and then whoever guesses correctly can win a prize.
15. Bib Decorating
Our next game idea is fun and artistic. At your gender reveal party, you can have a bib decorating game. Each guest gets a plain bib and decorates it however they like. You can have a prize for the best bib design or to make it suited to a gender reveal, you can have guests design either pink or blue bibs and then the best bib of the right color wins a prize.
16. Guess the Size of the Baby Bump
Another fun game we have to share with you is guess the size of the baby bump. Each guest cuts some yarn at the size they think, then the yarn gets put around the mom-to-be's waist and whoever has the yarn with the best fit wins. You can have this game with other predictions about the baby bump to such as shape. Some believe that the shape of the baby bump can reveal the gender, too.
17. Funny Feed Me Game
Next, we have a funny game called feed me. For this, a guest can put their face in the picture to look like a baby and then they get fed baby food. The guest then has to guess what flavor the baby food is. You can also use photo boards like these as photo booth props too.
18. Mum To Be Quiz
Love the quiz ideas? Then this next pick is for you. Here we have a quiz about the mom-to-be. This is just a fun idea that will get guests talking, laughing and having fun. Like with any other quiz, whoever gets the most answers wins. You can use a similar quiz to this one or come up with your own questions.
19. Gender Reveal Photo Props
A photo booth is always a good idea for a party. These booths allow guests to wear funny costumes and have props to take memorable photos. For a gender reveal party, you can use photo booth props like these. This way guests can make their prediction by taking photos with the blue or pink props. It is a fun game that will create some amazing memories.
20. 'Don't Say Baby' Game
Next, we have a classic game for baby showers and gender reveal parties. It is called "Don't Say Baby". Each person takes a clothes pin and if anyone says baby, their pin can be stolen and worn by another guest. Whoever has the most pins at the end wins. For a gender reveal party, you can have blue and pink pins so people can make a prediction and play the game too.