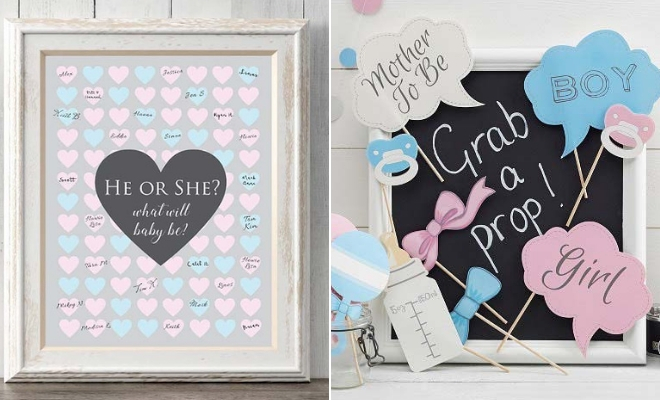 Instagram
Lifestyle
41 Gender Reveal Games Everyone Will Absolutely Love
By
|
Planning a gender reveal party? Then you need to think about having games! Gender reveal games are great to have at parties because they will get guests talking, laughing and having fun. We have put together 41 of the best game ideas that everyone will absolutely love. We have quizzes, predication games, photo booths, scratch cards and more. Any one of these games will help to make your gender reveal party one to remember!
1. He or She Gender Reveal Game
The first party idea we have is this he or she game. For this, you will need a framed picture like the one below and allow guests to write their names on a blue or pink shape. This one has hearts but you can choose any shape. Then whoever has guessed the right color wins a prize. Not only is this a cute game, but it can be kept as a memory of the special day with all the guests names.
2. He or She Pop to See
Next, we have a fun balloon game. Black balloons have been placed on a board with the title "he or she, pop to see!". With this game guests can pop the balloons to reveal the color inside. You can recreate this with balloons filled with paint, powder or confetti.
3. Gender Reveal Powder
Speaking of powder, you can create different gender reveal games with pink and blue powder like this one. As we said, you can fill balloons with it or you can have color powder fights and throw the colored powder at each other. This can be a bit messy, but we're sure you'll end up with some amazing photos with the guests. Also, you can put it in things like baseballs and have the color explode. Powder is a fun activity for any age and any gender reveal party.
4. Baby Name Game
Our next idea is a baby name game. This game is a sheet of paper with all the letters of the alphabet. The guests have to write down as many names as they can that begin with those letters in a certain time. Whoever writes down the most names wins. This is a fun and easy game, that can also provide the parents-to-be with some new baby names!
5. Name the Baby Food
Another fun game is the baby food game. For this one, baby food can be set out and then guests can smell, look and taste the food and try to guess what it is. The person that guesses the most correctly wins a prize. You can make it more suited to a gender reveal by having the decorations pink and blue and maybe the food in pink or blue containers.
6. Guess How Many Gender Reveal Game
Everyone loves chocolates and candy, so why not have a sweet game at your gender reveal? Here is a great example – a large blue baby bottle has been filled with candy. You can have something like this at your gender reveal party and have the guests write down how many sweets are in the bottle. Whoever is the closest, wins the bottle. You can have a blue one like this or pink, maybe have a mix of both to suit the reveal.
7. Stashes or Lashes
Next, we have a game called Stashes or Lashes. This involves a chalkboard that has been split down the middle. The guests then write their name in blue or pink chalk underneath to choose whether they think the baby will be a boy or a girl. A total is then added up. Each guest on the correct side wins a prize. You can have stashes or Lashes but there are lots of other fun versions like footballs or tutus.
8. Guess the Date
Guests can guess the gender but they can also make their predictions on other things such as the due date. Here is a cute game that involves guests guessing which day the baby will be born. Whoever guesses correctly wins. A game like this will be a fun choice for a baby shower, too.
9. He or She Scratch Card
Our next idea is fun and unique. It is a scratch card game. Each guest gets a card and scratches it to reveal the gender. There are so many cute designs that you can buy. You can get cards with one scratch circle or two. With two circles, the person scratching it will actually have to guess.
10. Guess the Gender
There are lots of different ways to set up 'guess the gender' games, and this example is one of them! The mom-to-be is expecting triplets and has set up three glass jars with each baby's scan photo. Each guest then adds a color to the jar to guess which baby will be a boy or a girl. You can use this idea with any number of babies. Use small things like beads, paper, pom-poms and more for guests to make their guess. Those can easily be counted to see what the winning guess is.