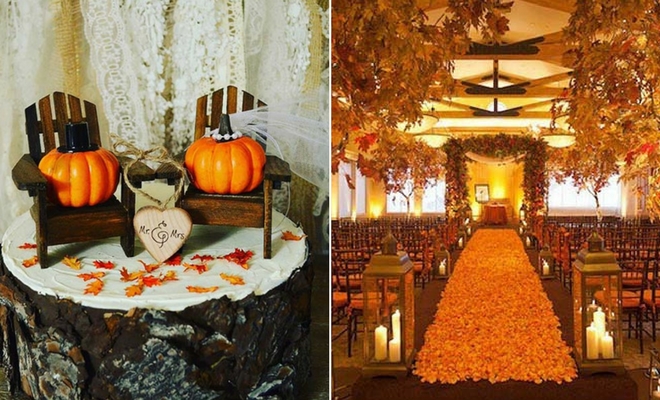 Instagram
Lifestyle
21 Stunning Fall Wedding Ideas
By
|
11. "Apple-y Married" Wedding Favors
Fall is the season of apples. So, why not add some to your fall wedding. These apples have been dipped in caramel and chocolate. The thing that makes these apples super cute is the tag. The tags are personalized with the words "Apple-y Married".  Your guests will love creative favors like these.
12. Fall Groom Outfit Idea
Add some fall colors to the groom's outfit like this. He is wearing an orange flower and orange bow tie. You could add any fall color or flower. Try choosing flowers out of the bridal bouquet to make the bride and groom outfits match. This is a stylish way to wear the seasonal colors.
13. Fall Floral Card Box
Our next pick is the cute little card box. It features beautiful blooms on the top. A card box like this will suit a fall wedding. If you are feeling creative you could make something like this yourself as a DIY wedding craft. Recreate this with any flower.
14. Fall Boho Bridesmaid Dress Idea
Dark reds are very popular during the fall. Add this color to your wedding with bridesmaid's dresses. Bridesmaid dresses in a dark red will make a statement and will suit the fall theme. It is a bold and stylish color choice and will suit every girl. A dress like the one featured is also perfect for boho weddings.
15. Fall Tree Wedding Decor
Here is another fall leaf and tree décor idea. This ornamental tree has really added the wow factor to the wedding reception. You could add smaller trees and ones with different colored leaves to your wedding. It is a creative way to decorate the venue.
16. Fall Theme Wedding Cookies
Bring the fall theme into your food with cookies like these. These use the autumnal colors and have a rustic vibe to them. There are even some personalized cookies. Cookies like these will be a hit with every guest. You could create your own cookies with any design.
17. Floral Seating Chart
Our next pick is functional and makes a great decorative feature to. It is a red floral seating chart. Your guests will know where to sit and it will look beautiful to. The red blooms suit the fall theme but you could recreate this with any flower.
18. Pumpkin Wedding Cake
Next, we have this cute and quirky wedding cake. It features two pumpkins dressed as the bride and groom. This is a gorgeous cake that will suit the fall theme and add a little humor. It is super cute and could be recreated in lot of different ways. Something like this would be great for the fans of Halloween to.
19. Elegant Fall Wedding Reception Table Idea
Looking for wedding reception table ideas? Then this next pick could be for you. This table design is very elegant and glamorous. It really suits the very special occasion. The fall elements are subtle and the darker flowers look stunning. This is a great source of inspiration for your wedding tables.
20. Rustic Fall Wedding Sign
Wedding signs make beautiful decorations. Not only that but it shows everyone where the most epic wedding of the year is taking place. This cute sign has a rustic look to it and it would suit an outdoor or Bohemian wedding. You could recreate this in so many ways.
21. Fall Bridal Look
Last on the list is this stunning bridal look. This pick has been chosen to give you some inspiration of how beautiful a fall bride can look. The bright and bold bouquet is stunning and the colors really pop next to the white dress. It also shows how amazing your pictures can look in an autumnal setting.
We hope you have found inspiration from our fall wedding ideas.