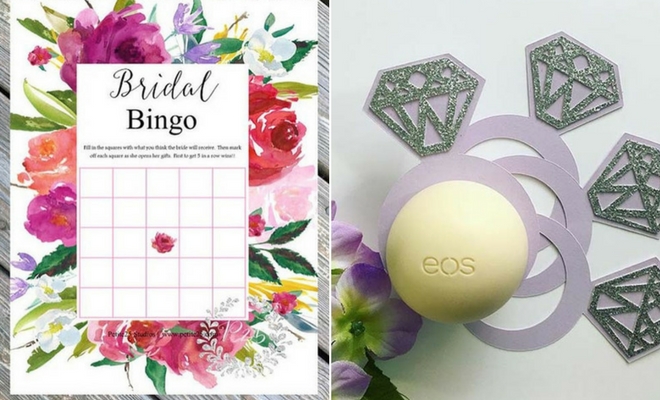 Instagram
Lifestyle
41 Bridal Shower Games and Ideas Your Guests Will Love
By
|
Planning a bridal shower is no easy task! There is so much to think about from invitations to food. One of the most daunting tasks can be entertainment. How do you make sure all the guests and bride-to-be have an amazing time? Try having games. Games will have the whole party laughing and everyone can get involved. To get you inspired we have put together 41 games that will bring excitement and fun to any shower.
1. Bridal Bingo
Bridal Bingo is a fun and easy game to host. You can buy pretty cards like these ones or make your own. Get the guests to fill in the boxes with what they think the bride will receive. Then if she opens a gift that you guessed mark it off. First person to guess five gifts correctly wins. This is a fun twist on the classic game that everyone enjoys.
2. Put a Ring On It
Ring toss is a fun game that any age will love. A game like this is easy to create with bottles and some bangles. There are so many ways to re-create it. You could go for white and pink like this or wine bottles. However you choose to play, it will be a hit at any shower.
3. Bridal Bling
Here is a game the whole party will love. It's fun, provides a little competition and has sparkle to take home. What's not to like? To play all you need is a sign like this one and a pot of costume rings. Every guest starts with one ring and every time someone says wedding or bride they lose the ring. Whoever has the most rings at the end of the shower wins.
4. Fun Prizes
Games need prizes. Nail varnishes like these could be the perfect prize. The neutral colors will suit every guest, the tags are super cute and these won't break the bank. You could personalize the tags to suit any shower theme. Any party goer would love to win one of these.
5. Scratchcards
Wedding theme scratchcards are awesome party favors. One is given to each guest to add some fun to the evening. Games like this are easy, quirky and can be created to suit any shower.
6. Wedding Word Search
Wedding themed word searches can be put on every table. You can create these with any words or with any design. A simple game like this is great to have around especially if younger guests will be attending.
7. Say Yes To The Dress
Next, we have a fun game that will let your creativity shine. You choose a guest to judge and split the rest of your party up into teams and provide them with a few toilet rolls. Each team chooses a member to be bride. Then they have a time limit to create a wedding dress out of toilet paper on their bride. At the end of the time the judge chooses who has created the best dress. Whichever team they choose wins!
8. Embellished Bridal Shower Favors
The simplest of items can be turned into beautiful prizes or party favors. Take a look at these soaps. These nice soaps have been made extra special by being embellished to look like a bride and groom. Something like this is fun, unique and is great if you like crafts. You could give any of these as a little token prize and the guests will love it.
9. Piñata
Piñatas are fabulous party games for all ages. These can come any design to suit any theme. For a bridal shower the piñata has had a beautiful makeover. This one features pretty flowers with hints of pink and cute ribbon. You can use this as a decoration until all your guests hit it to win prizes. Glitter or confetti would be great to put inside for when it bursts.
10. Memory Game
The memory game is a fun way to share memories. Each person writes a memory they had with the bride-to-be, if she does not guess you wrote the memory you win a prize. A game like this gets everyone involved and takes everyone down memory lane where they can relive some happy times and some hilarious ones.
11. Guess Jars
A guess jar is an easy game to have at a shower. You can create your own to make it unique like this one. Fill up a jar with anything you like, this jar has kisses which is a popular choice. Leave paper for the guests to write their name and guess. Whoever guesses correctly or is closest wins the jar.
12. Advice For The Bride
Advice for the bride is not only fun for the guests but the bride-to-be will love reading over these. The advice notes can be kept as a memory of the shower. It's just a great way for guests to pass on their wisdom of marriage. The cards and sentence starters can be created to suit any shower.
13. Ring Hunt
The treasure hunt has had a bridal shower makeover! This hunt is all about finding sparkly rings. Any number of rings can be hidden and the rules are simple. Whoever finds the most rings wins. A game like this is fun for all guests across all ages.
14. Recipes For A Happy Marriage
Here is another way for the guests to share their wise words on marriage. Each guest writes down their recipe for a happy marriage on a wooden spoon. It is so simple, fun and unique. Something like this would be great at a shower, it looks great and people love giving out advice.
15. Bridal Jeopardy
Classic game show jeopardy has had a bridal shower twist! It's the same idea with questions and answers but the questions are based on weddings or the bride and groom. You can get those creative juices flowing to create a unique board and questions. Bridal Jeopardy will be a hit with every guest.
16. Bride To Be Trivia
A popular game at showers is how well do you know the bride. It features a selection of questions and the guests simply write the answer. The guests and bride will enjoy this fun trivia game.
17. Diamond Ring Favors
We love these cute ring favors! Something like this is such a great way to jazz up the prizes for the shower. You can customize you ring to be any color. These ones are used on lip balms. Prizes like this will be a hit, the rings look great and lip balm is a beauty must have for any girl.
18. Bra Pong
This game is inspired by beer pong. It is a bridal shower and hen party favourite. The rules are simple try and get the balls in the bra cups if you lose take a shot. Whoever had the most shots has the lost the game. You could also have a point system if shots aren't your thing. However, you play the guests will have a good time.
19. Popped The Question
Popped the question are cute prize and favor ideas. You could have these at any wedding event including engagement parties and bridal showers. The tag could be created in any design, we just love the popcorn and popped the question pun.
20. Green Prizes
Plants and gardening is very popular. So why not add some greenery to your bridal shower with prizes like mini terrariums. These are cute little plants that will grow anywhere. All the guests will be delighted to win something like this.
21. Game Table
Last on our list is a game table. You could present your games however you wish but a table like this is a great idea. It will be a fun part of your bridal shower. Decorate your table with the shower theme to make it unique.
22. Name That Cake
You cannot have a party or a wedding without cake. So, here is a cool cake inspired game for a bridal shower. Each guest receives a game card with cake questions and then they write down the answer. Whoever answers the most, wins a prize. You can even give out a little cupcake as prize.
23. Guess the Dress
At every wedding all the guests will have their own ideas about what the bridal gown will look like. Here is a fun game that brings these ideas to life. This game is called Guess the Dress. Each guest must draw on the model the dress that they think the bride will wear. It can be as artistic or as simple as they like! Whoever is closest to guessing the dress or designs wins a small prize.
24. Bling Party Favors
With games, you need prizes for the winner. Here is a cool idea for a bridal shower. These are pens with a large, sparkling crystal at the top. Something like this is so cute for a bridal shower prize. You can also give these out as favors too. Try and find pens like these or something else with bling!
25. Date Night Jar Game
Next, we have a date night jar game. Each guest writes down a cool date idea on a piece of paper. Then the bride and groom can read them together and fulfill the dates. It is a unique idea that gets all the guests involved and it can be used long after the shower is over. You can be creative and make your own jar too.
26. Wishes for the Bride and Groom
Another great idea that can also be used after the shower is wishes for the bride and groom. These are just little cards that guests can fill in with small pieces of advice and they can also add a wish at the bottom. It is a lovely idea and the couple will enjoy reading them after. You can even make it a little fun by giving out a prize to the person with the best advice.
27. Easy Bridal Shower Game
When family and friends come together for a special event like a bridal shower, the ice may need breaking. Here is a fun way to do it. This game is called find the guest. It involves a game card with all different questions with a space to write someones name. You then have to go around the party and find out which guest is the answer. It is a unique game that allows guests to get to know each other better.
28. Hilarious Bridal Shower Game
Earlier we featured a game where each guest receives a ring and if they say bride or wedding they loose the ring. Whoever has the most rings at the end wins. This is a similar idea but instead of rings you use necklaces. There is also the added word groom too. This is just a different way to play the classic game.
29. Cute Photo Idea
Next, we have a cute photo idea. It is a huge net that reads "two less fish in the sea" with photos of the couple all over it. This is a nautical design but you can create something similar to suit your theme. To make it fun, you can ask guests to bring in their favorite picture of you both to add to the collection. It is a fun way to celebrate the couple and get the guests involved.
30. Fun Bridal 'Why Do We Do That' Game
There are many traditions involved with weddings from wearing something old to not seeing the bride in the dress before the wedding. However, have you ever thought about why we do these things? If the answer is yes, then this is the game for you. This game is called Why Do We Do That. Each guest must write down why they think we do these traditions. Whoever gets the most correct answers wins.
31. 'How Old Was the Bride' Game
Our next idea is a unique game for a bridal shower. It is called 'How Old Was the Bride'. It involves pictures of the bride being put on display and then the guests have to guess how old the bride was in each photo. Whoever guesses the most ages correctly wins. It is a fun idea that will bring memories back to life and make guests laugh.
32. Bridal Shower Game Prizes
Next, we have a cute prize or party favor to share with you. These are little shower gels that each have a label that reads "from my shower to yours". It is a fun and creative idea that guests will love. You can buy these cheaply too, so it is low cost and easy to do.
33. Guess the Dress Celebrity Edition
Earlier we featured a game called guess the dress. Here is another version of the game but this one involves celebrities. There is a board full of celebrities in their wedding dresses and each guest has to guess who the dress belongs to. It is a fun and easy game. Whoever guesses the most wins.
34. Cute Bridal Bouquets
Another thing that every wedding needs is a bridal bouquet. Here are cute little bouquets that can be used at a bridal shower. You can use small bunches of flowers like these to decorate the room, give as favors at the end of the shower or as prizes. You can use real flowers or fake ones. Fake may be better as they can be kept forever.
35. What's On Your Phone Game
Our next idea is a game called whats on your phone. Each guest receives a game card and gets points every time they tick something that is on their phone. It is a fun and unique game that keeps guests entertained and allows everyone to get to know each other a little better.
36. Bridal Shower Game for Large Groups
Having your bridal shower outdoors or maybe you want a large game to be played as a group? If so, this idea could be for you. This is a wedding theme bean bag toss. It is a traditional and fun game that will bring out guests competitive side.
37. Guess Who
Next, we have another game called Guess Who. For this, each guest has to guess who out of the bride and groom said or did something. You circle the name or both and whoever has the most correct answers wins. It is a fun game that can get the groom involved too.
38. Wedding Emoji Pictionary
Do you love emojis? Then this game is for you! This game involves a game card with a different combination of emojis. Each guest has to guess the wedding word or phrase based on the emojis. It is a fun and unique game that everyone will have fun playing.
39. Match the Love Songs Game
Another fun game for you to try is matching the love songs. For this a game card will have lines out of songs and a list of songs down the other side. Then the guests have to match the lyric with the song. Whoever gets the most wins. You can create a Disney version like this or maybe use the songs that the bride and groom love.
40. What's In Your Purse Bridal Shower Game
It is no secret that handbags are full of things that we need and some that we don't. Here is a fun game inspired by this. This game is called What's In Your Purse? For every item that you have on the list, you earn points. Whoever has the most points at the end wins.
41. Bridal Shower Props
Photos are a brilliant way to remember a special event such as a bridal shower. One fun way you can take photos is with props, frames and booths. Here are some cool props from a bridal shower to get you inspired. There are rings, flowers and more. You can even give a prize to the best photo. At this shower there was also a unique Instagram hashtag so all the pictures are shared in one place.
All of these games will be a hit at any bridal shower!