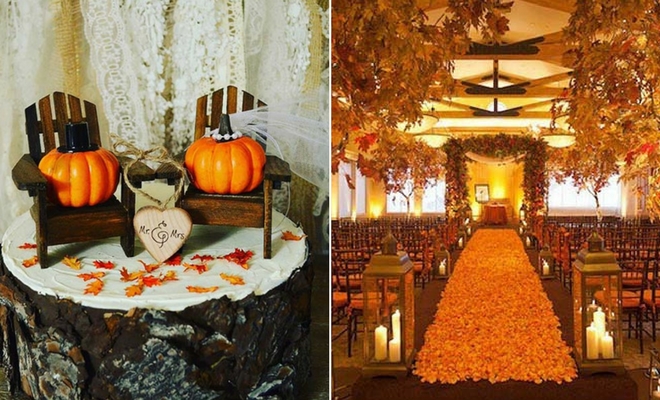 Instagram
Lifestyle
21 Stunning Fall Wedding Ideas
By
|
Planning a fall wedding? Then you need to have a look at our 21 Fall Wedding Ideas. We have creative décor, stunning bridal wear, invitation inspiration and more. These ideas will show you how to add the warm seasonal colors to your wedding and how to make the best of the cooler weather. Fall is a romantic season and would be perfect for a wedding. Check out at our best picks to get inspired.
1. Bride and Groom Blankets
The weather in fall can be a little chilly. Make sure you keep warm with these cute personalized blankets. The flannel design would suit a rustic wedding. Not only will these keep you warm but will make lovely chair decorations to. You could also have a basket of blankets to keep the guests warm.
2. Fall Floral Design Wedding Invitation
Your wedding invitations will give guests their first clue about the wedding theme. So why not use the seasons colors to create your fall invitations. This stunning dark floral design uses the fall shades and creates an elegant floral look. Anyone would be delighted to receive an invitation like this.
3. Initialed Pumpkins
Pumpkins are popular in the fall. These are used in food and in décor for occasions like Halloween. Our next pick proves that pumpkins are not just for Halloween. These pumpkins have been decorated with elegant initials. Personalized pumpkins would make beautiful decorations for a fall wedding.
4. Fall Leaf Aisle Decor
Fall trees can help create a romantic atmosphere. So, why not bring the outside in and decorate the wedding aisle with trees and leaves. This wedding aisle looks beautiful and elegant. It is a classy way to add the themes of fall to your wedding.
5. Rustic Fall Wedding Cake
The cake is important, it must look amazing and taste it to. You can design a cake in so many ways, it is a good idea to have a cake that fits in with the color scheme and theme of the wedding. This cake has used the fall theme perfectly. It uses the warm colors and even has a touch of glamorous gold. A fall inspired cake like this will look great on the wedding photos.
6. Creative Fall Centerpiece
Our next pick shows how creative you can be with table centerpieces. These cute candles are in elegant clear vases and are decorated with popcorn kernels and fall leaves. You could create this yourself if you wanted a wedding craft project. Centerpieces like these will jazz up any wedding reception.
7. Light Fall Bridal Bouquet Idea
Next, we have a beautiful bridal bouquet. This one has the classic light colors with a few autumnal plants and flowers throughout. A bouquet like this mixes the traditional bridal colors with the dark colors of the fall. These are stylish flowers that will suit any bride.
8. Creative Leaf Reception Place Cards
Subtle and creative décor ideas give a wedding that extra special touch. Our next pick is this leaf place card idea. This is a unique way to show guests where they are sitting. The gold leaves are perfect for a fall wedding. These are glamorous and elegant. We love this idea!
9. Fall Fire Pit
Make the most of the cooler fall weather and have a fire pit at the wedding reception. This is a unique idea that will not only wow the guests but keep them warm to. You can share drinks, roast marshmallows and more. You can also have a little blanket basket so when the temperature drops in the evening everyone will be kept warm. A fire pit is a fun and romantic wedding idea.
10. Fall Floral Wedding Car
Arrive at the wedding in style with a glam wedding car like this. This car has been decorated with warm tone flowers. This flower design would really suit a fall wedding. You could have a car like this at your wedding with any flowers in any color.