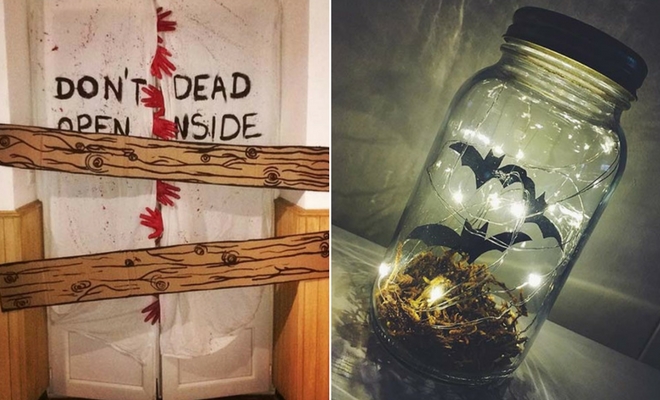 41 Creepy DIY Halloween Decor Ideas
Want to decorate your house for Halloween? Then you are in the right place! We have found 41 of the most ghoulish DIY Halloween decor ideas. Each idea is a fun and creative project that you can do at home. You can save yourself some cash and let out your creativity. Whether you're looking for something spooky for trick-or-treaters or spine-chilling for party guests, there is something for you. Take a look to find your favourite creepy craft.
1. Zombie Door Decoration
You may have seen a door like this in a very popular TV show. With this DIY idea, you can bring the zombie apocalypse to your house. To make this craft you could put two sheets up on some doors or cut one sheet in half. Paint on the words and add a few fake hands. Wedge the hands in the door to keep in place. Finish off with some wood effect cardboard panels. You could draw the wood design.
2. DIY Halloween Owl
Our next pick shows how everyday items can be transformed into spooky decor. This cute owl was painted black and the eyes painted silver. The simple color change has made this owl a scary ornament, perfect for Halloween. You could use this idea on other objects too.
3. Spooky White Pumpkins
Traditional pumpkins are orange with a carved scary or cute face. Mix things up this year and paint your pumpkins white. This just gives them a scary update. These would look great both outside and inside. You could even add some glow in the dark paint.
4. Window Monsters
Silhouettes on windows look great on the outside and in. These creative monsters suit the fun mood of Halloween. Something like this would be great for the trick-or-treaters. You could even make your monsters a little scarier. To create window monsters like these, just draw and cut out your design on black card and stick it to the window.
5. Witch's Books
Give your tables or bookshelves a Halloween makeover with these witch's books. The books include enchantment, spells and more. You could recreate these spooky books with any design you like. Find some old books and cover up the covers. Then draw or paint your design.
6. Cute Halloween Garland
Looking for a little less scary DIY Halloween decor? Then this pick might be for you. It is cute garland with Halloween inspired fabrics attached. Something like this is simple to recreate and can be done on a small budget. You can make it unique by choosing your own Halloween fabrics.
7. Wicked Witches Feet
Our next pick is an awesome craft project. It features two pool noodles with witch's socks and shoes on to look like legs and feet. When finished the legs are placed at the side of the house. The feet look like they are sticking out of the house like a certain Wicked Witch of the East. This is simple and fun. You could recreate it with any socks and shoes.
8. Creative Painted Cups
Next, we have a cheap and easy DIY Halloween decor idea that is perfect for kids. It is just upside-down cups that are painted to look like popular Halloween characters. When finished, you can add a safe fake flame tealight underneath to make them glow. These would look perfect inside the house, on a window ledge or even outside in the garden.
9. Floating Head
Give anyone that walks past your house a fright with this floating head. It is a scary and fun project that trick-or-treaters and party guests will love. To create this, you could use a polystyrene head, add some fake blood and drape over some sheer white fabric. Finish it off with some clear wire. You could put this anywhere, maybe on a tree or at the front door.
10. Spooky Pumpkin Display
Our next pick shows how you can create a unique Halloween display in your home. Add some window silhouettes like the ones mentioned earlier, make some black paper bats, add a pumpkin and some ghosts. You could recreate something like this any way you like but this image shows a fun, cool and creative way to decorate for Halloween.
Last modified on October 1, 2019