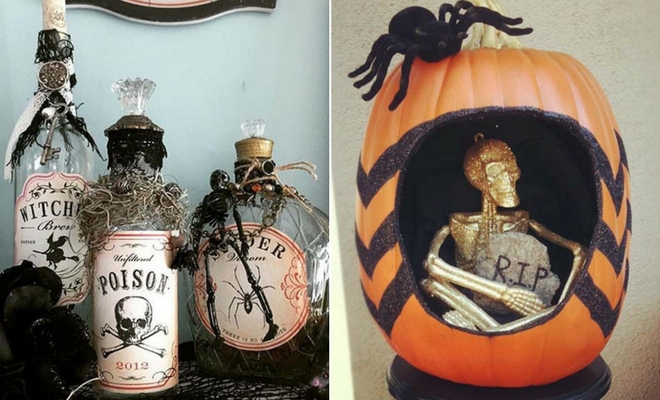 Instagram
Lifestyle
21 Fun DIY Halloween Party Decor Ideas
By
|
Looking for creative ways to decorate your home this Halloween? Then you are in the right place! We have found 21 fun DIY Halloween party decor ideas. There is a craft idea for everyone. Whether you are looking for something scary or cute. All of these DIY ideas are simple to create and will look spooktacular.
1. Skeleton Hand Soap Dish
Give your guests a fright when they wash their hands with a skeleton hand soap dish. This is a fun way to decorate in the bathroom. Not only will it look awesome but it is cheap to make. All you will need is a skeleton hand which can be purchased in stores around Halloween or online and a bar of soap. It is a quick and simple craft that your guests will love.
2. DIY Halloween Bug Lamp
Our next pick will give the lamps in your home a Halloween makeover. This craft idea involves creating black bugs and sticking them to the inside of the lampshade. When you turn the lamp on it looks like there are bugs on the lamp. This is a simple, fun and low-cost craft. All you will need is black card/paper, a bug outline, scissors and tape.
3. Spider Web Pumpkins
Give your pumpkins a unique look this Halloween. You don't have to go down the traditional carving you can create spider web pumpkins like these! Just wrap your pumpkin in some white wool or string and finish off with a spider. It is a creative way to decorate your pumpkins.
4. Halloween Party Sign
Throwing a Halloween party? Then our next pick is for you. This one is a handmade sign that points to the different locations. You could recreate your sign with any location names and designs. It is just a fun DIY Halloween craft idea that party guests will love.
5. DIY Pumpkin Light
If you have any old jars around the house, recycle them and turn them into Halloween lanterns. This one has a traditional pumpkin design. Just create your design and add in an artificial tealight. It is a fun craft idea that all ages will enjoy. You could recreate this with any Halloween character.
6. Zombie Head Vase
Next, we have a very creative and spooky craft idea. This vase was created with zombie heads and lights. You could easily recreate something like this. It does not have to be zombies you could create a ghost vase or pumpkin vase to. We love this unique decor idea.
7. DIY Halloween Bottles
Our next pick shows how you can jazz up simple bottles to create awesome Halloween decorations. These bottles have been decorated with lace, skeletons, jewels and more. Labels like the ones used are an awesome way to give any bottle a Halloween vibe. The image featured is a great source of inspiration so you can make your own bottles.
8. Scary Garage Decoration
If you really want to go all out on your DIY Halloween decor, then our next pick is for you. This house has given their garage a makeover so it looks like a monster. It is such a fun idea that everyone will love. You could choose any design for your garage.
9. Bleeding Candles
Candles are great for Halloween as they give the room a spooky atmosphere. Our next pick shows how you can make your candles extra scary. These candles are bleeding candles. There are different ways to create bleeding candles yourself. You could simple drip red wax over white candles or press tacks into the candles and then drip over the red wax. The tack technique makes it look like the "blood" is coming out of the candle.
10. Spooky DIY Book Decoration
Looking to add some magic your Halloween decor? Then this DIY spell book idea could be for you. This spooky spell book was created with a hard-back book, hot glue, glue, toilet paper, skulls and dark paint. You could recreate your books in any color and with any design. It is a fun craft for Halloween.