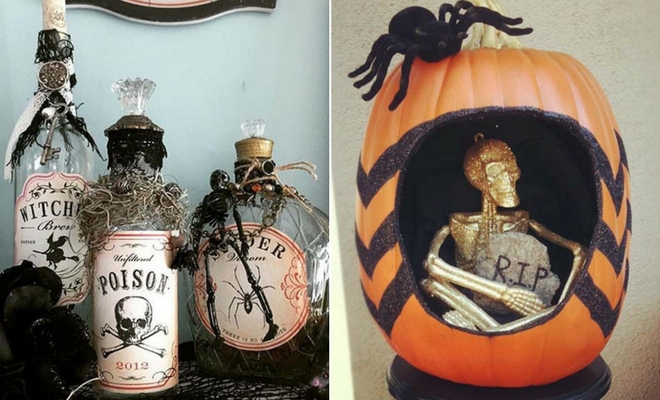 Instagram
Lifestyle
21 Fun DIY Halloween Party Decor Ideas
By
|
11. Outdoor Spider Web
Decorate the outside of your house with a giant spider web like this one. It is a low-cost and easy to create craft that everyone would love. You could also make a smaller one to suit your home. There are tutorials available online to show you how to create a spider's web design with string and more.
12. Halloween Gourds
Our next pick shows how you can decorate your autumn vegetables. These gourds were given glow in the dark vampire teeth. It is just a simple way to create Halloween decorations. You could also give small pumpkins some vampire teeth to.
13. Creative Cauldron
You can create awesome decorations for Halloween yourself. Our next pick features a witch's cauldron along with a broom. It is a simple but effective DIY idea. You could recreate this for indoors or outdoors. Jazz it up even more by filling your cauldron, maybe with eyeballs or candy.
14. Glitter Pumpkins
Our next pick is a cool and creative way to decorate your pumpkins. These pumpkins have been decorated with glitter. Each one uses different colors and has a different pattern. Glitter will give your pumpkins a glam vibe. You could recreate these in any design with any color.
15. Monster Fireplace Decoration
Turn your fireplace into a monster like this! This DIY project involved creating sharp teeth and googly eyes. You could create any monster for your fireplace, it could be a scary or as cute as you like. We love this simple and low-cost craft.
16. Pumpkin Planters
Give your plants a Halloween makeover with planters like these. You could use many things as your planter, a plant pot, tin, bucket and more. Just paint it orange and add the classic black cut out face. Recreate the pumpkin or create your own Halloween character.
17. Creative Eyeball Flowers
Looking for quirky decor ideas? Then our next pick could be for you. This one features DIY eyeball flowers. The flowers look like felt flowers which you can make yourself or buy online. Then stick on the eyeball. This is a fun craft that could be used for many things. You could create a garland, wear them as badges, on a headband and more.
18. Crochet Pumpkins
Next, we have a very cute craft idea! We have found crocheted pumpkins. These adorable pumpkins can be made at home. There are plenty of pumpkin crochet patterns available online. You could create these in any color and in different sizes. The pumpkins could be placed anywhere around the house as a creative Halloween decoration.
19. DIY Halloween Jars
If you have any glass jars around the house, then recycle them into funky Halloween decorations. With some paints, you can create jars with all your favourite Halloween characters. Put in an artificial tealight and you have a cute lantern. This is a great Halloween craft idea for all ages.
20. Skeleton Pumpkin
Want unique decorating ideas for your pumpkin? Then this next pick is for you! This pumpkin has been decorated with glitter and then cut out. The hole is big as it has been turned into a window for a skeleton. A gold glitter skeleton is sitting inside. You could recreate something like this at home in your own design and colors. We love this creative decor idea.
21. Halloween Wreath
Last on our list is this Halloween wreath. Wreathes are a great way to decorate your front door. You can buy natural wreathes and then add your own decorations. Consider adding spiders, eyeballs and more. The image featured is a great source of inspiration. It is a fun and creative craft.
We hope you have been inspired by our fun DIY Halloween party decor ideas.