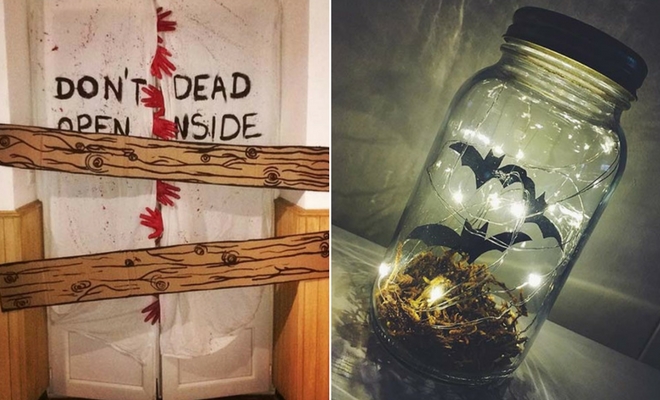 Instagram
Lifestyle
21 Creepy DIY Halloween Decor Ideas
By
|
11. Scary Silhouette
Want something scarier? Then this DIY Halloween Decor idea could be for you. This bathroom has been decorated with a terrifying silhouette of someone in the shower. You can recreate something like this with some black card. There are templates available that you can use to get the shape of a person. You could even draw around someone on a big piece of paper. Then add in your own Halloween designs.
12. Halloween Wreath
Halloween wreaths are a great way to decorate your front door. These are great DIY projects to. This spooky eyeball wreath is perfect for Halloween. There are many ways to make a wreath. To create one simply like this just purchase a polystyrene wreath ring, wrap it in black fabric, glue on some eyeballs and add some spiders and web. You could make your own unique design.
13. DIY Tombstone
Give your home a creepy cemetery look by creating your own tombstones. This is a fun project that will scare trick-or-treaters and party guests. You can create something like this with Styrofoam and you can shape it, paint it and decorate it however you like.
14. Scary Monster Door
Our next DIY decor idea is perfect for the trick-or-treaters. This door has been decorated to look like a monster. Teeth and red eyes have been added to the door to make it look like a scary face. It is a fun way to give people a little scare when they knock on the door. You could make your door look like any scary monster.
15. Spooky Jar Decorations
Jars are great décor ideas. You can put jars anywhere. Inside, outside, on tables, window ledges and more. For Halloween why not add in some bats and lights like this? It is a spooky and low-cost DIY Halloween decor idea that would look great at a party. You could create different ones with ghosts in or spiders.
16. Witches Potion Ingredients
Give your house a magical touch by adding in some witch's potion ingredient bottles. Any glass bottle can be used. Just paint it black and add a label. You could use any glass bottles you already have around the house and the labels can be printed or hand written. Add some webs and you have spooky decorations.
17. Halloween Lamp Silhouettes
Silhouettes are great Halloween decorations. These are low in cost and can be put anywhere around the house. So far, we have seen ones in the window and in the shower. This Happy Halloween silhouette has been placed on a lampshade. This is a creative and quirky way to decorate. You could put any silhouette in your lampshade. Maybe spiders or pumpkins.
18. Creepy Eyeball Glasses
Give your guests a fright by placing an eyeball at the bottom of your glass. This is a fun way to decorate as it isn't obvious and it won't be seen until the drink is tipped. You could print out any eyes and if the glass is plain on the bottom, just stick the eyeballs to the outside of the glass on the bottom.
19. Make Your Own Candles
Our next Halloween DIY décor idea shows you how to make your own candles. This is a fun way to create safe candles that look melted. These would look great on a fireplace or on tables. You could even dangle some from the ceiling to create a magical look.
20. Cute Halloween Posters
Halloween doesn't have to be too scary. You can add in some cute Halloween décor to. This bibbity bobbity boo sign is perfect for the people who want their Halloween décor to have a touch of magic. To make it unique you could paint or hand write a poster like this.
21. Haunted House DIY Halloween Decor
Last on our list is this scary boarded up window craft. It will make your house look like the classic haunted house. You could make this with cardboard with a drawn wood effect or if you have any old wood around, use that. Add some webs and you're good to go.
We hope you have been inspired by a creepy DIY Halloween decor ideas!