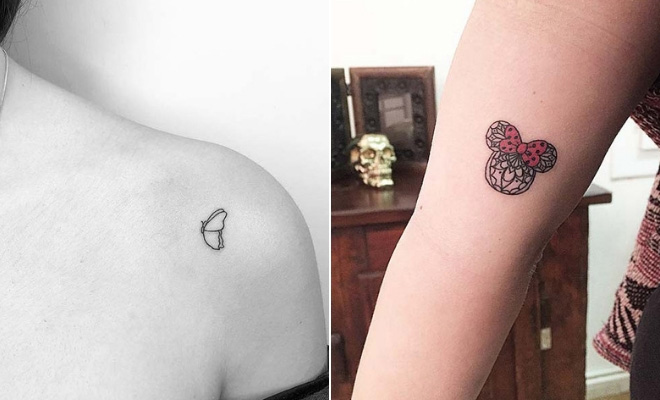 Instagram
Lifestyle
23 Cute Small Tattoos You'll Want to Copy
By
|
11. Small and Cute Sun
The next idea features a small and cute sun. This design is placed on the ankle and it features a sun and a wave. It is perfect for those who love the beach, sunshine and the ocean. The sun is also a symbol of joy and positivity. Recreate this simple design or add some vibrant color that both the sun and ocean are known for.
12. Floral Ankle Tattoo Idea
Next, we have another floral tattoo design. Here we have a small ankle tattoo that features black ink flowers. It is a pretty and elegant piece of body art that will suit anyone. Try similar flowers to these or you can try a different type. This is another tattoo that will not go out of style and it would be a beautiful first tattoo.
13. Tiny Zodiac Sign Tattoo
Love the star sign tattoos? Then take a look at this. This is another zodiac tattoo but this one features the Leo sign and it has been placed on the ear. We love the placement of the tattoo because it is unique and unusual. Of course, you can have your star sign placed anywhere if the ear design is not for you.
14. Delicate Shell and Pearl Design
If you are looking for a unique and beautiful tattoo, then you need to check out this next idea. Here we have a shell and pearl design. The shell is so delicate and the pearl is stunning too. It is a very unusual tattoo and it is perfect for those who love the ocean and shells. You can recreate with or without the pearl.
15. Be Brave Tattoo
The next tattoo design features the quote "be brave". This quote is tattooed on the wrist so it is quite small. We love this quote because it is so positive and empowering. For a subtler tattoo, you can have the quote placed on the other side of the wrist. You can also choose any quote but keep in mind that the more words you choose, the bigger the tattoo will be.
16. Small Moon Tattoo Idea
Next, we have another outline tattoo. Instead of a heart, this design features a crescent moon shape. Moon tattoos are very popular and we like them because they are so mystical and elegant. Recreate the behind the ear tattoo or you can have the moon placed anywhere.
17. Simple and Stylish Initial
Initial tattoos are another popular choice. An initial can represent a family member, your other half, your friend or even your child's name. So, it is no surprise that these meaningful and personal designs often appear. Next, we have a small and elegant design to show you. The letter A is tattooed in a stunning font. As you can see, this is a subtle and beautiful tattoo. You can choose any initial for your tattoo and you can have any font.
18. Pretty Small Rose Tattoo
Love roses? If so, this tattoo could be perfect for you. Here we have a single rose tattoo design. It is such a small and beautiful piece of body art. Keep it simple and subtler like this or add a splash of red color to create a red rose. You can also check the language of flowers and choose a rose color that means something to you.
19. Music Note Design
Next, we have a tattoo for the music lovers. This design features one black ink musical note. It is a cute and simple tattoo. This would be another great first tattoo as it is small and it will not take a long time. You can recreate this or choose a different note. For a slightly bigger design, you could even add another note.
20. Cute Minnie Mouse Tattoo
This next tattoo is perfect for those who are a fan of Disney. Here we have a cute and pretty design inspired by Minnie Mouse. The design features the round head with ears and the iconic bow. Her actual face is just patterned which makes the tattoo so unique. Try a similar tattoo to this or you can try a simpler design without the patterns.
21. Beautiful Angel Wings
The next idea is not only beautiful, but it has a special meaning too. This design features small angel wings. Angel wings represent strength, guidance and protection. They can also by a symbol of someone who has passed away. Angel wings like these are subtle, stunning and they will suit everyone.
22. Small and Pretty Butterfly Tattoo
Another tattoo that a lot of people love is the butterfly. This is no surprise because they are so elegant and beautiful. Here is a stunning example of a butterfly tattoo that you could have. The design features a small butterfly that is placed on the shoulder. It is simple and so pretty. You can recreate this or add some color. You can also add some patterns on the wings.
23. Unique Geometric Cat
The last tattoo that we have to show you is so trendy and unique. This design features a cat with a geometric pattern. Tattoos with geometric patterns have become one of the must-have looks. We love this tattoo and it is perfect for those who like quirky and unusual designs. Recreate this or you can have a smaller version.
We hope that you have been inspired by these cute small tattoos!