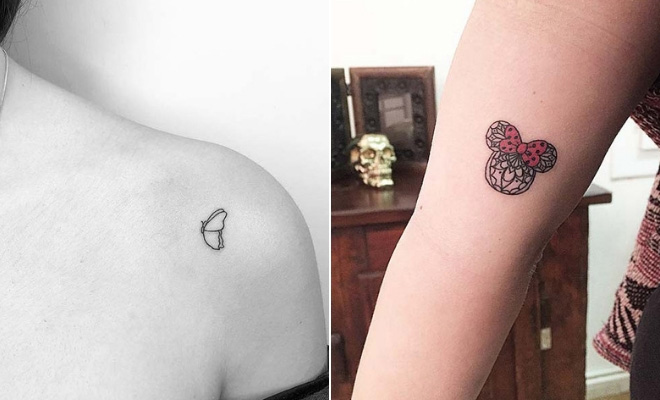 Instagram
Lifestyle
23 Cute Small Tattoos You'll Want to Copy
By
|
Been thinking about getting a new tattoo? Then this is the place to be! Today we would like to show you 23 cute small tattoos. A smaller piece of body art is perfect for those who are having a tattoo for the first time because you won't be in the chair for too long, so you won't be in as much pain. Not only that, but smaller tattoos can easily be covered up or shown off and they look super cute, too. We have designs for everyone from quotes, to beautiful birds and there are also some unusual ideas. Whether you are searching for your first tattoo or want a small design to fill in the gaps, there is a tattoo for you! Take a look!
1. Cute Small Seahorse Tattoo
The first tattoo that we have to show you features a super cute seahorse. For this design, a small seahorse has been tattooed on the ankle. This is a cute and pretty idea and it is perfect for those who love the adorable sea creatures. Keep it simple like this or you could add a splash of color. You can also have a seahorse tattooed anywhere on the body.
2. Colorful Infinity Symbol
A very popular tattoo design is the infinity symbol. The symbol can represent everlasting love and more. Here we have a stylish and small version of the design. A colorful infinity symbol has been tattooed on the finger. This is a cool idea and the tattoo will suit everyone. You can choose to have the tattoo in a different place if the finger design is too bold.
3. Small Star Constellation Design
If you love looking up at the stars or like to follow how your zodiac sign affects you life, then this idea is perfect for you. Here we have a small star constellation that is tattooed behind the ear. We love this cute little design. You can have any zodiac sign tattooed. It is a stylish and personal piece of body art that will suit everyone.
4. Stunning Small Bird Tattoo
Next, we have a stunning bird design. A small black ink bird is tattooed on the arm. Even though the tattoo is very small, it still has a lot of beautiful detail. A tattoo like this is timeless and it will look amazing on everyone. Recreate this bird or you can choose a different type of bird. You can also add a pop of color.
5. Tiny Sapphire Tattoo Idea
This next tattoo idea is glamorous and stylish. Here we have a beautiful sapphire tattoo design. The color and detail on this tattoo is just stunning. You can recreate this gemstone or choose a different one, your birth stone would look super cool too. No matter which gemstone you choose, you will have a chic and unique tattoo.
6. Pretty and Colorful Flower
Flower tattoos are so popular and with designs like this, we can see why! This tattoo features a pretty and small purple flower. The flower is tattooed on the shoulder. A beautiful tattoo like this will suit everyone. Recreate the purple flower or you can have a flower of your choice. It does look super cute on the shoulder but flowers can be tattooed on other places on the body.
7.  Small Heart Outline
Our list of cute small tattoos wouldn't be complete if we didn't feature a heart tattoo design. If you want a small, cute and subtle tattoo, you need to check out this next idea. Here we have a heart outline design that is tattooed on the hand. As the heart is on the hand, it is more bold and statement making. This design can be tattooed anywhere. Opt for wrist or ankle if you want a more low-key tattoo. A small and simple design like this would be great as a first tattoo.
8. Evil Eye Tattoo
Another popular tattoo design is an Evil Eye. The Evil Eye is believed to protect you against evil and negative influences. The design looks super cool, too. This tattoo is a small version of the eye. It is placed on the wrist and it looks so stylish and unique. Recreate this design or you can choose a different Evil Eye tattoo. Either way, it will look awesome.
9. Beautiful Finger Tattoo Idea
Next, we have another finger tattoo idea. This one features a beautiful and elegant black ink pattern. A decorative tattoo like this will look amazing on everyone. This is one of our favorite designs because it is so pretty and statement making. You can recreate this or try a different pattern.
10. Tiny Paw Print
If you love animals or have a pet, then this idea is perfect for you. Here we have a small paw print that is tattooed on the foot. It is a simple, small and cute tattoo. A design like this could also be a memorial tattoo if you have lost a pet. This is another piece of body art that is easy to wear so it can be placed anywhere on the body.