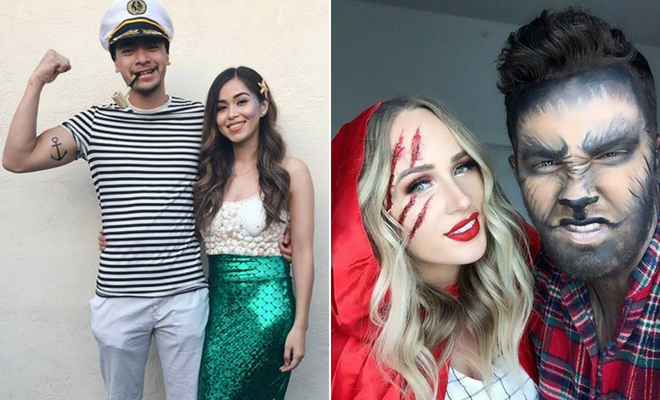 Instagram
Lifestyle
65 Genius Couples Halloween Costumes
By
|
51. Who Framed Rodger Rabbit Costumes
Jessica Rabbit is another popular costume and here is a cool version for couples. These two look very much like the characters in the movie and it is fun look. Something like this is great for those who want to dress up without being scary. You can DIY this costume or buy a set online. Jessica Rabbit is more popular so you may have to shop around to find the other one.
52. Grandma and Grandpa
If you're looking for a fun and simple costume, then this is perfect. These two are dressed as grandma and grandpa. You can have so much fun with this costume as you can shop around to find some fun and vintage clothing. Maybe even make zombie versions as it is Halloween.
53. Geralt and Yennefer Costumes
Are you a fan of the Witcher? Then you need to see this. One is dressed as Geralt and the other Yennefer. This is an awesome idea for couples and it is great for those who love the series, books and games. Something like this is perfect for parties as the Witcher is very popular at the moment. You can buy Witcher costumes online.
54. Pirates
Ahoy there mateys! Here is a costume for those who love pirates. As you can see, both are dressed as pirates. This is an fun and awesome costume for parties and night outs. There are lots of different pirate costumes available online so you can choose one that's right for you. You could even dress up as a skeleton pirate.
55. Hot Sauce Inspired Costumes
Next, we have cute and fun costumes inspired by hot sauce. The couple are dressed as different versions of hot sauce with different outfits and signs. This is a unique idea and it is perfect for those who love hot sauce. Recreate this or create an outfit based on your favorite sauce, drink or food.
56. Barbie and Ken
This next costume is a classic! Here we have a couple dressed as Barbie and Ken! Barbie is wearing a pink outfit complete with accessories while Ken is wearing a simple and stylish outfit with a wig. This is a fun idea and there are so many outfits worn by Barbie and Ken that you can be inspired by. You could even make scary versions.
57. Ninja Costumes for Halloween
Show off your fierce side with ninja costumes like these. The costumes color match and are the same style so you know this is a couple's costume. Both look super cool and it is a fun look for Halloween. There are lots of ninja costumes available online so there is something for everyone.
58. Doctor and Nurse
The next costume idea is another Halloween classic. This couple are dressed as a doctor and a nurse. Not the kind that you would want to save you though, as these are scary versions. Both have fake bloodstained clothes complete with contacts. This is a spooky idea and it is perfect for Halloween parties with friends.
59. Game of Thrones Inspired Costumes
If you and your other half are fans of Game of Thrones, then this is for you. One is dressed as Daenerys Targaryen and one is dressed as white walker. This is a must-have for fans of the show. Try and recreate these characters or you can choose two others. Maybe Jon Snow?
60. Where's Wally
Next, we have a unique costume idea. This couple have dressed up as Wally or Waldo and Carmen Sandiego. These are fun costumes and are perfect for couples who do not want to be scary or for those dressing up with family. It is also great for those who want to try something different to the usual Halloween classics.
61. Skeleton Couples Costumes
This next couple have chosen another Halloween classic. Here we have two skeletons. This couple look stylish and spooky, and one also has a Lara Croft vibe. Something like this is perfect for those who want to look scary but also look trendy. Outfits and makeup like this is great for parties and you can find skeleton makeup tutorials online.
62. Funny Couple's Costume for Halloween
If you want to show off your sense of humor, then this costume idea is perfect. These two are dressed in fun outfits complete with beer, a baby and they are also smoking. It is a fun way to say that sometimes people can be a little scarier than the classic Halloween characters. This is a great DIY costume too.
63. Police Couple's Costumes
Next, we have another classic costume. One is a dressed as a cop and the other a prisoner. This is another fun costume. You can buy these costumes online so you can recreate the look. You could try this or you could even make the costumes more scary by wearing contact lenses and spooky makeup.
64. Lara Croft and Indiana Jones
Love adventures? If so, these costumes are for you. Here we have a couple and one is dressed as Lara Croft and the other is Indiana Jones. It is such a unique idea and it is perfect for those who love Tomb Raider and Indiana Jones. These costumes can be a DIY project or can be bought.
65. Chucky Couple's Costumes
The next couple are super scary. As you can see, one is dressed up as Chucky and the other as his bride Tiffany. This is perfect for fans of the movie and there are lots of Chucky makeup tutorials online. Both costumes can be easy to recreate and you can buy costumes or make them yourself.
We hope you've been inspired by these genius couples Halloween costumes and have found the perfect look for you and your partner!