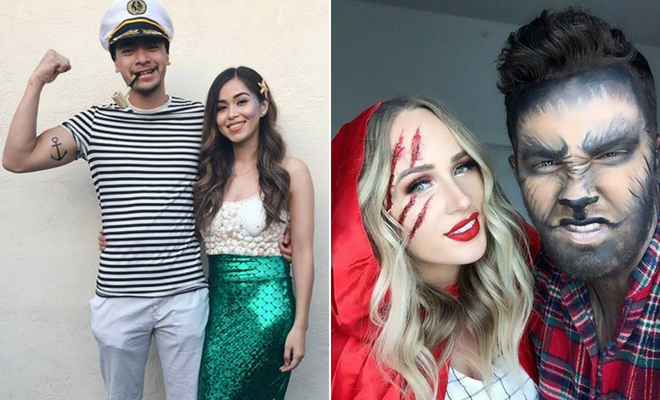 Instagram
Lifestyle
65 Genius Couples Halloween Costumes
By
|
31. Pop Art Zombies
Zombie costumes are so popular at Halloween. This next couple have given their zombie costumes a unique twist. Instead of the classic gory and bloody makeup, these two have gone for a more vibrant, pop art look. We love this because it reminds us of zombies that you would see in a comic. With makeup like this you will both stand out from the rest of the undead.
32. Ariel and Prince Eric
Just because it is Halloween, it doesn't mean that your costume has to be scary. You could go for something cute like this. This couple have chosen to be Ariel and Prince Eric from the movie The Little Mermaid. Costumes like these are for the couples who are Disney fans and for those who prefer the heroes over the scary villains.
33. Morticia and Gomez Addams
Next, we have a costume that is perfect for those who love The Addams Family. These two have chosen to dress up as the iconic Morticia and Gomez Addams. Costumes like these will be easy to recreate and are perfect for a party. Not only that, but you can join in the fun of Halloween but you will still look like an elegant and stylish couple too.
34. Mexican Sugar Skull Inspired Costumes
Sugar skulls are another popular costume and idea and this couple have worn the look in style. The costumes and makeup are amazing. You can go all out like this or choose a more toned down look. Either way, you will look awesome. Sugar skull makeup does take practice but there are plenty of tutorials online.
35. Circus Skeletons
The next couples costume idea has been inspired by the circus. These two are dressed up as ringmasters and have skeleton makeup. This is a creepy and super cool costume idea. It is a unique take on the classic skeleton look and we love the circus theme. These costumes are perfect for a party!
36. Skeleton Couple Costume
Celebrate Halloween in style with skeleton costumes like these. The guy is wearing spooky skeleton makeup and a tuxedo while his partner is wearing cute skull makeup with a trendy outfit. Costumes like these are for the couples that want to dress up for Halloween but who still want to look fashionable too.
37. Starbucks Couple Costume Idea
Do you and your other half love Starbucks? If so, this is the costume for you. One is dressed as the barista and the other is dressed as a drink. These costumes will require creativity and imagination but they are fun and unique. You can dress as any drink. This idea will definitely make you stand out from the crowd.
38. Gangster Clowns
Like clown makeup but would like a design that is a little more unique? If so, check out this next idea. Here we have gangster clowns. As you can see, you still get the creepiness and fun of the clown makeup but it has a twist. Recreate colorful makeup like this or you can go for darker and more spooky colors.
39. Britney Spears Costume Idea
This next costume idea is a must-have for fans of Britney Spears. Here we have a couples costume that features Britney from the music video Oops I Did It Again and her other half is the astronaut. This is a very unique idea and we love how creative it is. If you can't find a red suit, then just choose a red top and pants. Astronaut costumes can be bought online.
40. Funny Popeye and Olive Costumes
Next, we have another unique costume idea. This couple chose to celebrate Halloween dressed as Popeye and Olive Oyl. It is perfect for anyone who loves the cartoon. You can buy Popeye and Olive Oyl costumes online. If you want to be creative, then you can create your own version of the costumes yourself.