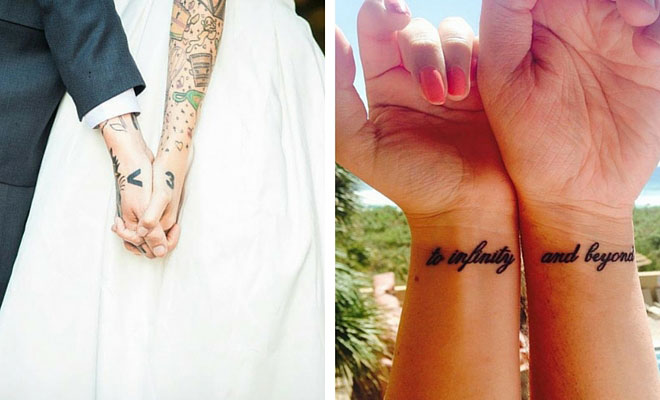 Instagram
Lifestyle
81 Cute Couple Tattoos That Will Warm Your Heart
By
|
31. Nerdy Gamer Tattoos – The Legend of Zelda Hearts
Many couples do play games together… by games I mean computer games! The classic game The Legend of Zelda is recognised all around the world and means so much to many people.  These matching cute hearts are from the game and if you are a gamer, if you saw these, you would instantly know!
32. Heartbeat Always and Forever Tattoos
The heartbeat line is popular amongst couples. This is slightly different but still has the same heartbeat theme.  They are heartbeat lines but "Always" and "Forever" are written into the heartbeat line. Other people may not notice, but you know it's there.
33. Tiny Lock and Key Tattoos
Cute! Tiny lock and key are more meaningful than many loud tattoos.  These tattoos can have many meanings, but for couples that choose to have these designs, usually means the key holder holds the key to their partner's heart.  One person can choose to have the key whilst the other will have the lock.  Sometimes best friends opt for these designs too, which can mean secrets.
34. King and Queen Hand Tattoos
King and Queen tattoos are perfect. You are his Queen and he is your King. If you want to show your commitment to your loved one by either having a identical or tats like this that complement one another, make sure you and your partner fully agree on the style, colour and size.  These incredible tattoos prove the love you both share is not only inside, but you want to show it on the outside too.
35. Peanut Butter and Jelly Tattoos
You two go together like peanut butter and jelly sandwiches? One of you could have the peanut butter side and the other can have the jelly.  Yummy, right? You must add colour to differentiate the two.
36. Bow and Arrow Tattoos
Bow and arrows look great as tattoos. No colour needed and one person has the bow and the other has the arrow.  Together you are a bow and arrow!
37. Red King & Queen Finger Tattoos
Red is for love. King and Queen of hearts in red font looks striking and lovely.  Have yours on the side like the photo above to be different.
38. Watercolor Bird Tattoos
Watercolour and birds work so well together. The watercolours really bring the bird to live.  These birds look so cute crowns on and they are facing one another.
39. Geometric Penguins
Penguins make fun and lovely tattoos. These matching geometric look fab and unique.  Again, no colour needed.  When you think of a penguin you think of colour, but look how incredible this looks without.
40. Super Mario Arm Tattoos
If you want something bold and colourful, then this is for you. Super Mario fans will instantly recognise these tattoos.  It's Princess and Mario of course!  When these tattoos are together, the colours look amazing and full of life.