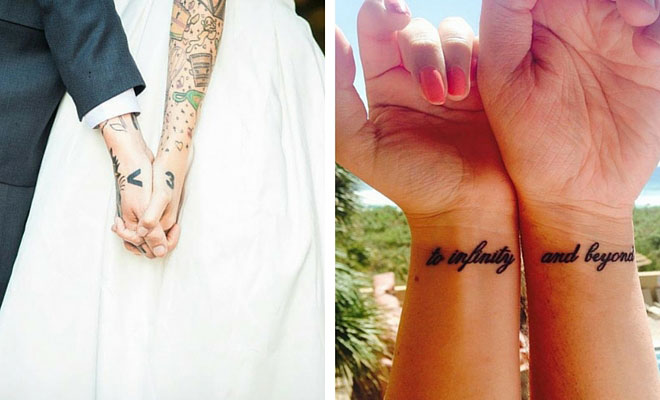 Instagram
Lifestyle
81 Cute Couple Tattoos That Will Warm Your Heart
By
|
21. Couple Gamer Tattoos – Super Mario Mushrooms
We all love the Mario games and when people see these mushrooms, they will know! Red and green mushrooms from the game Super Mario Bros., look so good.  They stand out and even though they are different colours, you know they match.
22. Small King & Queen Finger Tattoos
Ring finger tattoos are becoming increasing popular across men and women. You don't have to be married to get matching tattoos.  Some people take the tattoo as their commitment and never marry.  It suits them fine.  You could get matching K and Q tattoos that represent King and Queen.  It is timeless, special and every time you look at your hand, you will think of each other.
23. Love Quote Tattoos
Love quotes show your love and affection for each other. These words you should always remember…  To you, my heart I surrender.  We love this quote and especially with the arrow pointing towards your partner.  They are simple but meaningful.
24. Tiny Mr & Mrs Finger Tattoos
If you are not keen on showing off your ring finger tattoo, opt to have a side ring finger tattoo. These tattoos are not consistency on show.   You may have a job that doesn't allow employees to have tattoos.  This is discreet until you start to point!  Mr and Mrs fit perfectly well on the side of your ring finger and if you are engaged or married, you can still wear your rings.
25. Cute Mickey & Minnie Tattoos
Go for the retro Minnie and Mickey matching tattoos. Nowadays, many people forget about the classic cartoons like these characters.  They are memorable and so cute.  They make good tattoos because they are in love and very colourful.  Have them facing one other like the photo above.
26. Watercolor Anchor Tattoos
Many people are going with the trends and choosing to have watercolour tattoos. We don't blame them.  Look how good these matching anchor watercolour tattoos look!  They add a splash of colour and are very distinctive.
27. Electron and Proton Tattoos
The electron and proton are the same but opposite. They are the same in regards to having the same number of electrons and protons required to revoke one another.  If you don't fancy having a big, colourful tattoos that take so long and are expensive, you could choose these matching tats!
28. Barley for him, and Lavender for Her
I'm not sure about you but if I'm going to get a matching couple tattoo with my partner, I'm going to make sure it's amazing and stunning. Take this barley for him and lavender for her tattoos.  These are so sweet and delicate.  I don't want just his name written on my knuckles or arm, I'm going for a lovely feminine design.
29. Small Anchor Finger Tattoos
Anchor can symbolise stability and strength. Both of you make one another stronger and make the perfect team.  Tattoos do not need to be bold and colourful to have meaning behind them.  This is a light outlined anchor that sits on the ring finger and looks cute.
30. You are my Sunshine, my Only Sunshine
You are my sunshine, my only sunshine. Being together makes you happy and you feel loved and special.  The sunshine is always shining and you both are madly in love.  These cute matching tattoos look incredible and are directed at one person only.