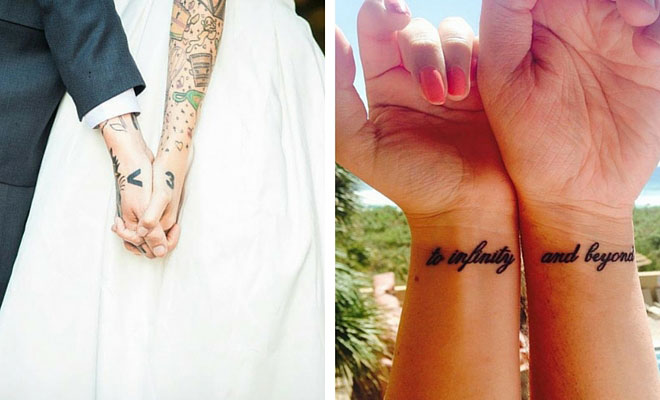 Instagram
Lifestyle
81 Cute Couple Tattoos That Will Warm Your Heart
By
|
11. Coordinates of a Special Place for Them
This may take some working out! If you know of a special place that means a lot to you both, try and find out the coordinates so you can have a matching cute tattoo.  It's not that hard to figure out, you can even do this online rather than being at the place of interest, so don't think you need to plan your holiday there for you to retrieve the digits.  This is definitely a conversation starter.
12. Simple Quotes Tattoos – Her One & His Only
This is too cute. "Her one" and "His only" is a message to the world.  In other words, you are taken, hands off my girl and you can say, hands off my man!  This looks so good when you are stood showing both tats together.
13. One Life, One Love King and Queen Tattoos
He treats you like a Queen and you treat him like your King. Get matching his and hers king and queen crowns with 'One Life' and 'One Love' written underneath. If you did want to add a little colour, maybe think about just having a few jewels on your crown coloured in, but we think this looks perfect in grey shading like the photo.
14. Disney Beauty and the Beast Tattoos
Remember Belle?  Everyone knows the Disney movie Beauty and the Beast. This is a cute story about Belle who falls in love with the Beast.  These tattoos will look so good and striking.  Are you a fan?
15. Unique Watercolor Vegetable Tattoos
These unique watercolour tattoos stand out and look amazing. The watercolour effect makes the tattoo look so different and the colours are so beautiful.  Choose your favourite vegetables and make your own design.  Maybe you and your partner are vegetarians and love your vegetables, it may seem silly but many people are proud of this and so you should be.
16. Cute Wrist Tattoos
These matching tattoos are simple, cute and so effective! If you want to add a splash of colour, add a few small red or pink hearts, like the photo.  You can have it sideways or straight across your wrist.  The perfect tattoo for couples.
17. In Love with you forever… forever in love with you
In love with you forever, forever in love with you, looks incredible when together. If you do choose to have this quote and you do choose the shoulder area, make sure you opt for opposite shoulders.  Think about it, it wouldn't work if you choose to have the same shoulder!
18. Couples Travel Tattoos
Are you a couple that love to travel? Adventures are the thing that you are both passionate about and love to do?  Simply having "adventure" says it all.  Life is an adventure so it can have many different meanings to suit you.
19. Matching Swallow Arm Tattoos
Birds make lovely tattoos for both men and women. This is a great choice for you both.  They represent many things but majority of people tend to choose bird for love and family.  It can also mean freedom and always coming back home.
20. Heart Fingerprints
This is a cute and unusual tattoo, that you rarely come across. A heart shape tattoo, shaded into a fingerprint.  This is very decorative and looks stunning. It has an arty and magic eye appearance.