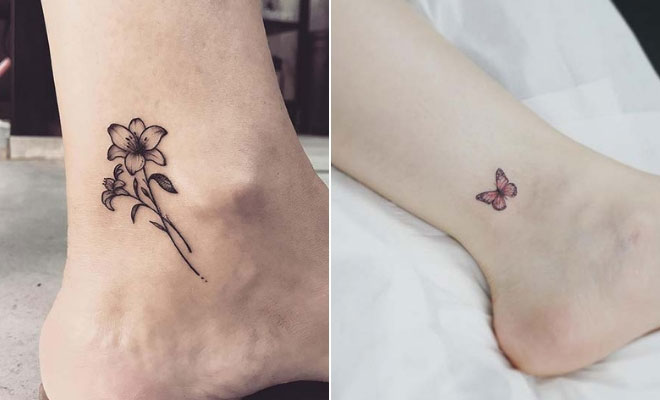 Instagram
Lifestyle
43 Pretty Ankle Tattoos Every Woman Would Want
By
|
Ankle tattoos are very versatile. You can choose a design that is small and subtle or big and bold. Not only that, but these tattoos can be covered up and shown off when you choose. As you would expect with any tattoo, an ankle tattoo is believed to be a little painful, especially near the bone, but it will all be worth it as your tattoo will look awesome! We love ankle tattoos and have found 43 of the best designs on Instagram. You will find floral body art, animal tattoos and more.
1. Rose Ankle Tattoo
The first ankle tattoo that we would like to show you is this pretty rose design. This is a small tattoo idea that features a single black ink rose. It is a beautiful and subtle piece of body art that would be nice as a first tattoo or if you just want something cute. You can have a tattoo similar to this or you can add some color.
2. Lioness Ankle Tattoo
Lion and lioness tattoos have become very popular. These tattoos can be a symbol of loyalty, bravery and the lioness can represent motherhood. Here we have a beautiful ankle tattoo that features a lioness. It is a very stylish and fierce tattoo, you can recreate something similar or have a more realistic lioness design.
3. Flower Ankle Tattoo
Next, we have a gorgeous flower idea. This design has two small lilies just near the ankle bone. It is a lovely flower tattoo and the shading and detail is just stunning. This is another tattoo where you can recreate it in black ink or add a splash of color. You can also take inspiration and choose two different flowers for your tattoo but use a similar design.
4. Cute Sun and Sea Ankle Tattoo
Love the beach or the sunshine? Then this idea is for you. Here we have a small ankle tattoo that features a sun setting behind the ocean. It is a cute design that could be a reminder of special vacation or if you just love the seaside. You can recreate the tattoo or you can add other designs too, palm trees would look amazing.
5. Floral Ankle Tattoo Idea
Our next idea is a beautiful floral design. A bouquet of flowers has been tattooed near the ankle bone. The flowers used are delicate and pretty. You can try a tattoo like this with any flowers, and design your own bouquet that is unique to you. Maybe add your favorite flowers or some color..
6. Cool Bird Tattoo
Birds are another popular tattoo design. Every bird tattoo is unique as it will mean something different to each person. Not only that, but the bird you choose will also represent something different too. Here is a cool ankle tattoo that features birds. Two birds are standing still and there are three birds flying. It is a cute and stylish tattoo and you can have a similar design with any bird.
7.  Stunning Flower Tattoo Idea
Looking for a beautiful tattoo? Then this design could be perfect for you. Here we have a delicate flower idea. The design is so pretty and it is a timeless tattoo. You can recreate this or you can use any flower type. Keep the stem long for an elegant look. You can even consider adding color, the watercolor technique would be stunning.
8. Bold Snake Ankle Tattoo
Snakes can be a symbol of many things some of which include: rebirth, immortality, wisdom and more. Here is an awesome tattoo idea the features a snake. The snake starts on the foot and beautifully wraps around the ankle and up onto the leg. It is an edgy and stylish tattoo and it can be recreated with black ink or with color.
9. Botanical Tattoo Design
Next, we have a simple and trendy botanical tattoo. The design features a circle shape that is made with leaves. We love this tattoo because of the leafy pattern and the geometric style. You can try the circle with the leaves or you can make a circle with flowers. Either way, it will look gorgeous.
10. Floral Foot and Ankle Tattoo
Our next idea is another floral design. This one features large flowers that start on the foot and end on the ankle. It is a beautiful tattoo that makes a statement. A tattoo like this will probably be painful but it will be worth it! You can use any flowers for a design like this, maybe choose your favourite or you can choose flowers with meaning, your birth flower would be cool.