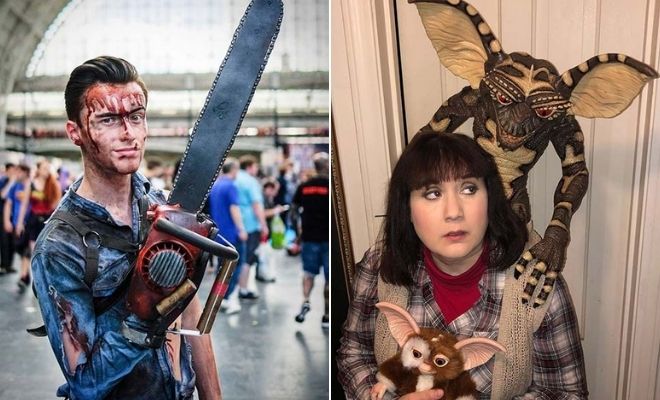 21 of the Best 80s Halloween Costumes
Still looking for the perfect Halloween costume? Well, why not narrow down the search and choose something from the 80's? The 80's was a decade full of amazing and scary movies, bad fashion and iconic celebrities. So, there is a lot of inspiration. With that said, we have 21 of the best 80s Halloween costumes. We have creepy characters, cult classic movies, pop stars like Madonna and more. Take a look and see which 80's icon you want to be.
1. Madonna
The first idea features a costume inspired by 80's icon Madonna. This one is based on one of her popular looks and it is both stylish and fun. Something like this is great for those who want to dress up but also look cool. A similar costume to this is quite easy to recreate. Try this costume or choose one of her other 80's outfits.
2. 80's Workout Outfit Costume
If you are looking for 80s Halloween costumes that are easy to create, fun and ones that you can wear with your squad, then this is perfect. As you can see, this group are all wearing neon workout gear. This is a fun look and it is something you would have seen in the 80's. You can, of course, wear this as a solo costume, too.
3. Evil Dead Ash Costume
Many horror films came out in the 80's and one that still has a large following is the Evil Dead. This costume is based on the character Ash. Now, there are three movies and this one with the chainsaw hand is from Evil Dead 2. It is such an awesome and scary costume. You can be any version of Ash in movies one and two as three was released in the 90's. We love this costume because it's… groovy.
4. Frog Brothers from The Lost Boys
Another classic 80's horror movie is The Lost Boys. This vampire film is both scary and fun as a little comedy is thrown in. The costumes below are based on the Frog brothers who hunt vampires. This is a fun idea and it is a must-have for fans of the movie. Try this or you can be any of the vampires, they are all pretty creepy.
5. Beetlejuice Barbara Costume
If you love the movie Beetlejuice, then this next costume is for you. This costume is based on the character Barbara Maitland when she is wearing the wedding dress in the movie. We love this one because the costume is creepy but also you get to wear an 80's wedding dress. Amazing. You could even do this as a group or couple's costume and include other characters.
6. Ghostbusters
Next, we have 80s Halloween costumes inspired by the Ghostbusters movie. This one is a family costume idea and features two Ghostbusters with a baby ghost. It is a fun idea and these costumes will suit any Halloween event. You can buy Ghostbusters costumes online and try it is a family like this or go solo.
7. Dirty Dancing Costume
The next costume is inspired by Dirty Dancing. The costume is simple and is based on Baby. It is a fun idea and everyone will love your costume. Try this one or try the iconic dress from the end. You can even try a couples costume and have your other half dressed as Patrick Swayze.
8. Wendy and Jack Torrance
The Shining is one of the scariest movies of all time so we have to include this in our list of the best 80s Halloween costumes. These two are dress up as Wendy and Jack Torrance. Costumes like this are quite easy to put together as you just have to find similar clothes, but it is one of the costumes that most people will recognize. Recreate this or try other scary characters such as the twins.
9. Gremlins Costume
This next costume is inspired by the movie Gremlins. Fans will instantly recognize cute little Gizmo and the gremlin who got fed after midnight. This is an amazing costume idea and you can recreate this with similar clothing and Gremlin toys. If you want a group costume there are lots of other characters to base costumes on and lots of Gremlins as well.
10. Deadite Ash
We have gone back to the Evil Dead movies now and here we have another Ash costume but this time he is a Deadite. This evil version of Ash is from the second movie and the makeup is just awesome. This is the perfect costume for fans and for those who want to be very scary! Makeup like this will take time but it is all about fun, so give it a try.