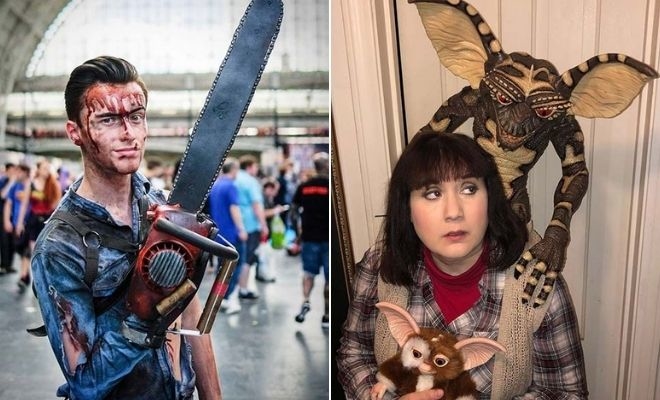 Instagram
Lifestyle
21 of the Best 80s Halloween Costumes
By
|
11. Back to the Future Costumes
Back To The Future is another iconic 80's movie and the costumes are perfect for those who want to dress up without being scary. These two are dressed up as Marty and Jennifer. It is such a fun idea and there are many Marty costumes that you can choose from. You can add other characters to this such as Doc, so it could be a great group idea.
12. Chucky
If you really want to give people a fright, then why not dress up as killer doll Chucky? Here is a great costume that you can be inspired by. She has the creepy stitched makeup with the doll outfit. This is a scary idea and there are lots of Chucky makeup tutorials online. You can buy the costumes online.
13. Labyrinth Inspired Costumes
Love the movie Labyrinth? Then check out these costumes. These are inspired by the main characters and they both look so cool. You can create similar costume to these yourself if you like DIY projects or you can buy costumes online. Maybe even go for the ball gown if you want to look glam.
14. Desperately Seeking Susan
Next, we have another Madonna costume. This one is based on her character in the movie Desperately Seeking Susan. It is a super cool costume and it is great for those who want to dress up without being scary. A costume like this is perfect for parties. You can buy similar costumes online or you can DIY it.
15. ET and Elliot
ET is another classic and here is a fun costume inspired by the movie. She is dressed up as Elliot and it looks like she has the alien in a bicycle basket. Something like this is perfect for those who want a DIY costume. You can, of course, recreate this with an ET toy if it is easier.
16. Michael Myers
Bring the ultimate scare to Halloween by dressing up as Michael Myers. Now, the first movie was not in the 80's but the second one was so you can totally wear this for an 80's theme Halloween. This costume is scary, easy to create and wear. You can buy Michael Myers costumes online.
17. Golden Girls
If you and your squad are looking for a Halloween costume, then this could be perfect. For this, each person is dressed up as one of the Golden Girls. This is such a fun idea and it is the perfect 80's costume as you will be able to wear some amazing clothes. It is another great DIY idea.
18. Stranger Things Costume
We couldn't have an 80's list without mentioning Stranger Things. While this isn't an 80's original as fans will know, it is set then. This costume is inspired by Eleven. It is just perfectly 80's and it is perfect for parties. Recreate this or choose any Stranger Things character. You can also get the squad involved and all of you can be a Stranger Things gang.
19. Deadite Linda
Next, we have another amazing Evil Dead inspired costume. This time we have deadite Linda. As fans will know, Linda appears in the first movie and she is one of the creepiest characters. If you and your other half are fans of the movies, then you can be Ash and Linda. You will be the grooviest couple at the party.
20. Back to the Future Family
If you loved the Back To The Future idea, then you will love this, too. Here we have the whole family and each one is dressed as a character from the different movies. This a great idea for families and friends to dress up together. The last movie is 1990 but you can still include it, we won't tell!
21. Darth Vader
Be the ultimate villain this Halloween, be Darth Vader himself. Star Wars 2 and 3 came out in the 80's so you can be any characters from those. This costume is one of our favorites and it is perfect for Halloween parties. It is a must-have for any Star Wars fan and you can buy Darth Vader costumes online.
We hope you have found cool 80s Halloween costumes to try this year! We know we did.