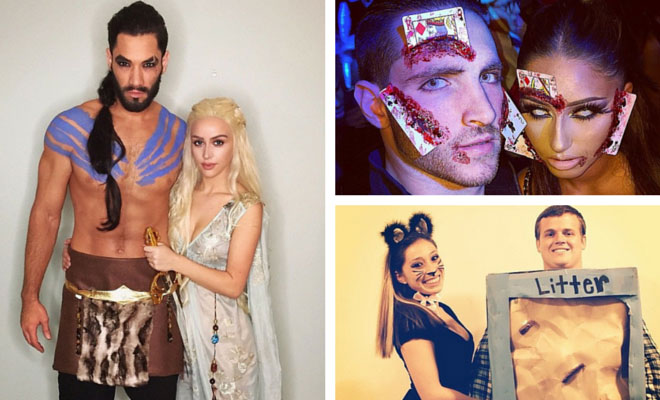 Lifestyle
50 Awesome Couples Halloween Costumes
By
|
Halloween is the best time of the year to be paired up. For a one night, you and your partner can be a-n-y-b-o-d-y! How cool is that? Still don't have a couples costume? No worries!
Last year we pulled together 50+ fun Halloween costume ideas, and this year is no exception. We've got a whole new collection of creative looks we've found around the web. Let the hunt begin!
1. Scary Gambling Couple
The trick to get lucky at a casino? Dress as a scary (but hot) gambling couple!
2. Khal Drogo & Khaleesi
If he is the moon of your life, we encourage you to steal this stunning Game of Thrones costume!
3. Bonnie & Clyde
You can recreate this Bonnie and Clyde costume with a trip to your nearest thrift shop.
4. Snow White & The Prince
Now that's a modern take on Snow White and the Prince, and it's so darn adorable. A true love's kiss always works wonders… even on a Halloween night!
5. Kitty & hers Litter Box
Get your beau to dress as a litter box and get ready for some serious laughs! P.S. Don't get mad at him if he says no to this unique couples costume.
6. Skeleton Couple
These two make sexy and scary go together so well!
7. Alice in Wonderland & Mad Hatter
Team up with Mad Hatter and together defeat the Queen of Hearts.
8. Frozen Elsa & Olaf Costume
Make your favorite Frozen characters come to life. You'll never forget Halloween 2015 if you make him dress as Elsa, that's for sure!
9. Harley Quinn and the Joker
These costumes will make you feel like you've just stepped off the set.
10. Hunter & Reindeer
It looks like he is on the hunt… for her heart! The costume is super easy to do – have some fun with your makeup then dress him in camo, and voilà!
11. Cop & Nurse
The sexy nurse thing never gets old… and HE is totally owning it! Couples who laugh together, stay together.
12. Pizza Delivery Guy & Pizza
Halloween pizza delivery, anyone?
13. Cruella De Vil & Dalmatian
You can never go wrong with a classic costume like this. Ladies, start practicing your evil crackle if you opt for Cruella De Vil costume!
14. Beetlejuice & Lydia
If you want to be the coolest couple on a Halloween party, make sure to give these costumes a try!
15. The Incredibles
Dress up as The Incredibles and become a superhero couple for a night!
16. Baywatch Couple
We just love couples with a sense of humor!
17. Popeye and Olive
One important thing is missing on this photo… Popeye's one-eyed smirk! Also, anchor tattoos on forearms are a must with this costume.
18. Sam & Suzy (Moonrise Kingdom)
A Sam and Suzy couples costume is one of those costumes that's always a hit.
19. Jurassic Park
We just hope that a T-Rex isn't hiding in those bushes… brrr!
20. Little Red Riding Hood & the Wolf
This Little Red Riding Hood doesn't look so innocent. What would grandma say about that naughty costume she's wearing?
21. Peter Pan & Tiger Lily
If you don't want to grow up, you better wear this cute couples costume this Halloween!
22. Firefighter & Burn Victim
This costume is so good that it makes us uncomfortable!
23. Gladiator Couple
Attention! Do not scream "This is Sparta" while wearing this gladiator costume.
24. Mickey & Minnie Mouse
If you're a couple that grew up watching (and loving) Mickey Mouse cartoons, these super cute costumes are for you.
25. Top Gun Couple
This Halloween, you can have your very own pilot Maverick. Yummy!
26. School Couple
When nerdy meets sexy, you get this!
27. Vampire Couple
This couple make bad look so, so good!
28. Fred & Daphne (Scooby Dooby Doo)
Scooby Dooby Doo, where are you?
29. Skull Couple
Who said scary costumes can't be sexy, too?
30. 1920's Couple (The Great Gatsby)
It's time to party like it's 1920. A little party never killed nobody, right?
31. Grandpa and Granny
Halloween gives you an opportunity to grow old together in a day!
32. Miss Piggy and Kermit
Now that's a Muppet costume we haven't seen before!
33. Cloud & Lightning Strike Victim
We love this combo of lightning and someone struck by lightning. It seems like the lightning is having more fun.
34. Corpse Bride and Groom
Until death do us part… or?
35. Egyptian King & Cleopatra
Rule the Halloween night dressed as a seductive Cleopatra and flirtatious Egyptian king!
36. Cop & Prisoner
Ladies, it's our turn to be in charge!
37. Minions
Perfect for a couple that likes to have fun!
38. Toy Story
Woody's horse, Bullseye, doesn't look amused.
39. The Wests
Become the Wests for a day with this simple but unique costume idea. Don't forget a pregnant belly because Kim is pregnant with their second child.
40. Little Mermaid and Prince Eric
A more adult version of our favorite Disney duo – Ariel and Prince Eric.
41. The Dalmatian & Firefighter
A dalmatian and fireman costume is the perfect combination of sweet and cute.
42. Mario & Luigi
Bring this classic video game to life with a help of your beau. These two look stunning for a couple of plumbers, right?
43. The Captain Couple
This stunning couple is ready to sail the high sea.
44. Jessica & Roger Rabbit
This Jessica Rabbit's costume will make you look and feel like a movie star. Bring tissues because he'll be drooling all over the place.
45. Alice & the White Rabbit
Here's another cute Alice in Wonderland couples costume.
46. Sugar Skull
For this couples costume you will need: a floral headband, black clothing (for him and you), black, white and red makeup, and a sombrero.
47. Teapot and Teabag
Is he your cup of tea?
48. Team Rocket
Perfect couples costume for Pokémon lovers! Make sure to include the Meowth too, so the trio can be complete.
49. Superman and Wonder Woman
This super hot couple is ready to save the world.
50. Shamy (The Big Bang Theory)
Sheldon and Amy (Shamy) make for the cutest nerdy couple. This is no "Bazinga".