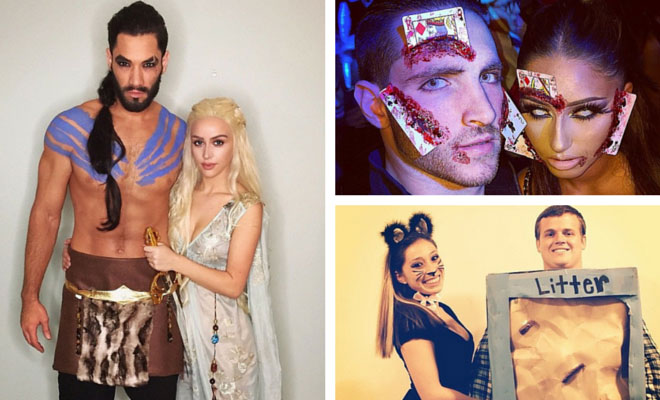 Lifestyle
50 Awesome Couples Halloween Costumes
By
|
Halloween is the best time of the year to be paired up.  For a one night, you and your partner can be a-n-y-b-o-d-y! How cool is that? Still don't have a couples costume? No worries!
Last year we pulled together 50+ fun Halloween costume ideas, and this year is no exception. We've got a whole new collection of creative looks we've found around the web. Let the hunt begin!
1. Scary Gambling Couple
The trick to get lucky at a casino? Dress as a scary (but hot) gambling couple!
2. Khal Drogo & Khaleesi
If he is the moon of your life, we encourage you to steal this stunning Game of Thrones costume!
3. Bonnie & Clyde
You can recreate this Bonnie and Clyde costume with a trip to your nearest thrift shop.
4. Snow White & The Prince
Now that's a modern take on Snow White and the Prince, and it's so darn adorable. A true love's kiss always works wonders… even on a Halloween night!
5. Kitty & hers Litter Box
Get your beau to dress as a litter box and get ready for some serious laughs! P.S. Don't get mad at him if he says no to this unique couples costume.
6. Skeleton Couple
These two make sexy and scary go together so well!
7. Alice in Wonderland & Mad Hatter
Team up with Mad Hatter and together defeat the Queen of Hearts.
8. Frozen Elsa & Olaf Costume
Make your favorite Frozen characters come to life. You'll never forget Halloween 2015 if you make him dress as Elsa, that's for sure!
9. Harley Quinn and the Joker
These costumes will make you feel like you've just stepped off the set.
10. Hunter & Reindeer
It looks like he is on the hunt… for her heart! The costume is super easy to do – have some fun with your makeup then dress him in camo, and voilà!