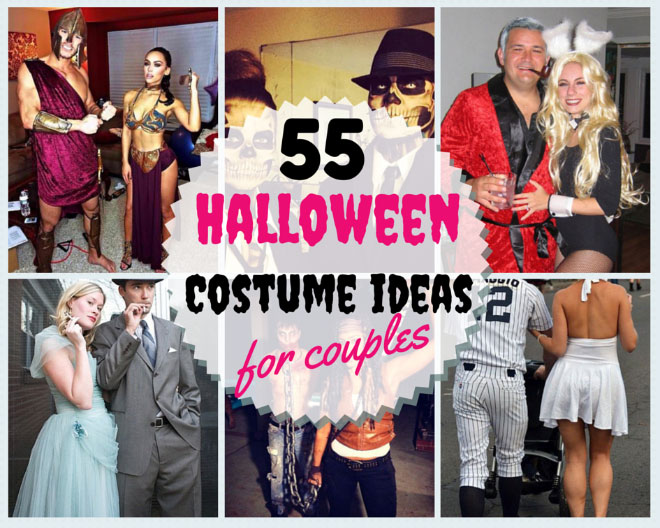 55 Halloween Costume Ideas for Couples
Halloween is right around the corner and that means parties, parties and more parties. Not sure what to be this Halloween? Don't worry… we have your back.
If you are paired up on Halloween, then get some unique and creative looks we have found around the web. Halloween costumes are even better in couple!  From super heroes to cartoon characters, check out our favorite couples Halloween costumes-
Let's have some fun!
1. Pop Art Costume
If you always wanted to be a part of a cartoon, now's your chance! This Halloween costume is pretty simple – all you need is some makeup and few pieces of vintage clothes. Here's a tutorial on how to achieve this makeup look  – Pop Art Makeup.
2. Tinkerbell & Peter Pan
This Halloween got on an adventure to Never Land with your boyfriend as Peter Pan. This couple costume is cute and simple.
3. Boyfriend to Girlfriend
Even wondered how does it feel to be in your boyfriend's skin? Well, you can easily try it out. It's enough to exchange your clothes and accessories and voila – you're ready to have some fun!
4. Couple Nun Costume
If you decide to become a nun this Halloween, don't forget to involve your boyfriend, too. He will enjoy the laughs!
5. Banjo-Kazooie Couple Costume
Perfect Halloween couple costume for all Nintendo lovers.
6. Pirate & Mermaid
Pirate and mermaid are perfect match. Ahoy! This costume isn't quite simple but it looks amazing.
7. Beetlejuice and Lydia Costume
He can become miscreant ghost and you can be his Lydia. This costume brings up so many memorable scenes from Tim Burton's film. Beetlejuice! Beetlejuice! Beetlejuice!
8. Robbers Couple Costume
Become a sly couple who is up to no good. Keep an eye out for the cops!
9. Buttercup & The Dread Pirate Roberts Costume
If The Princess Bride is one of your favorite movies and stories of all time, you should definitely give a try to this cool and unique costume.
10. Barbie and Ken Costume
Bring back the childhood memories with this special costume.
11. Couple Internet Browser Costume
Use this costume to show you are technology savvy couple (and Internet addicts).
12. Joe DiMaggio & Marilyn Monroe
In 1954, Marilyn Monroe married New York Yankees ballplayer, Joe DiMaggio in San Francisco. This Halloween, you can bring back this ultimate love story.
13. Frankenberry and Bride of Frankenberry
To bring this cereal creation to life, just add milk.
14. Monopoly Couple Costume
Why not make your Halloween costume into your favorite game? Your boyfriend can be Rich Uncle Pennybags and you can be Monopoly board. Lovely!
15. Gomez & Morticia Addams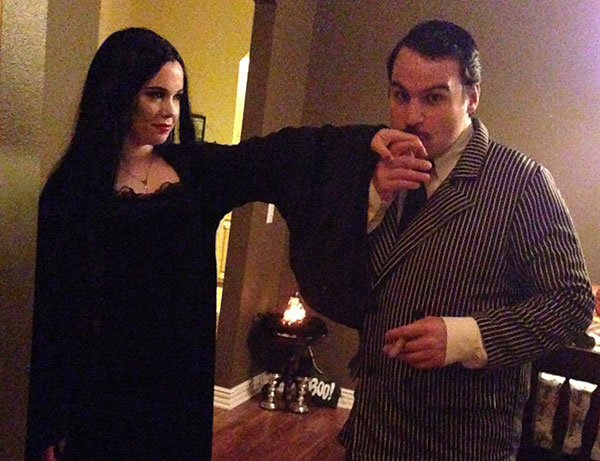 It's time to celebrate the eccentricity of the Addams family.
16. Hugh Hefner & Playboy Bunny
Most men would give anything to be Hugh Hefner for one day! Make him dreams come true by being his favorite Playboy bunny.
17. Honey Boo Boo & Mama June
Here comes Honey Boo Boo and her mama June!
18. Sheldon and Amy "The ShAmy"
We almost replaced this couple for real Sheldon and Amy. Bazinga!
19. Jack Skellington and Sally
With these costumes, bring another Tim Burton's amazing fantasy to life.
20. Soap and Loofah
Perfect couple costume because soap can't be complete without loofah, and loofah can't be complete without soap. Our bathing wouldn't be pleasant without these little two things.  Super creative costume!
21. Juno Couple Halloween Costume
Here's another awesome couples costume idea for Halloween – Juno and Paulie from the film Juno.
22. Tooth & Tooth Fairy
Don't forget to brush your teeth after all the sweets from Halloween (or you might see these two)!
23. KFC Costume
Colonel Sanders and his chicken! One of the most original costumes ever.
24. Skeleton Couple
If silly costumes aren't your thing, we have a pretty scary costume for you and your boyfriend.  In case you need help with your makeup, check this easy skeleton makeup tutorial: Skeleton Makeup
25. Lego Bride & Groom Costume
Use this costume as your excuse to go back to the childhood toy you've treasured.
26. Spartan Couple Costume
If you want to look like the powerful couple this year, this costume might be for you. It's sexy and hot!
27. We Can Do It Poster Costume
You probably already have everything you need in your own closet for this costume. Make the background boards to be completely recognized.
28. Couple Role Replacement
Exchange the roles and have an amazing time- it's simple and cheap but super fun!
29. Mad Hatter and The March Hare Costume
Where's Alice?
30. Moonrise Kingdom Costume
Dressing as the adorable and stylish Suzy Bishop and Sam Shakusky from Moonrise Kingdom, would make for a great couple's costume on Halloween.
31. Despicable Me Couple Costume
Steal the moon on Halloween with your boyfriend dressed as Gru and you wearing a Minion outfit.
32. Pugsley & Wednesday Adams Costume
Another Addams family costume but this time as Pugsley and Wednesday Adams. It's one of the most simplest costumes – she needs black clothes and two braids and he needs a striped T-shirt.
33. Pulp Fiction Costume
Perfect couple costume based on your favorite '90s movie characters!
34. South Park Characters
If you've ever watched South Park then you know these two! It's pretty simple but hilarious couples costume.
35. Don and Betty Draper
Bring back the 60s with with ultra suave Don Draper costume for him and sophisticated and elegant Betty Draper costume for her. Must haves – cigarettes for Betty and old-fashioned drink for Don.
36. Sharknado Couple Costume
You don't need to be a fan of Sharknado to pull out this costume. This couple know how to be funny!
37. Starbucks Couple Costume
Delicious Starbucks coffee and Starbucks worker? Perfect combo!
38. The Walking Dead Costume
She: fierce, zombie killer and apocalypse survivor from AMC's TV series The Walking Dead.
He: Her zombie slave.
39. The Fifth Element Costume
This The Fifth Element costume is so unique and funny! We love it! Only problem is –  how to talk your boyfriend into that tight jumpsuit?
40. The Incredibles Couple Costume
The incredible couple in The Incredibles costume.
41. Tina and Gene Belcher (Bob's Burgers) Couple Costume
This Halloween, it's your turn to serve up Bob's burgers!
42. Victor and Emily (Corpse Bride)
Another way to recreate Tim Burton's amazing story – Corpse Bride.
43. Pop Art Couple Costume
Living pop art characters…
44. Wayne and Garth (Wayne's World)
Wayne's World! Party time!
45. The Wolf and The Little Red Riding Hood
Will you be able to tame the heart of the Wolf in this cute red costume?
46. Devil Priest & Nun Couple Costume
This costume will surely make some children cry (and few grown ups, too).
47. Gingerbread Man and Baker
Gingerbread, be careful! She might eat you!
48. USB and USB Port
Another little device that we can't live without! Make sure to remove your USB safely.
49. Scobby Doo & Shaggy
In this cute couples costume, you're ready for some ghost hunting!
50. Orange is the New Black Couple Costume
Couples costume inspired by Orange is the New Black. Get in touch with your bad self!
51. Maleficent Couple Costume
The film Maleficent will inspire many Halloween costumes this year. You can be Maleficent while your hubby is your raven Diaval.
52. Magician and Bunny Assistant
Magician can't do his magic without his assistant! Let's make some magic.
53. The Great Gatsby Couple Costume
Get into the spirit of the 20's  big style in this awesome Gatsby and Daisy costumes. A little party never killed nobody…
54. Jessica Rabbit and Roger
Now you can look like the titillating and bodacious female cartoon that stole Roger's heart.
55. Kim Kardashian & Kanye West
There is no better Halloween idea than posing as the world's most talked about couple. There's so many ways to pull of Kimye costume. Your look isn't complete without Kim's big back and Kanye's serious face expression.