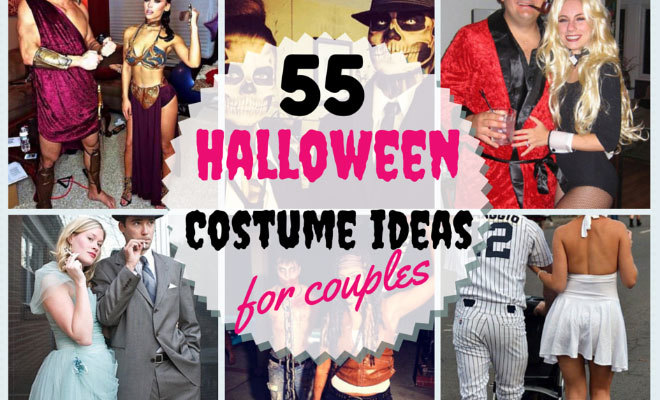 Lifestyle
55 Halloween Costume Ideas for Couples
By
|
Halloween is right around the corner and that means parties, parties and more parties. Not sure what to be this Halloween? Don't worry… we have your back.
If you are paired up on Halloween, then get some unique and creative looks we have found around the web. Halloween costumes are even better in couple!  From super heroes to cartoon characters, check out our favorite couples Halloween costumes-
Let's have some fun!
1. Pop Art Costume
If you always wanted to be a part of a cartoon, now's your chance! This Halloween costume is pretty simple – all you need is some makeup and few pieces of vintage clothes. Here's a tutorial on how to achieve this makeup look  – Pop Art Makeup.
2. Tinkerbell & Peter Pan
This Halloween got on an adventure to Never Land with your boyfriend as Peter Pan. This couple costume is cute and simple.
3. Boyfriend to Girlfriend
Even wondered how does it feel to be in your boyfriend's skin? Well, you can easily try it out. It's enough to exchange your clothes and accessories and voila – you're ready to have some fun!
4. Couple Nun Costume
If you decide to become a nun this Halloween, don't forget to involve your boyfriend, too. He will enjoy the laughs!
5. Banjo-Kazooie Couple Costume
Perfect Halloween couple costume for all Nintendo lovers.
6. Pirate & Mermaid
Pirate and mermaid are perfect match. Ahoy! This costume isn't quite simple but it looks amazing.
7. Beetlejuice and Lydia Costume
He can become miscreant ghost and you can be his Lydia. This costume brings up so many memorable scenes from Tim Burton's film. Beetlejuice! Beetlejuice! Beetlejuice!
8. Robbers Couple Costume
Become a sly couple who is up to no good. Keep an eye out for the cops!
9. Buttercup & The Dread Pirate Roberts Costume
If The Princess Bride is one of your favorite movies and stories of all time, you should definitely give a try to this cool and unique costume.
10. Barbie and Ken Costume
Bring back the childhood memories with this special costume.