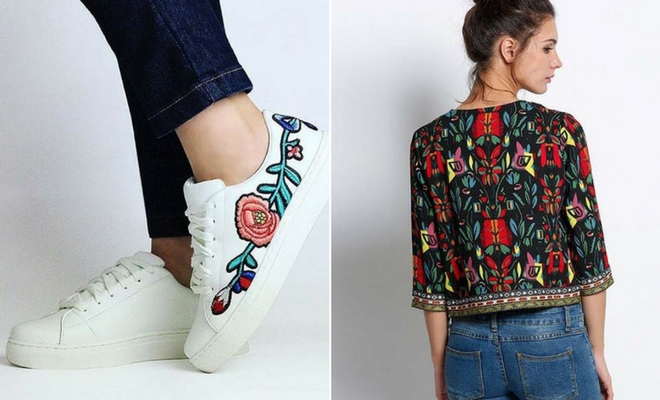 Instagram
Fashion
21 Fun and Fashionable Ways to Wear Embroidery
By
|
Embroidery is one of the hottest fashion trends of the year. Designers like Gucci have refreshed embroidery to give it a stylish and modern look. There are so many ways to wear these beautiful embellishments from jeans to bags. We love this trend and think you will to! Check out our list of 21 fun ways to wear embroidery, there is something for everyone.
1. Embroidered Jacket
Denim jackets are a spring favourite. Update the classic jacket with bright embroidery like this. The vibrant floral embellishment will refresh any look ready for spring. A jacket like this will go with everything you already have in the closet.
2. Floral Sneakers
Sneakers have been in the fashion spotlight because of trends like sports luxe. This year the designs have been refreshed again with embroidery. Floral embellished sneakers will jazz up the simplest outfits. These are great way to look trendy and feel comfortable.
3.  Embellished Jeans
Embroidered jeans have become a must have and you can see why. These pretty pink flowers give the classic jean a colorful lift perfect for spring and summer. You could wear these with anything from a simple t-shirt and sneakers to a blouse and heels. Jeans are a great way to to wear this trend.
4. Embroidered Purse
Bags are a super cool way to wear embroidery! The styles available are endless. Try a little chic bag like this one. The embroidery is stylish and creates a statement. You could wear this bag with any outfit for any occasion. A bag is a great way to add a hint of embroidery to the outfits you already own.
5. Bomber Jacket
Bomber jackets are perfect for spring and summer! These are great on chilly days to. Embroidered jackets are cute, stylish and can be worn with anything. You could even create a double trend outfit by wearing your jacket with a choker like this one. This outfit is giving us serious style envy.
6. Rebellious Embroidery
Give your floral embroidery a rebellious edge with leather. Sometimes it's fun to swap the pretty items in favor of something bolder and daring. Take ideas from this outfit. The beautiful floral blouse and bag have been paired with a rock chick skirt. An outfit like this is perfect for a night out.
7. Boho
Here is an outfit for the girls who love the Bohemian trend. Boho is stylish season after season but even more so in spring and summer. The embroidery on this top is different to the florals we have seen. It has more of an Aztec design. A top like this can be worn with anything from jeans to shorts.
8. Ruffles and Embroidery
Here is how to create a bang on trend outfit. This fashionista's outfit has combined some of the biggest styles of the year. Ruffles, embroidery and off the shoulder. If you want an outfit that makes you leader of the fashion pack then this is way to do it. We love this look!
9. Stylish Shoes
If you love shoes as much as we do, then check out these beauties! These gorgeous platform heels have beautiful embroidered flowers. You could wear these anywhere from a day out with the girls to a night on the town. Shoes like these are a spring and summer must have.
10. Funky Embroidered Skirt
With summer just around the corner, you might be looking for a new skirt. If so take some inspiration from this funky outfit. This embroidered skirt is vibrant and can be worn day or night. Wear with sandals or heels. If a chilly day does come around it would suit boots to.