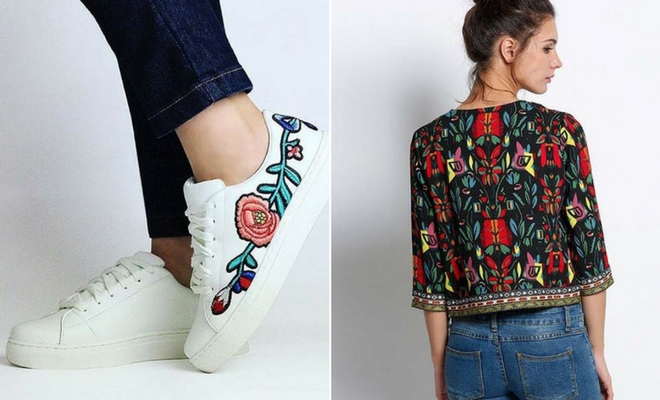 Instagram
Fashion
21 Fun and Fashionable Ways to Wear Embroidery
By
|
11. Embroidered Style Feature
If the full-on embroidery is not your thing, then consider a style feature like this. The top features a gorgeous floral feature on the shoulder. Something like this can be worn with anything for any occasion. It is a chic and subtler way to wear the trend.
12. Bold Jacket
A bold jacket is great to have in the wardrobe. It jazzes up your plainer outfits. All you need to look bang on trend is a jacket, t-shirt and jeans. It is a simple way to update the outfits you already have. If you want to wear for a night on the town pair with heels and a dress.
13. Floaty Floral Dress
Here is another way to wear embroidery with a boho vibe. A dress like this is perfect for the warmer weather. Another good thing about choosing a dress is that is just one piece, making it an easy way to wear the trend. The embroidery is beautiful on this dress.
14. Embroidered Jeans
We love an embroidered jean and with an outfit like this you can see why. These fabulous jeans would look great with a t-shirt or a blouse like this. You could wear heels, sandals or sneakers to finish off the look. Jeans go with everything making these a good choice.
15. Trendy Tunic
If you want something summery or for a vacation then check out this tunic. This trendy tunic features beautiful embroidery. The embroidery on this has more of a tribal vibe. It is a great choice for beaches and sunny days. You could wear with jeans to. We love this!
16. Embroidered Denim
A lot of embroidery features flowers, here is something a little bit different. This beauty of jacket is embellished with a paisley design. A jacket like this will make you stand out from the crowd. You could wear this with anything. It is an easy to wear piece that you will wear again and again.
17. Chic Black Blouse
Looking for something with a chic vibe? Then check out this blouse. A black blouse will look stylish for any occasion. Add some beautiful embroidered flowers and you have a shirt that instantly steps up your style game. You could wear  something like this open, closed or layered with a top underneath.
18. Pretty Floral Dress
If you have an occasion where you want to wow then consider a dress like this. The light colors, fabrics and embroidered flowers make it a pretty dress that is bang on trend. You could even wear this for something special like a wedding. Wear with cute sandals or heels and you're good to go.
19. Vibrant Yellow Embroidery
Add a pop of color to your look with a top like this one. The bright yellow embroidered top is perfect for summer. It is a fun top that will look fabulous with jeans. You could even wear it smart trousers for a day at the office. Any color top would be a stylish addition to your closet.
20. Embroidered Shorts
These shorts are real statement makers and the embroidered flowers are gorgeous. Shorts like these will go with any top and will look great with sandals or sneakers. You will wear these shorts all summer long and you could even take them on vacation.
21. Pretty Skirt
Our last pick is a stunning floaty skirt. A skirt like this is feminine, stylish and perfect for spring and summer. You could dress it down with sandals for the day or glam it up with heels for the evening. A skirt like this would be a beautiful addition to any closet.
Fun and creative embroidered fashion like this is a must have for 2018!