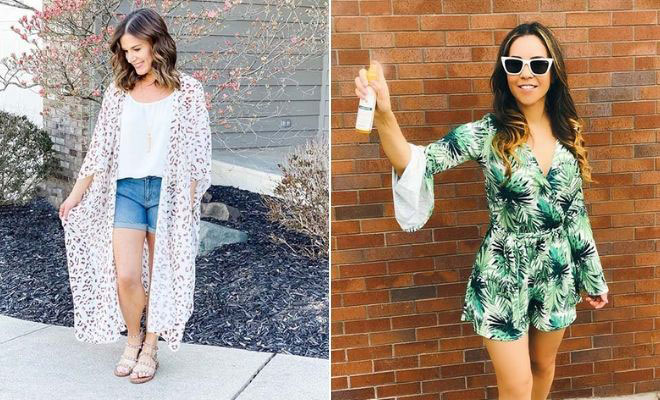 23 Casual Outfit Ideas for Summer 2020
The summer is just around the corner so now is the time to create your summer wardrobe. This year our summer plans may be a little different to the ones before, so that has changed the fashion trends too. As this summer, it is all about casual fashion. Think sneakers, t-shirts and stylish one pieces that are easy to wear. This summer is all about looking and feeling great while looking casual and trendy too. So, to give you some inspiration, we have found 23 casual summer outfit ideas. There is something for everyone from shorts, to rompers and comfy dresses. So, take a look and find your summery style.
1. Cute and Casual T-Shirt Dress
First up, we have this cute and casual t-shirt dress. The dress has nautical stripes and is worn with a denim jacket around the waist and stylish sandals. This outfit is so easy to wear and it is perfect for relaxed summer days. Buy a few dresses in different colors and prints and you have a simple and trendy summer wardrobe.
2. White Jeans +Striped Shirt
If you like the nautical stripes, then take a look at this outfit. Here have a cute striped t-shirt that is worn with white jeans and summery accessories like a hat and sunglasses. This is a casual and chic look that is perfect for summer days, city breaks and beach vacations.
3. Tropical Romper
A romper is a great item to add to your summer wardrobe. It is one piece, easy to wear and the shorts will keep you cool. Here is a trendy romper idea. This one has a summery and green tropical print, it has sleeves to keep your arms protected from the sun but it has shorts to keep you cool. It is a fun and trendy item that you can dress up or down.
4. Floral Top and Denim Shorts
This next outfit idea is super cute and summery. So, this look features a floral top with classic denim shorts. You can wear an outfit like this with sneakers, flip flops, sandals or wedges so you can create different looks. Shorts like these are great to have as they will suit any top.
5. Animal Print Skirt with a T-Shirt
Animal print is one of the must-have looks for the summer and here is how to wear it in style. Here we have a snake skin skirt that is worn with a cute t-shirt. We love this because the skirt could be quite glam or cute depending on how you wear it. As it is with a t-shirt, it now looks great for everyday. But, wear heels and a blouse and you have an evening look. It is a versatile outfit and you can find skirts like these online.
6. Skirt and Top Outfit Idea
Next, we have a trendy yet casual outfit idea to show you. She is wearing a nude skirt with a simple white top. The whole outfit is glammed up with a denim jacked. A midi skirt is another stylish clothing piece that can be dressed up or down to suit any occasion. You will wear something like this again and again and it is great for summery days and vacations.
7. Pretty and Purple Top with White Jeans
This next outfit is one of our favorites because it is so pretty, summery and it has a vintage vibe as well. Here we have a purple bow crop top that is worn with white jeans. We love this because that top and jeans has a cute 50's look and it is just perfect for the summer. You can find tops like these online and that color will suit all jean colors to from black to white.
8. Stylish and Casual T-Shirt and Shorts
If you are looking for something more casual and easy to wear, then this is perfect! Here we have a dark t-shirt that is worn with denim shorts and sneakers. This is stylish, comfortable and it will look amazing on everyone. Each piece can be worn with different items. If you need a no-fuss summer look, then this is for you.
9. Summery Outfit with a Vintage Vibe
Next, we have another outfit with a vintage vibe. This look features flared jeans with a halter neck crop top and white sneakers. We love this because it has a relaxed and casual 70's look. It is just perfect for those who like more bohemian style. Recreate this or try a crochet crop top for a real 70's look.
10. Romper and Denim Jacket
Love the rompers? If so, you need to see this. Here we have a cute romper that is worn with a denim jacket and wedges. As you can see, it is so easy to wear and it is stylish too. You can find similar items to these online so you can try your own version of this. You can buy a few rompers to create different looks.