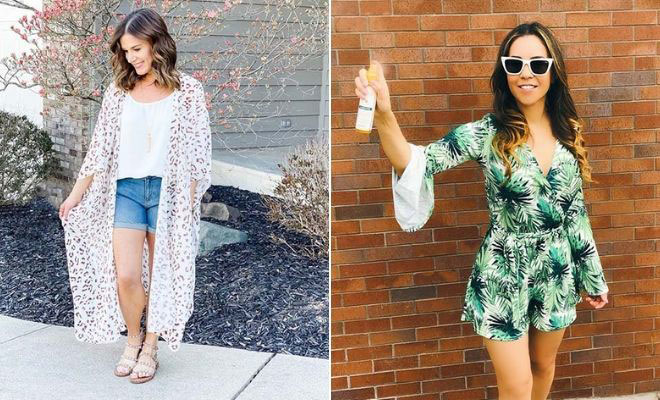 Instagram
Fashion
23 Casual Outfit Ideas for Summer 2020
By
|
11. Long Skirt and Top
The next outfit features another long skirt. This one has a leopard print and it is paired with white sneakers, a crop top and a denim jacket. A skirt like this is another that can be worn casually like this or with heels for a more glam look. We love this outfit, it is so versatile and it will suit everyone.
12. Bold Romper
Add a bold pop of color to your look with a romper like this one! As you can see, it is a gorgeous red color with beautiful flowers on the top section. It is a vibrant and super cute romper that will look amazing on everyone. You can wear a romper like this with sneakers, flip flops, sandals or wedges.
13. Cute Shorts and Cami
We love this next casual outfit! Here we have a white cami that is worn with light orange shorts and white sneakers. It looks so comfortable and easy to wear. Not only that, but it is stylish and cute so you can wear it anywhere from shopping to exploring a new city on vacation. It is just simple but gorgeous.
14. Stunning White Summer Dress
In the summer season you can never go wrong with a white dress. A white dress can be dressed up or down to suit any occasion and there is a dress style to suit everyone. This one is just stunning! It is mid length with long sleeves and it has a beautiful design. A dress like this will keep a lot of skin protected from the sun while keeping you cool and looking trendy.
15. Long Cover Up with a Top and Shorts
This next outfit is another one of our favorites! Here we have a simple white top that has been paired with denim shorts and sandals. The look is complete with a lightweight leopard print cover up. We love a cover up because they can be worn in different ways and they instantly glam up an outfit. This outfit will be great to take on vacation because you can wear the cover up like this in the evening and with your swimwear too.
16. Simple and Summery Outfit
Sometimes you just want a simple outfit that looks cute and is easy to wear. Well, this one is perfect for that. Here we have a white sleeveless top that is paired with denim shorts. It is a trendy, casual and comfortable outfit that can be worn all summer long. Recreate this or any top will compliment the shorts.
17. Unique Butterfly Jeans
If you want an outfit that is more unique, then this is for you! This outfit features a black t-shirt that is worn with long denim jeans. The jeans are also adorned with beautiful butterflies. You can find jeans like these online or you can buy plain jeans and add butterfly patches. We love this look and it is perfect for someone who wants to try something different.
18. Vibrant Top and Sliders with Shorts
Next, we have another vibrant outfit to show you. This one features a bright yellow top that is worn with denim shorts and summery yellow sliders. It is a fun and statement making outfit idea that is cute and casual too. Recreate this or try a different top with color matching sliders.
19. Nude Outfit Idea for Summer
Maybe you like more neutral colors? If so, this is perfect for you! Here we have a simple nude top that is worn with striped shorts. The look is complete with white sneakers. We love the colors and the overall outfit is so cute and easy to wear. These pieces can be worn separately, so a similar look is a good investment.
20. Denim Dungarees Outfit
This next outfit is so cute and easy to wear! Here we have denim dungarees that are worn with a simple t-shirt and white sneakers. Dungarees are trendy and are great for the summer. This denim look is great for pregnant ladies as it is stylish but comfortable. You can also buy dungarees dresses that have the same top but with a skirt. That would look cute as well.
21. Pretty White Top and Ripped Jeans
Want something summery, cute but a little edgy too? If so, this is for you. This outfit features a pretty white top with ripped jeans and super stylish accessories. It is just a fun and stylish outfit that shows you how to experiment with fashion. The ripped jeans give the chic top an edge too. Recreate this or try any style of ripped jean, you can try even more rips.
22. Pink T-Shirt Dress
Earlier in the post we featured a t-shirt dress. If you loved that idea, then check this one out too. This outfit features a vibrant pink t-shirt dress that is again worn with denim and sneakers. It just shows how a different colored t-shirt creates a different look. We love this statement making pink!
23. Cute Top, White Jeans and Sneakers
The last outfit is so cute and easy to wear. The outfit is complete with white jeans, a gorgeous top and sneakers. Something like this will suit women of all ages and it is perfect for relaxed summery days and exploring on vacation too. Again, all of these pieces can be worn separately, so you can create a few different outfits.
We hope you love these casual summer outfits!