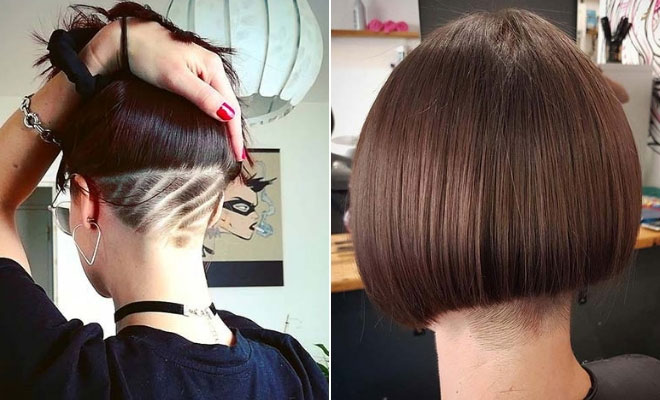 Instagram
Beauty
43 Bold and Beautiful Undercut Bob Haircuts
By
|
The undercut hairstyle is a trendy option for women. Some women can be a little scared of trying the style though because an undercut is usually seen with very short hair. However, there are different ways to wear an undercut and one of the popular options is a bob! With an undercut bob you can try the short and shaved style but still keep some length to your hair which gives you the best of both worlds. We love these bobs and know that you will too. So, to save you time scrolling through hundreds of pictures, we have done some of the work for you and have found 43 of the best undercut bob haircuts. There are bold colors, patterned cuts and more. Take a look, be daring and try this bold and beautiful haircut.
1. Inverted Undercut Bob
First up we have this inverted bob. The hair is longer at the front and shorter at the back and the longest length is below the chin. The bob is beautiful as it is but there is a trendy undercut too. This undercut has a pretty and stylish pattern. Hair like this is so chic and you can recreate this or try a different pattern for the undercut.
2. Trendy Haircut Idea
Next, we have another chic and trendy hairstyle. For this look the hair is cut into a short chin length bob with a simple and shaved undercut. Hair like this is easy to wear and will suit everyone. This idea is one of our favorites and a haircut like this will give your hair one stylish makeover.
3. Spicy Red Short Bob
Try a new trendy cut and color and choose a hairstyle like this. Here we have a short bob that is colored in a spicy red shade. The shaved undercut is a different color which really makes it stand out. A red shade like this will jazz up your hair and give you a stylish look. Recreate the different colored undercut or you can color match it. Either way, it will look trendy.
4. Edgy Short Bob
The next hairstyle we have to show you is very edgy and modern. Here we have a short haircut with simple and shaved undercut. This bob is very short but that really shows off the undercut and it creates a trendsetting hairstyle too. We also love the blunt cut. You can try a similar hairstyle to this or you can make the length a little longer.
5. Blonde Bob with a Subtle Undercut
If you want to try an undercut but don't want too much of a dramatic change, then this idea could be perfect for you. Here we have a gorgeous short inverted bob with a shaved undercut. As you can see, you can't really see the undercut unless the hair is tucked behind the ear or if the back of the hair is up. This allows you to try the trend in a chic and subtle way.
6. Patterned Undercut Idea
You don't have to have a very short bob with an undercut, you can have a longer bob like this. The hair is cut to just above the shoulders and it has a trendy patterned undercut. This is such an edgy hairstyle and it will let out your inner rock chick. You can recreate the sleek, stylish and black hair or try the cut in a color of your choice.
7. Vintage Style Bob with a Modern Twist
Our next hair idea is perfect for the ladies who love vintage hairstyles. The hair is cut into a 1920's inspired bob and it has been described as having a modern twist which is, of course, the undercut. We love this haircut because it is a vintage hairstyle for the modern woman.
8. Bob Haircut with Shaved Undercut
You can have undercuts in different lengths and this next one features a very short cut. The hair is styled into a chin length bob and the undercut is shaved very short. As you can see, the hair is super short so it does make more of a statement. A hairstyle like this is perfect for those who want to make a statement.,
9. Cute Blonde Bob
Next, we have a cute blonde bob to show you. The hair is cut with an angle that is longer at the front and shorter at the back. There is also an undercut that is very bold because a lot of the hair is shaved on one side. It is such a stylish hair idea and it is perfect for those who have dull and tired hair that needs new life. The cut and blonde color will really jazz it up.
10. Hidden Undercut
The next idea features a beautiful sleek bob with a patterned undercut. We love the pattern because it has a stripe design that almost looks like a zebra pattern. This is a cool bob that will suit everyone. You can check out what the hair looks like when let down on the page below.