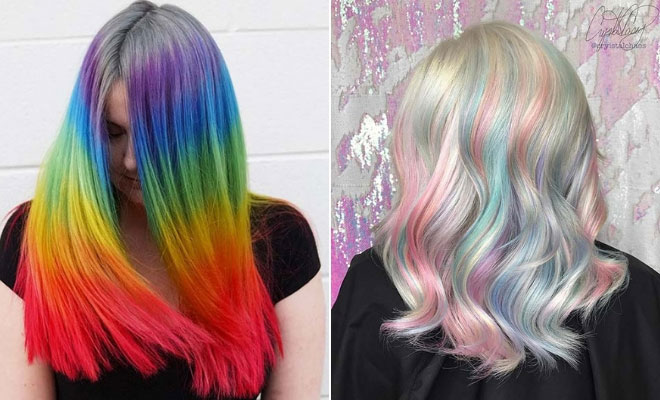 Instagram
Beauty
23 Rainbow Hair Ideas for a Bold Change-Up
By
|
If you are fed up of your hair and want a bold and daring new hairstyle, then you should consider trying rainbow hair! Rainbow hairstyles are exactly how they sound, they feature lots of bright colors. To show you how amazing these vibrant hairstyles can be, we have put together 23 of the most stylish and unique rainbow hair ideas. You will find pastel colors, colorful roots, ombre styles and more. Any of these will make you stand out from the crowd in style!
1. Beautiful Rainbow Hair
The first hair idea we have to show you is beautiful and colorful. For this look, the hair starts with purple and blue shades near the roots and about midway, the hair turns blonde. Finally towards the tips, pink and yellow colors are added. This is a gorgeous rainbow hairstyle and it will suit everyone.
2. Rainbow Roots
If you do not want rainbow colors all over your hair, then you could try a trendy hairstyle like this one. The hair is a stylish silver shade and there is a hint of blue color at the tips. However, the rainbow color is all at the roots. All different colors of the rainbow have been added and as you can see, it creates one vibrant and unique style. You can recreate the silver look or try rainbow roots on your natural hair color.
3. Vibrant Rainbow Stripes
Next, we have a very bold and vibrant hair idea. This hairstyle is long and features stripes of different colors. The roots start grey and then the hair changes into purple, blue, green, yellow, orange and then finally red. It is a stunning and statement making hairstyle and it is perfect for the ladies who want a complete hair transformation.
4. Blue Hair with Rainbow Tips
We have shown you rainbow roots but now it is the turn for rainbow tips. For this look, the hair is colored in a vibrant blue shade. Then the rainbow colors are added to the tips. Try this whole hairstyle or you can try rainbow tips with your natural color. We love the colored tips because they are easy to wear and if you decide the bright colors are not for you, then the tips can just fade and grow out.
5. Blonde and Rainbow Colors
Maybe all the bold hairstyles that are full of color are not for you. If so, you need to check out this hair idea. For this look, the hair is colored in a bright blonde shade with rainbow colors added in a stripe pattern. Even though the colors are vibrant, there is blonde to tone it down. You can recreate this rainbow look on any hair color.
6. Rainbow Ombre Hair
Our next hair idea features a stylish ombre look. The hair starts very dark at the root and then the hair changes into an array of vibrant colors. There are bold pink tones, pastel blue shades, flashes of yellow and more. This is a beautiful and trendy hairstyle and it is easy to maintain too. If you love the style, have the color reapplied and if not, it will grow out.
7. Rainbow Hair with a Glow
Want hair that will wow? Then this next idea is for you. Here we have long hair that has been colored with rainbow stripes. The rainbow stripes are neon too, so under certain light they will have a little glow like this. It is such an awesome idea and it is perfect for the ladies that want to stand out from crowd.
8. Rainbow Underlights
Another cool color idea you can try are underlights. When hair has underlights it means that the color is placed on the bottom layers of hair. So, when the hair is down, you won't really see the color because it is on the layers underneath. Here is a gorgeous example of rainbow underlights. The hair is very light with rainbow stripes underneath. We love this, it is one of our favorite looks.
9. Fiery Rainbow Colors
Next, we have a fiery rainbow color idea to show you. The hair is a blend of shades that include purple, pink, orange and yellow. It is a stunning color combination and it will make a stylish statement. This is a gorgeous version of the rainbow hair trend and it will look amazing on everyone.
10. Magical Hair Idea
Our next hair idea is just magical. The hair is a beautiful blend of colors and it looks like it was made for a unicorn or mermaid. We love the light and dark shades used. Hair like this will glam up your look and the actual hair cut and style is amazing too. Recreate this look or you can have a similar blend on shorter hair too.