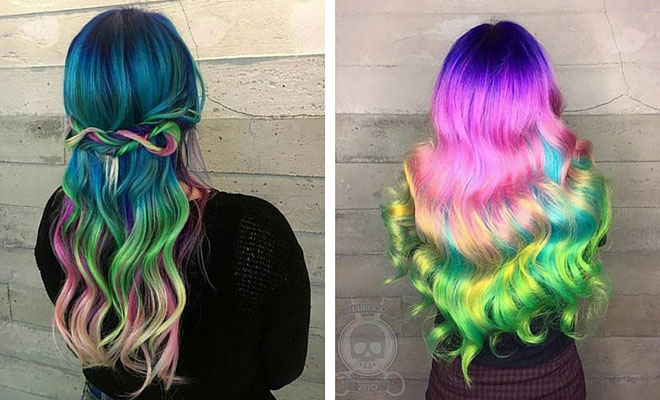 31 Colorful Hair Looks to Inspire Your Next Dye Job
If you're a bold and brave girl, you need a bold and brave hairstyle and when it comes to colorful hair looks to inspire your next dye job, we think we've found the creme de la creme. From brilliant bold pops of color to slightly subtler pastel shades, we've got colourful looks that'll blow your socks off.
Here are 31 colorful hair looks to inspire your next dye job:
1. Blue, Green and Purple Hair
If you want a look that screams 'under the sea', this is pretty much it. Combining all the brilliant colors of the ocean, you've got everything you could possibly want in this look.
The blues of the ocean with the bright greens and turquoise hand-painted blends work really well with the pastel pinks and almost mint-greens you can see too. A very brave blend of colors but one that works perfectly!
2. Pastel Blue and Purple Hair
We love this look too, an almost Frozen-inspired look with bright pops of lilac, bright purple, ice blue and a mint-green/baby blue mix.
Pastel colored hair has been all the rage recently and this blue and purple mix inspires us to try so many different combinations of color. Starting with this one of course…
3. Gorgeous Rainbow Hair
For those days when you just can't make up your mind, what about this gorgeous rainbow hair? If it's colorful hair looks you're on the hunt for, you won't get much more colorful than this one.
Dark purple to bright pink to electric greeny-blue, pastel yellow, toxic green, bright yellow, apple green, teal green and more. It's a beautiful blend of colors that is definitely not for the faint hearted!
4. Teal Green Hair
We are 100% in love with this teal green hair look, one of this season's hottest colors. A solid all-in-one color that catches the light in ways we can't understand, it's not difficult to understand why everyone's raving about it.
We certainly are!
5. Dark Purple Hair
This dark purple look graduates from a bright purple to a darker tone in a very clever and subtle way, and if you wanted a discreet way to wear some of this season's boldest shades, this is definitely the way to do it.
With a purple wash over the brunette, darker roots, the hair has been lightened towards the end to allow for those bright purple pops. All we're saying is… It's love!
6. Dark Blue and Light Blue Hair in a Braid
When you've got this many colors to show off in your newest look, why wouldn't you want to show them off?
The braid is a great way to display every single color in your crazy hair palette and as you can see from this light and dark blue look, the different mixes of color intertwine so prettily, it would be hard to keep your eyes off it.
7. Light Pink Hair with Dark Pink Roots
Another ombre look, this time we're talking bubblegum pink. Who doesn't love bubblegum pink?
You've got a brighter, bolder pink at the roots, heading to a lighter, more pastel and powdery pink towards the end. A clever way to achieve this is to start with your bright pink dye and gradually add conditioner to the mix. The more conditioner you add, the more pastel and powdery your bright pink will become. Smart right?
8. Colorful Tips
Have you heard of hair chalks? Well, the wash-in/wash-out color sticks will help you to get a look like this – lots of different colors on the ends of your hair, without the need for lightning treatments, bleaching, or lengthy salon appointments.
Simply dust the chalk over the areas you want painted and when you're done with the look on Sunday night, ready for work on Monday morning, wash them out with a double-shampoo dose and you'll be right back to normal with your regular shade.
9. Pink & Orange Hair
We think this colorful hair looks very much like a candy we enjoyed in our youth – the fruit salad. Pink and a coral-peach-orange color blended together, this is definitely a fruity look, and one that will get all the right looks for all the right reasons.
A darker pink, almost purple at the roots, the color has been graduated with a hand-painted effect towards the bright ends. We love it. How about you?
10. Fairy Pink and Blue Hair
Blue and pink are not two colors you'd generally put together when you walk into a hair salon and ask your stylist for what you want but as this stunning and crazy-colorful look shows, sometimes color clashes really do work very well.
Another fairy/My Little Pony-inspired look, this is one we'd like to call Aloe Blossom after one of the cutest Spa Ponies. Blue and pink, the colorful blend of colors here is so pretty, we can't help but want it for ourselves. Right now. Please and thank you.