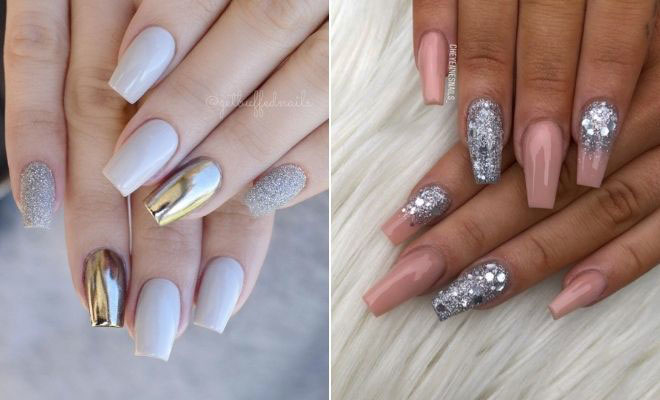 Instagram
Beauty
23 Stunning Silver Nails to Try in 2021
By
|
11. Nude Nails with Sparkly Tips
Next, we have another cute and subtle nail idea. This time the nails are short and nude. Each nail is also decorated with silver glitter at the tips. It is such a stylish, sparkly and easy to wear design. This is a great for the ladies who like to keep their nails chic but who also want a little glitz and glamour.
12. Edgy Silver Nails with Flames
The next mani is trendy and edgy. Most of the nails have a different design including silver chrome, glitter, grey flames and even barbed wire art. The unique art and grey and silver color combo look amazing together. You can find tutorials for flame nail art online. Recreate this look or you can use silver for the flames instead of grey.
13. Sparkly Pink and Silver Nails
This silver nail idea is another one of our favorites. For this look we have long coffin nails. Some of the nails are silver chrome and the others are light pink. Each nail is also decorated with a line of glitter. It is a fun, bright and glitzy mani. Try a similar look or you use a different texture for the nail colors instead of chrome. Matte would look gorgeous.
14. Elegant Nude Mani with Butterflies
Earlier in the post we featured a nail idea with silver butterfly wings. If you liked that idea, then take a look at this. This mani features long coffin nails and are all nude. Different art has been added such as glitter and sequin tips. The silver sequins are a beautiful butterfly shape and they look stunning. So instead of the wings, you get the whole butterfly. Silver butterfly sequins can be bought online.
15. Black and Silver Coffin Nails
We love this next silver nail idea! This mani features trendy and stylish coffin nails. This design is unique because a few different designs have been used. These include a black and silver glitter design, v tips, and a metallic design. The art is beautiful and magical. This silver and black mani will really make a statement. Recreate the whole idea or use one or two designs on all nails.
16. Nude Nails with Silver Glitter
If you love glitz and glamour, then this nail idea is for you. Here we have long, nude nails with four nails jazzed up with sparkly silver glitter. The glitter is quite unique because it has both silver glitter and sequins. As you can see, these shades look amazing together and the design can suit all nail lengths and shapes. This is a gorgeous mani and it will look amazing on anyone.
17. Glitter Nail Design
This next mani is just stunning. For this look we have longer coffin nails and each one is covered in light and sparkly silver. It is a simple but very statement making look. All glitter nails like these will be perfect for parties, weddings, nights out, the prom and even the holiday season. Glitter like this will suit any nail length and shape.
18. Stylish Stiletto Nails
Next, we have a stylish silver nail idea to show you. Most of the nails have a different design including white chrome, silver glitter and silver chrome with small stars. It is a fun, trendy and glam mani that will wow. Recreate the whole look or use one or two of the designs on all your nails. We recommend the silver chrome with stars, that would look amazing.
19. White and Silver Nails
Like the white and silver color combo? If so, check out this mani. All of the nails have a different design including ombre, all over glitter and more. It is a chic and glam look. White and silver is a great combo for the summer and this mani will suit everyone. Again, you can recreate this or you can try just one or a couple of the designs if you want a more low-key look.
20. Dark Silver Glitter Nails
The next nail idea is another sparkly one. For this, the nails are all coffin shaped. It looks like each one is grey with silver glitter over the top which gives it a dark glittery look. We love this version of a silver glitter mani. The darker color is edgy, trendy and super glam. This design would also look amazing on stiletto nails.
21. Nude Nails with Silver Holographic Tips
Earlier in the post we shared nude nails with silver holographic tips. If you liked that mani, then check this out. Here we have super long nails. Each one is nude and then the color changes into a holographic silver. It is a stunning look and it just shows a different way to wear the design. These nails will make a statement in style.
22. Glitzy Mani with Rhinestones
Next, we have another glitzy mani. This time the nails are nude with white chrome tips. The colors are separated with rhinestones. One nail is also adorned with silver rhinestones instead of the white color. This is a super glam mani that is perfect for those who like bling. Recreate this look or use silver for the tips rather than white.
23. Brown and Silver Nail Design
The last silver nail idea shows brown and silver color combo. For this look, two nails are dark brown, four are light brown and the other two are silver and sparkly. The dark brown looks stunning with the silver and the whole mani is pretty and glam. You can paint the thumb in any of the two colors but would suggest the dark brown.
We hope you have been inspired by these silver nails!