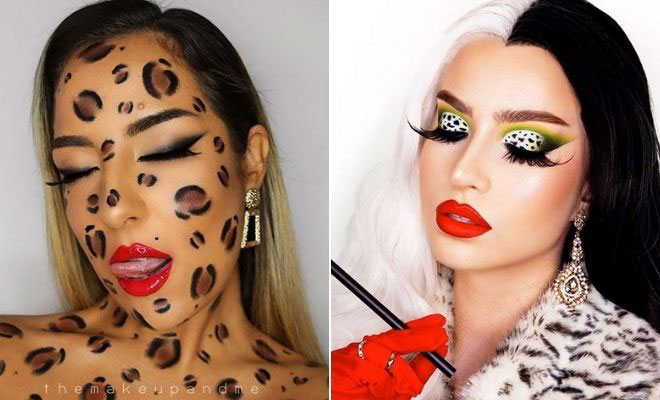 23 Sexy Halloween Makeup Ideas for Women
When choosing your Halloween costume and makeup, the choices are endless. Should you be a classic character, look seriously spooky or show of your sexy side at a Halloween party? Well, we say that you can do all three! We have found 23 of the best sexy Halloween makeup ideas. You will find wild leopards, ghostly skulls, magical makeup, villains and more. Read on to see how to look creepy but also super cute!
1. Sexy Half Skeleton Makeup
First up, we have this half skeleton makeup. As you can see, one side looks like a skeleton on the face and body while the other side looks glam. This one also has a pirate theme because of the outfit but you can wear any costume with makeup like this. Recreate the face and body paint or you can just paint your face. This will be easier and more low-key.
2. Cute Cat Makeup Look
Cat makeup is a Halloween classic and here is a cute way to wear it. She has bold feline eyes with a black nose and red lips. The look is complete with whiskers and she has added a furry texture on certain parts of her face with makeup. This is a fun makeup look and it is great for any last minute Halloween parties.
Products used: Carter Beauty Cosmetics
3. White Skull Makeup
Next, we have a makeup look that is perfect for those want something spooky and more unique. This makeup features an elegant skull design that is made with white makeup and pearls. Instead of the classic black or dark skull, this artist has chosen white and it looks so ghostly and creepy. This is an awesome idea and you can recreate this skull or any skull with the white makeup.
Products used: NYX Lid Lingerie, White Liquid Liner & Love Contours All Palette.
4. Glittery Skull
The next makeup idea is great for anyone who likes spooky skulls and glitter. She has a black and white contoured skull look complete with glitter, rhinestones and creepy skeleton teeth. This particular version is based on Bad Beti. You can restyle this sparkly skull to suit you or recreate it. Either way, it will look amazing.
Products used: Lancome Teint Idole Ultra Wear 410 Bisque, NYX Pro Foundation Mixer White, Mehron Clown White Lite, LA Girl Cosmetics Pro Conceal Dark Cocoa, Stilazzi Cosmetics Spell Bound Palette, ABH Norvina Dark Side Gel Liner, theBlam Schwing Black Liner, OPV Beauty Metal & Liquid Glitter in No Limit & Topsy, Salon Perfect 630 Lashes and IT Cosmetics Super Hero Mascara.
5. Harry Potter Inspired Makeup
Bring a little magic to Halloween with a costume and makeup like this. Here we have makeup inspired by Harry potter. The artist has keep the makeup soft, pretty and low-key. Of course, she has painted the iconic lightening scar on her head. This is a fun and easy to wear look. Recreate Harry Potter or dress up as any other character from the Wizarding World.
6. Sexy Leopard
If you want a costume that is simple, sexy and wild, then this is for you. This makeup artist has created a stylish leopard look. She has bold feline flick eyes complete with a black nose, mouth and leopard print spots. This is a fun idea and it is great for those who want to dress up without being scary. The leopard print pattern is quite easy to recreate and there are tutorials online.
Products used: Laura Mercier Silk Creme Sun Tan, Elf Cosmetics Camo Concealer Medium Sand, P Louise Base Shade 2 The Rumour, Mac Studio Fix, Kat Von D Shade + Light Palette, Essence Satin Touch Blush in Satin Love, Tom Ford Sheer Highlighting Dup Reflects Gilt, Morphe X Jaclyn Hill Palette, Estee Lauder Fluid Metal Eyeshadow in Sparked, Mac Melon Pigment, House of Lashes Natalia, Smash Box Eyeliner Gel in Fishnet, Kat Von D Tattoo Liner in Trooper Black, NYX Jumbo Eye Pencil Milk, Glitter Goals Liquid Eyeshadow and Mac Lip Pencil in Stripdown.
7. Poison Ivy
Show the world your more villainous side and become Poison Ivy this Halloween. This version features dark green body paint with both hand-drawn and 3D leaves. The look is complete with a red wig. You can find Poison Ivy costumes online or you can wear makeup like this with a green outfit and you are good to go.
Products used: ColorPop Cosmetics Through My Eyes Palette, Anastasia Beverly Hills Vol 2 Palette & Liquid Liner, Eleven Lashes in Babydoll, Skeddit Beauty Colorant Vessels and Wet N Wild Beauty Liquid Lip in shade Witch.
8. Cruella de Vil
Cruella de Vil is a classic villain which makes her an excellent costume choice for Halloween. Here is a stylish and quite glam way to wear the look. As you can see, the talented artist has painted a dalmatian print on her eyelid. The look is complete with a bold eyeliner flick, red lips and long lashes. This is a cool makeup idea and everyone will know who you are dressed up as straight away.
Products used: Lime Crime Venus Vivid Palette, ABH Soft Brown Drip Brow & Norvina Vol 2 Palette, Sleek Makeup Solstice Highlighter Palette, Kevyn Aucoin Contour Powders, Morphe Matte Lipsticks in Morphe & Lover and NYX Epic Ink Liner.
9. Sugar Skull Makeup
Sugar skull makeup is another spooky and stylish idea. This one is unique because it looks inspired by the fall. As you can see, she has an orange eyeshadow blend on her eyes. While her face is decorated with elegant patterns, skull features and fall leaves. We love this because it is unique and it celebrates the fall season.
Products used: Morphe 3503 Palette, Wet N Wild Beauty Megaliner, Luv Lashes Co in Bawse and LA Girl Brow Bestie in Deep Brown & Pro Matte Foundation in Light Tan.
10. Skeleton Illusion
The next idea is creepy and spooky. For this look, the artist has painted her face grey. She has created a skull mouth and nose. But she has put a line around her eyes which makes that section of her face look like mask with glam eyes. So it is like the skeleton still has an undead section. This is such a cool idea and it means you can look pretty and scary all at once.
11. Black Cat Makeup
Next, we have a makeup idea inspired by the classic black cat. The artist has smokey eyes complete with a black cat nose, whiskers and mouth. She is also wearing cat ears. If all that wasn't enough, she also has an amazing Halloween scene painted on her body with a black cat! This is a work of art and the overall look is so unique and spooky. Try and recreate this or you can, of course, just wear the face makeup with a black outfit for a simpler black cat look.
Products used: Mehron Makeup Face Paint, Estee Lauder, ABH, Morphe and Mac.
12. Sexy Rabbit
If you like the animal inspired makeup, then you will love this. Here we have a sexy rabbit idea. The artist has created glam eyes with a bold flick. She has created a black nose, dark lips and she has added a furry texture to certain areas of her face. The costume is complete with black lace bunny ears. This is a fun and easy to wear look. It is great for any last minute Halloween events.
Products used: Milani Cosmetics Conceal and Perfect Foundation, SOSU Urban Bible Palette, Essence Liquid Ink Eyeliner, P Louise White Base, Jeffree Star Unicorn Blood Liquid Lipstick, Wet N Wild Beauty Bloom Time Mega Glo and Carter Beauty Apollo Bronzer Palette.
13. Glitzy Skull Illusion
Want to go all out this Halloween? Then take a look at this! This makeup idea features a glitzy and glam skull illusion. The top section of her face looks normal while the lower half looks like a skeleton mouth that is covered in rhinestones, pearls and more. This an amazing version of a skull that will make you stand out from the spooky crowd. You can see how this makeup was created by watching a short video on the makeup artist's Instagram page and the link is below.
Products used: Kryolan Metallic Gold Powder and Mehron Makeup Black and White Paint
14. Leopard Makeup
Next, we have another leopard to show you. The artist has created a stylish smudged flick and has worn it with red lips. While her face and body is covered in leopard spots. This is a fun and sexy idea and the makeup can be worn with any costume. It is another amazing last minute look.
Products used: Makeup Forever Ultra HD Foundation 8K01, Contour Palette & Grease Paints, Makeup Revolution Gel Eyeliner, Rouge & Rouge Black Magic Lashes and Deborah Milano Fluid Velvet Liquid & 06+ Clear Gloss.
15. Mystical Fortune Teller
Bring mystery and magic to Halloween by wearing a mystical fortune teller costume like this one. As you can see, she has stunning makeup complete with a stylish eyeliner flick, bold lip color and a moon on her forehead. This is a cool costume and you will look spooky and pretty. Recreate this or try your own version, we think white contact lenses will look even scarier.
Products used: NYX Face & Body Paint in Fuchsia, Purple & Gold, Ultimate Shadow Palette in Smokey & Highlight, Glitter Glue, Glitters in Gold, Darkside & Ice, Liquid Suede in Subversive Socialite, Pencil Liner in Jet Black and White liquid liner.
16. Bold Sugar Skull
If you like the sugar skull makeup, then you need to see this one because the makeup artist has gone all out. She has a ghostly white face and body with pretty hearts around her eyes. The makeup also features delicate and elegant patterns complete with skull features. This is one of our favorite makeup looks and it is so fun, spooky and stylish. Makeup like this is perfect for a party.
17. Catwoman Makeup
Next, we have another Batman villain and this time it is Catwoman. There are many different versions of Catwoman and this one is a sexy Halloween makeup that's also easy to wear. The artist has hand-painted the mask on her face and she has used a feline flick on her eyes with red lips. This is an awesome and simple idea. The mask can be worn with any black outfit.
Products used: Makeup Forever Flash Palette, Kat Von D Shade & Light Palette, Fenty Beauty Fly Liner, ABH Soft Glam Palette and Sephora Always Red Lipstick.
18. Black Skull Makeup with Hearts
The next makeup idea features another spooky skull. For this one, the artist has created a smokey eye complete with black skull features and hearts. This is another creepy but cute look and it will suit everyone. As the makeup is mostly black, it is easy to create and it is another amazing last minute makeup idea.
Products Used: Benefit Precisely My Brow Pencil Shade 5 & Gimme Brown Shade 5, Color Noir Cosmetics 35 FS Palette, Morphe Bronzer Debutante, ColorPop No Filter Concealer and LA Girl Pro Coverage HD Foundation.
19. Maleficent Inspired Makeup
Love the Disney movie Sleeping Beauty? If so, you will love this Maleficent makeup. The artist has created purple and green makeup inspired by the character and the look is complete with the iconic black horns. This is a fun and stylish idea that will bring out your villainous side. You can buy black horns online, so you can recreate the look.
Products used: BH Cosmetics Take Me Back to Brazil Palette, Featherlla Venus Lashes, AstroMia Galactic Liner, Urban Decay Perversion Liner, ABH Moonchild Highlighter, Lime Crime Softwear Blush and Myth Cosmetics Siren Song.
20. Cute Deer
If you want a cute makeup idea that is not scary or wicked at all, then this is perfect. Here we have pretty deer makeup. She has bold white eye makeup with a deer nose and two tone lips. The makeup is finished off with white dots and floral antlers. This is a fun makeup idea and it is great for those who want to join in Halloween without being scary. You can find deer makeup tutorials online.
21. Sexy Spider Makeup
Spiders are so scary, so it is no surprise that many Halloween makeup looks have been inspired by theme. Here is a more sexy and unique version. She has bold red lips with a spider web design on her eyes and head. It is such a cool and spooky look. Recreate this or you can even add some fangs because the look also has a vampire vibe.
Products used: Fenty Beauty Pro Filt'r Soft Matte 180, Tarte Concealer in Light, ABH Dripbrow Pomade in Granite, Stick Contour & Powder Contour in Fawn, Urban Decay Razor Sharp Liquid Eyeliner in Perversion, Huda Beauty Life Liner, Fenty Beauty Wet T-Short Liquid Eyeliner in White and Fenty Beauty Stunna Lip Paint in Uncensored.
22. Ghostly White Skull
Earlier in the post we featured a white skull. If you loved that idea, then check out this ghostly skeleton makeup. The artist has painted her face and body grey and she has used white for the skull details. This just shows another version of the makeup and it looks so spooky. We love this one.
Products used: NYX White Liquid Liner, Jeffree Star X Morphe Artistry Palette, Ben Nye Clown White Face Paint & Setting Powder and Kat Von D Tattoo Liner.
23. Cleopatra Makeup
The last makeup idea will make you look like a Queen! Here we have Cleopatra makeup. The artist has created amazing blue, gold and black eye makeup inspired by Ancient Egypt. She has completed the look with stunning gold accessories. This is an amazing makeup idea and it will wow everyone at any Halloween event.
Products used: Benefit Hello Happy Airstick Foundation – 8, Fenty Beauty Toffee Contour Stix, Beauty Bakerie Oat Setting Powder, Juvia's Place Tau Blush, Sarazaar Cosmetics Sun Queen Highlighter, Midnight Sapphire Pigment, Culture Shook Palette & Sun Queen Highlighter, Maybelline Gel Liner, Lily Lashes Faux Miami Lashes, Urban Decay Perversion Eyeliner and Tinsel Cosmetics Push-Up Plum
We hope you have found a sexy Halloween makeup idea to try!