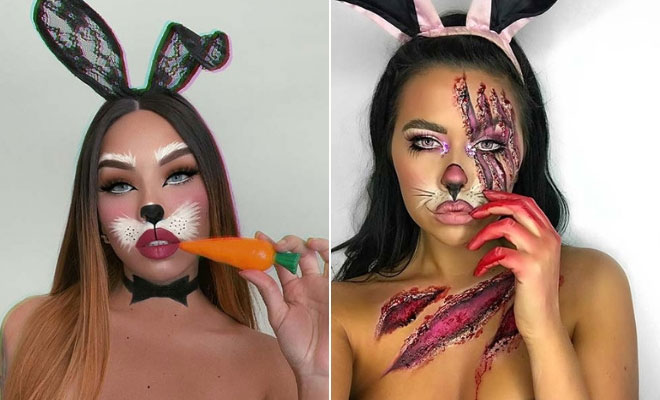 Instagram
Lifestyle
23 Bunny Makeup Ideas for Halloween
By
|
Halloween is full of ghosts, vampires and other scary creatures. However, if all the horror and gore is not for you, then why not try a cute costume such as a bunny?! Bunnies are a very popular alternative and we love the idea because there are so many different versions that you can create. Whether you want to be an adorable pink bunny, glam bunny or even want to look a little spooky, there is something for you. To give you some makeup inspiration, we have found 23 bunny makeup ideas for Halloween. No matter how you are celebrating Halloween, you will find the perfect makeup to suit the event! Take a look!
1. Classic Bunny Makeup
We would like to begin by showing you this classic bunny makeup. The makeup artist has created a white rabbit look complete with a cute nose and white fluffy fur. She has finished off the costume with black lace rabbit ears and a bow tie. This is a pretty look that will suit everyone. You can check out the full list of products used to create this makeup on the page below.
2. Pretty White Rabbit Idea
If you would rather look pretty than scary this Halloween, then this makeup idea is perfect for you. Here we have stunning pink and white bunny makeup. Her eyes are super glam and she has created white fluffy fur with an adorable pink nose. She has finished off the look with pink and white ears and a stylish choker. We love this bright and beautiful bunny makeup!
3. Amazing Illusion Bunny Makeup
Next, we have an amazing illusion idea that will make you stand out this Halloween. The makeup artist has made her whole face look an adorable bunny rabbit. It is such an awesome idea. You can view a step by step tutorial for this makeup and see what products the artist used on the page below. Wear with some bunny ears and your Halloween look will be complete.
4. Cute Bunny with Heart Nose
The next makeup idea is cute and glam! The artist has created subtle white bunny makeup with sparkly eyes and a super cute heart shaped nose. This look is finished off with pink ears and a pink bow tie. We love the heart nose because it is unique and it looks pretty too. Recreate this look or you can try the heart and sparkly eyes in a darker color for Halloween. You can view the products used and watch a tutorial by clicking the link here.
5. Vampire Bunny
Looking for unique bunny makeup? Then you need to check this out. Here we have a makeup look that combines a bunny and a vampire together! We love this creative vampire bunny idea as it gives you the best of both worlds. You can be a little scary and cute too! Recreate this makeup or you can go for a more gory look. Either way, it is a cool idea for Halloween.
6. Super Cute Bunny Makeup
Just because it is Halloween it does not mean that you can't have a super cute costume. If all the ghosts and ghouls are not for you, then choose a bunny like this! Her eye makeup is amazing and bright and the rabbit design is awesome too. Pair with a white dress and bunny ears and you will be ready to party.
7. Easy Bunny Makeup Idea
Next, we have a simpler bunny makeup idea. The makeup features a subtle white design with a cute pink nose. Her eyes are glam like you would wear to any party. The costume is finished off with lace gloves and lace rabbit ears. Makeup like this would be great for last minute events or if you want Halloween makeup that is easier to create.
8. Scary Half Makeup for Halloween
If you do want to look scarier for Halloween, then this makeup idea could be great for you. Here we have a half makeup design. One side of her face has pretty makeup and the other side looks like a wild rabbit. The half line is bloody and gory. This is a super cool idea and it will make you stand out from the crowd. You can check out the products used to create the look on the page below. Recreate this or you can try different makeup styles on either side.
9. Bunny Makeup with Glam Eyes
Show off your makeup skills with bunny makeup like this! Here we have a classic bunny look but the artist has glammed it up by creating sparkly and statement making eyes. The eye makeup is stunning and makeup like this will allow you to dress up and have fun but it will also keep you looking chic and beautiful too.
10. Cute Bunny Makeup and Costume
Next, we have more makeup and costume inspiration. This makeup artist has created a cute pink and white bunny complete with ears and a bow tie. It is such a stylish and fun idea and it would be perfect for ladies who want to dress up for Halloween but still look pretty. If you want to recreate the look, then you can view the products used and see a tutorial on link featured below.