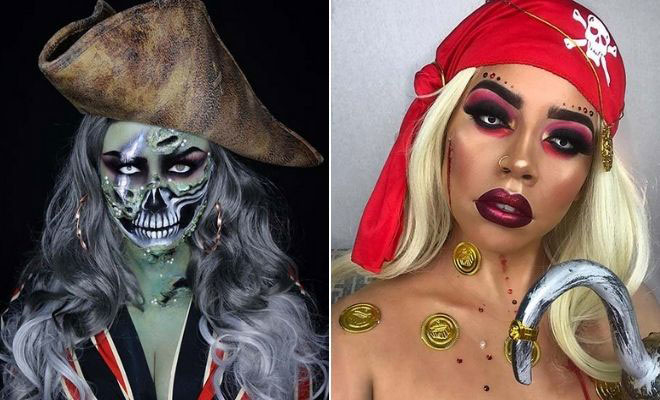 Instagram
Lifestyle
23 Pirate Makeup Ideas for Women to Copy This Halloween
By
|
Ahoy, Me Hearties! Do you love treasure hunting pirates or are you a fan of the Pirates of the Caribbean? If so, this is the place to be. Today we have 23 pirate makeup ideas for women. We have simple makeup, glitzy pirates, skeleton illusions and more! Any of these are great for parties and for Halloween. Shiver me timbers, these are amazing! So, take a look and be a treasure hunting scallywag for any costume party or event.
1. Simple Pirate Makeup
The first pirate makeup idea is simple and easy to wear. For this look, she has dark eye makeup with neutral lip color. The makeup is worn with a cute pirate outfit. This has Jack Sparrow vibes and something simpler like this is great for any last minute events. You can even add some other elements such as contact lenses if you wanted.
2. Bloody Pirate Look
If you are wearing the pirate makeup for Halloween, you can choose something more gory like this. Here we have a bloody pirate. She has a bleeding wound on her neck and the makeup is complete with a small anchor and different colored contact lenses. This is a spooky idea and it will give people a fright.
3. Creative Pirate Skull Makeup
Next, we have illusion makeup inspired by a dead pirate. So, for this, the artist has painted her face and body green and she has made it look the green skin has come off to reveal the skeleton underneath. She has completed the look with contact lenses and a cool outfit. You can find tutorials for skeleton illusions online.
Products used: Mehron Makeup 3D Gel, Creme Colour in Monster Grey, Spirit Gum, Paradise Paints AQ: Nuance Palette & Edge Palette, ABH Norvina Palette, Transluscent Powder, Waterproof Creme Colour Jet & Moon Child Glow Kit and P Louise Acid Reign Blank Canvas.
4. Sexy Pirate Makeup & Costume Idea
Not all pirates have to be dead, spooky or like Jack Sparrow… you could choose something more glam like this. This look appears to be inspired by a fortune teller but you can totally use this as a pirate costume. She has gorgeous purple and gold makeup complete with coins and a bandanna. This is a fun look that is perfect for a party.
Products used: Vichy Dermablend Foundation, Benefit Boiling Concealer, ABH Brow Wiz, Barry M Treasure Chest Baked Eyeshadow Palette & Waterproof Black Liner, Gerard Cosmetics Liquid Lipstick, NARS Orgasm Blush, Doll Beauty Highlighter & Lashes, The Gypsy Shrine Tattoos and NYX Swear By It Palette & Liquid Liner.
5. Half Skull Makeup Design
Half makeup ideas seem to be very popular and here is a pirate version. As you can see, she has split her face in half and created different makeup looks on either side. On one side she looks like a simple and pretty pirate but on the other she looks like a spooky skeleton. This is such a cool idea and you can look stylish and scary all in one costume.
6. Unique Skeletal Treasure Map
If you are looking for something unique, then this is perfect for you. Here we have skeleton makeup and the artist has given it a pirate's treasure map design! This is so cool and clever, we haven't seen anything like this before. Recreate this or add pirate accessories such as a hat or bandanna.
7. Horrifying Makeup Idea
Look like a member of Davy Jones crew with Pirates of the Caribbean makeup like this. As you can see, the artist has made it look like shells are in her skin and that her eye is missing. This is a unique idea and it is horrifying for those with Trypophobia or a fear of small holes. You can find makeup tutorials for the small holes online, you can search Trypophobia makeup.
8. Hairstyle and Makeup Idea
Next, we have gory pirate makeup. She has created the illusion that the upper section of her face is normal but the lower section looks like a skeleton. There is also a bloody line. This is a spooky makeup idea and it can be worn with any pirate costume. Try to keep the hairstyle because that is an awesome pirate hairdo.
9. Pirate Makeup with a Mystical Design
The next idea has a more mystical vibe. For this look, the makeup artist has created white patterns on her face and the makeup is complete with silver sparkle and blood. This is great for those who want to look stylish but also spooky. This is another great last minute look as you can use what makeup you already have and make the costume with accessories at home.
10. Stylish Pirate with an Eye Patch
Like the simple and stylish pirate makeup ideas? If so, check this out. Her eye has dark makeup and her lips are a dark red color. It is a gorgeous makeup idea and the dark and rich colors suit Halloween. The look is complete with an eye patch and nautical inspired clothes. This is trendy pirate idea that will suit everyone.