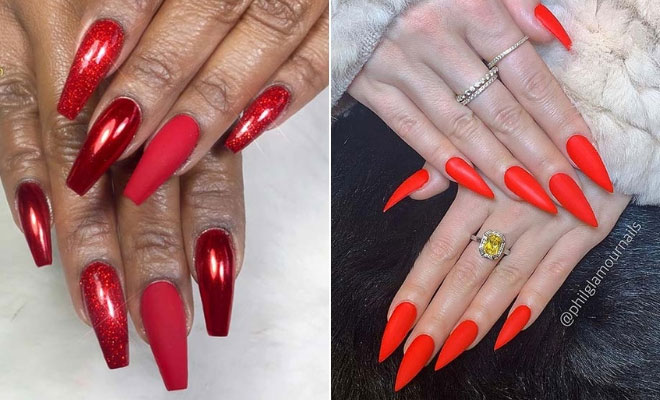 Instagram
Beauty
23 Best Red Acrylic Nail Designs of 2019
By
|
11. Trendy Red Nail Idea
Our next nail idea is one of our favorites! This manicure features three of the must-have nail trends which include: glitter, chrome and matte red. It is a gorgeous look and it is perfect for the trendsetting ladies. Recreate all three designs or you can just choose two. They will all compliment each other beautifully, so it is your choice!
12. Short Red Acrylic Nails with Glitter
If you love the red and glitter looks then you need to check out this next design. The nails are quite short and some are painted in a glossy dark red shade. One of the nails is shimmery pink and the other is nude with glitter tips. It is a beautiful and chic look. Try the whole design or just the glitter and red.
13. Matte Red Stiletto Nails
Next, we have another simple red look. This manicure features vibrant red stiletto nails. The color is gorgeous and vivid and it really stands out because there are no gems or other nail art designs. It is a bold and chic way to wear red. Nails like these will suit everyone. If you do want to jazz up the nails, you can add some glitter or rhinestones, that would look amazing too.
14. Marble and Red Acrylic Nails
Give your nails a trendy makeover with nail art like this! Some of the nails are matte red and two of the nails have a super stylish marble design. The marble and red compliment each other perfectly. You can recreate this cool marble look or you can try simpler marble art.
15. Matte Red with Glitter Accent Nails
Add some sparkle to your look with nails like these! Most of the nails are matte red while two nails are covered in glitter. It is a simple, bold and easy to wear design. A manicure like this would be perfect for a special occasion and it would be great for the holiday season too. Recreate this look or have one glitter nail instead of two.
16. Holographic Pink and Red Nails
Another trendy idea that you can try is holographic nails, here is a gorgeous example. For this look some of the nails are glossy red, some of the nails are holographic pink and there is a nail covered in gems too. It is a super stylish design and it will suit the ladies who like to have bold nails. Try a similar manicure to this or you can have more red nails and just one holographic accent nail.
17. Glossy Red Stiletto Nails
The next nail idea we have to show you is so sparkly and trendy! One of the nails is glossy red, two are ombre glitter and the other nail is nude with a red foil design. We love the stylish combination of nail art. A design like this looks best on longer acrylic nails. Recreate the whole manicure or you can try just the red with glitter or red with foils.
18. Matte and Glossy Nails with Crystals
Next, we have a matte and glossy combination. Two of the nails are matte red and two of the nails are glossy red. The glossy nails also feature sparkling crystals too. It is a simple and very trendy nail idea that will suit everyone. Try two similar red shades like this or you can use one dark red and one light red so the nails make even more of a statement.
19. Red, Ombre and Glitter
Can't decide which nail art design to try? Then why not wear a few? You could create something like this. Some nails are dark red with gems, one nail features red glitter and the other nail is glitter ombre. As you can see, the nails look gorgeous with the three different looks. Recreate this or choose three nail trends of your choice.
20. Glam Red Nail Design
If you like manicures that have different designs on each nail, you need to check this out! One nail is matte red, the next is nude with a chic black pattern, then there is a glitter nail and finally a red nail with gold gems. The thumb nail is not visible but you could choose a cool design for that! We love this nail idea and it will look glam on everyone.
21. Simple Matte Dark Red Nails
Dark red is so chic and trendy. Don't just take our word for it, check out this next nail idea. Here we have dark red matte coffin nails. It is a simple look but it really does make a stylish statement. Recreate these or you can try dark red on any nail length and shape. Dark red acrylic nails like these would look amazing glossy too.
22. Bold Red and Gold Nail Design
Love bold nail art? If so, this next nail idea is for you. Each nail has a different design and these include: matte red, chrome, glitter, gems and more. It is an amazing manicure and it will definitely get your nails noticed. The glitzy and glam nails will be perfect for a special occasion. Recreate the whole look or you can just try one or two of the designs. Either way, your nail will look awesome.
23. Sparkly Red Acrylic Nails
The last red nail idea we have to show you is very glam. Most of the nails are dark red. Some of the nails are red glitter and one of the nails has silver glitter too. It is a chic and sparkly look that would be perfect for the holiday season. A similar design can be created on any nail length and shape.
We hope you have found stylish red acrylic nails to try!