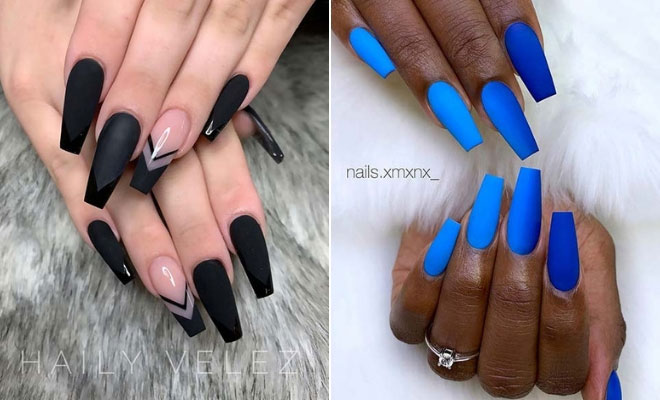 Instagram
Beauty
23 Matte Nail Art Ideas That Prove This Trend is Here to Stay
By
|
11. Glam and Trendy Nails
The next nail idea will be perfect for the fall season. For this look, some nails are a warm orange shade, one nail is glittery and the other nail is a chic shade. It is a trendy manicure and the colors are great for the fall. This is a glam nail design that you can wear for special occasions. You can recreate similar nail art with nail tape and nail foils. Both can be bought online.
12. Elegant Black Nail Idea
This next nail idea is so elegant, trendy and it is another one of our favorites! So, each nail has a different design which includes glitter, ombre, rhinestones and chic geometric nail art too. The matte black is stunning and it just really gives the nails a glamorous look. A manicure like this is perfect for parties and nights out. It would be great for the holiday season – Christmas and NYE events.
13. Bold Blue Gradient Design
If you are looking for a bold and statement making manicure, then this could be perfect for you. Here we have long coffin nails. The little finger is painted light blue and then each nail gets a little darker until the color is a completely different shade of blue. This color change creates the gradient effect. As you can see, it is a creative and artistic look. You can recreate this or try a different colored gradient. There are tutorials for gradients online.
14. Red Wine Matte Nails
Red is a popular color choice for nails and there are so many different shades to choose from. This manicure features nails that are painted in a rich red color. It is a stunning dark tone and it reminds us of red wine. This is a gorgeous and classy red that can be worn for any occasion and the warm shade will be perfect for the fall and winter. You could also accessorize the nails with gold glitter for the holiday season too.
15. Matte Orange Ombre
Next, we have another ombre look to show you. This time the nails are nude and then the color blends into a vibrant orange shade. The color combination is stunning and it is such a chic way to wear a bold color like orange. A mani like this would look beautiful during the spring and summer. Recreate this or you can use any shade of orange as they will all compliment nude.
16. Simple Black Matte and Glitter Nails
The next nail idea features another gorgeous matte black look. Most of the nails are painted black and there is one accent nail. The accent nail is silver and sparkly. We love the black and silver together because it looks so chic and glamorous. A design like this will suit everyone, it will suit any occasion and it can recreated on any nail length and shape.
17. Vibrant Matte Nails
Love wearing vibrant colors? If so, this idea could be perfect for you! Each nail is a different color and the shades range from red to orange. It is a colorful and bright look that would be great for the summer season. You can recreate a similar look with any nail polishes as you can just use a matte top coat. Try this summery and tropical look or use five different colors of your choice. We love this idea because it is fun and easy to create.
18. Matte Coffin Nails with Rhinestones
If you want a trendy and chic manicure, then you need to check out this next look. Two nails are a warm and dark shade, one nail is a neutral tone and the other nail is covered in gold glitter. Rhinestones are also used to decorate some of the nails too. A design like this gives you the best of both worlds because you have very stylish colors that have been glammed up with a bit of bling too. So, it is classy and glitzy. You can recreate this or try using similar colors and rhinestones without the glitter.
19. Matte Leopard Print Nails
We love this next look! Here we have matte leopard print nails. Leopard print is one of our favorites because it is fun, statement making and it is one of the must-have trends for the fall. This mani shows how to wear leopard print in a pretty and unique way. As you can see, some nails are all patterned but one has a half design and two nails are a burgundy shade. The colors are stunning and the print works so well with the burgundy. If you want to recreate the look, you can use stencils or you can hand-paint the leopard pattern, there are tutorials online.
20. Polka Dots and Stripes
This next nail idea is cute and vibrant. Each nail is painted in matte red color but most of them feature different nail art. Some have a white dot, one nail is covered in polka dots and the other nail has white and sparkly stripes. The polka dot and stripe patterns look so stylish together. You can recreate dots with a dotting tool and stripes can be created with nail tape. This is another fun look that would be great for the holiday season.
21. Black Nails with a Marble Accent Design
Earlier in the post we shared a marble nail design. If you liked that idea, then you should take a look at this one too. Here we have a stunning marble mani. This time most of the nails are matte black and there are also two marble accent nails. The marble used for this look features a warm and bright shade with gold glitter. As you can see, this is such a glam way to wear marble. Try a similar look to this or you can have only one marble accent nail.
22. Warm Orange Matte Nail Idea
Next, we have another matte manicure that would be perfect for the fall. This look features long coffin nails that are painted in a warm orange shade. There is also one clear accent nail too. We love the rusty color because it is so chic and it is a must-have for the fall and winter seasons. Recreate this mani or you can just have all of your nails painted in a rusty shade. Either way, your nails will be gorgeous.
23. Matte Holiday Nails
The last nail idea that we have to show you is so glitzy and glam! Three nails are a dark burgundy shade, one is grey and the last nail is covered in glitter. Two nails are also adorned with dazzling rhinestones too. The gems and glitter create such a beautiful and sparkly look. A mani like this is perfect for those who need stunning nails for a special occasion.
We hope you have been inspired by these matte nails!