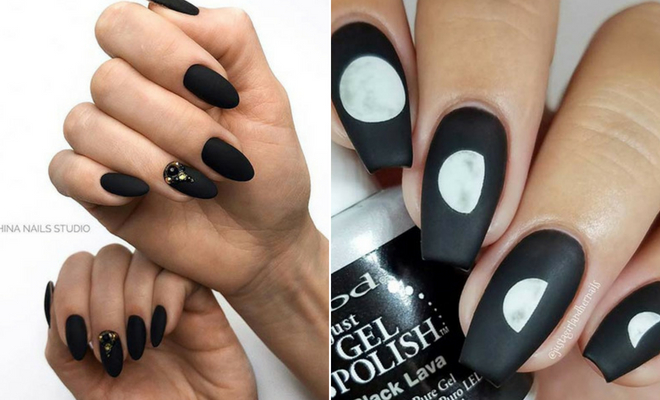 Instagram
Beauty
41 Edgy Matte Black Nails to Inspire You
By
|
Need new ideas for your nails? Love the matte look? Then this is the blog post for you! We have put together 41 edgy matte black nails to inspire you. Matte black is chic, trendy and can be used to create many different looks. We have something for everyone – from glam nails with rhinestones to statement nails with bold prints. Take a look, you will soon be trying these yourself or booking your next nail appointment.
1. Glam Matte Black Nails
Our first nail idea is this glam design. The nails are matte black with a crystal accent nail. We love the use of black and gold gems on the accent nail because it makes the matte black look so chic. A design like this would suit any nail shape but is better suited to longer nail lengths.
2. Trendy Matte Black Nails with Glitter
Matte black looks beautiful when combined with other nail art. Our next idea is a great example of this. The nails are light pink with a matte line design with two accent nails, one pink glitter and the other matte black. You can recreate a similar look or use a different color other than pink. Fall season is near, so opt for burgundy or dark green shade.
3. Matte Black Nail Design for Short Nails
Next, we have a nail idea that features our design favorite – glitter! The nails are matte black with two accent nails. One accent nail has a gem design while the other is silver glitter. Nails like this can be created at home with some patience. This design will suit all nail lengths and shapes.
4. Matte Black and Leopard Print
Our next nail design features a stylish combination of matte black and leopard. The black nails are embellished with gold diamonds and the leopard print is black, silver and red. We love this combination, it is perfect for the ladies who want a statement manicure. Leopard print is very trendy this season.
5. Moon Phase Nails
Love outer space or looking at the magical moon? Then these nails are for you. The coffin shape nails are matte black with different moon phases on each nail. You can recreate these nails or just have a moon accent nail. Either way, you will have a cool manicure.
6. Matte Black Nails with Palm Trees
Next, we have a summery nail idea. The stiletto nails feature matte black, pink and white with palm tree accent nails. Palm trees can be created with stencils or can be painted by hand. There are tutorials online to help you. You can take inspiration from this look and use different colors too.
7. Elegant Matte Black Nails
Glossy and matte nails compliment each other perfectly. Don't just take our word for it, check out these next nails. Two of the nails are matte with a crystal design and the rest are glossy black. These nails are chic and would suit everyone with any nail length and shape.
8. Matte Black Nails with Geometric Accent Nails
Our next idea features matte black nails and geometric patterns. Three of the nails are matte black and the rest are nude with black designs. We love this idea because it is stylish and shows how to have a trendy look on short nails. You can also have a similar design on longer nails too.
9. Matte Black & Plaid Design
Next, we have cool plaid nail design idea. Some of the nails are matte black while the others feature glitter and matte black plaid. You can get stencils to help you recreate the look, but you can also use tape. Try the whole look or just recreate the plaid.
10. Matte Black Nails with Shimmer Accent Nails
Looking for a chic and elegant nail idea? Then this is for you. Here we have matte black nails with two shimmering accent nails. The shimmer nails are light pink with silver. These would be perfect for a special occasion and would suit any nail length.