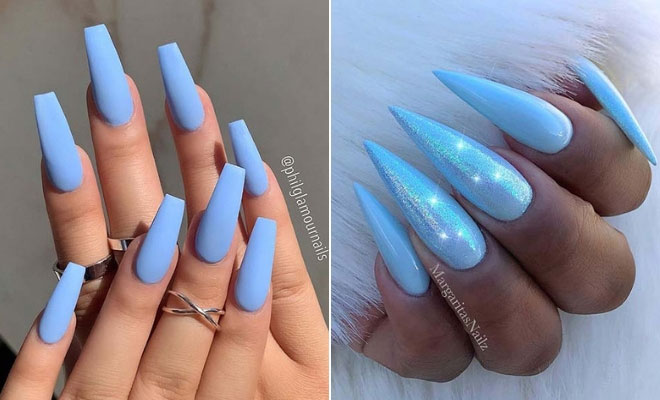 Instagram
Beauty
43 Stunning Ways to Wear Baby Blue Nails
By
|
There are many stylish shades of blue but the must-have color for 2021 is definitely baby blue. Baby blue is very popular around the spring and summer but it can be worn all year round. It is a timeless shade that is staying in style spotlight during the next year too. One of the easiest ways to add this trendy color to your look is with your nails. By wearing the color on your nails, you can be as bold or as subtle as you like. To show you how gorgeous this color can be, we have found 43 stunning ways to wear baby blue nails. There are sparkly nails, unique nail art and more. Take a look and find the best baby blue nail design for you. There is something for everyone and there is a mani to suit any occasion.
1. Matte Baby Blue Nails
First up we have these stylish matte blue nails. The nails are long, coffin shaped and they are a soft, light blue color. This is a bright and easy to wear nail idea that will suit everyone. You can recreate this look on any nail length and shape. Glossy blue polishes can also be used, you can just put a matte top coat over the top.
2. Baby Blue and Nude Ombre
Ombre is still one of the must-have nail looks and next we have baby blue version that you will love. Here we have coffin shaped nails that start nude and blend to baby blue towards the tips. This is a stylish, bold and beautiful nail idea. Keep it simple like this or you could even jazz it up with some rhinestones. Either way, your nails will look gorgeous.
3. Sparkly Blue Stiletto Nails
Next, we have a pretty and glam nail idea to show you. Some nails are glossy blue and the rest are sparkly blue. The stiletto shape and glitter is such a gorgeous combination. You can recreate this manicure or you can wear sparkly baby blue color on any nail length and shape. Sparkly nails like these would be perfect for a special occasion.
4. Elegant Nail Design with Rhinestones
The next nail idea is elegant and pretty. Here we have light blue and nude nails with sparkly rhinestones. The nude and blue color combo is so pretty! Rhinestones are an easy way to jazz up a simple manicure. For an easy application you will need a rhinestone picker pencil. Recreate this look or you can try blue and a different color.
5. Beautiful Butterfly Nails
This next nail design is one of our favorites. Here we have bright baby blue nails and some of the nails feature beautiful butterfly nail art. Butterflies like these will look gorgeous on your nails. You can buy butterfly stencils and stickers so you can recreate a similar manicure. Recreate this or add butterflies on all of your nails.
6. Baby Blue Nails with Floral Accent Art
Floral nail art is very popular and with designs like this we can see why! This mani features blue nails with two floral accent nails. The floral pattern is pink and red and it compliments the blue perfectly. This is a cute and summery look that will suit everyone. If you wanted to recreate a similar set of nails, you can buy floral nail stickers online.
7. Glam Blue and Silver Glitter Nail Idea
Next, we have a cute and glam nail idea to show you. The nails are a beautiful blue shade and they have sparkly tips. We love the bright color and the sparkles. A design like this will suit all nail lengths and shapes. It would be perfect for a special occasion. You can check out what products were used to create the look on the nail artist's page below.
8. Baby Blue Nails with Sparkle
We love this next nail idea, it is one of our favorites! Here we have bold baby blue nails with rhinestone, glitter and chrome designs. It is such a vibrant look and it is perfect for those who want statement making nails that are glam too. Products used: Valentino Beauty Pure's acrylic system in shade Butterlicious and #120, and Swarovski, chrome and glitter is by Daily Charme,
9. Chic Baby Blue Coffin Nails
This next nail idea is chic and super stylish. Some nails are simply baby blue, one nail has ombre art and the other nail is sparkly. We love the different nail art styles used, it creates such a trendy look. You can recreate this manicure or you can try just two of the designs. Either way, your nails will be amazing.
10. Glitter Nails with Baby Blue Tips
Looking for a unique nail design that makes you stand out from the crowd? If so, this idea could be perfect for you. Here we have sparkly nails with blue tips. The blue tips are large so they are very bold and statement making. You can recreate this or you can create a subtler look by using more glitter and smaller blue tips.