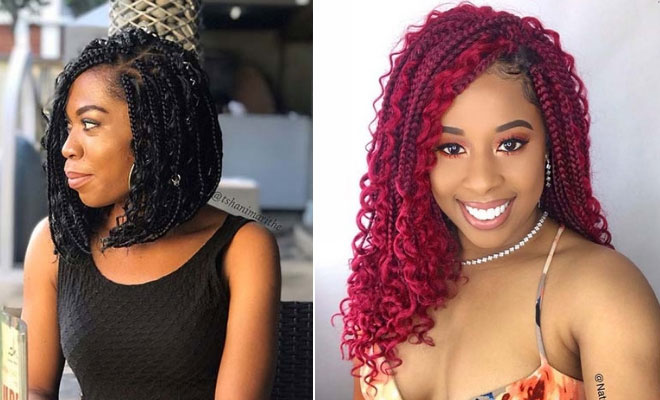 Instagram
Beauty
45 Trendy Goddess Box Braids Hairstyles
By
|
Goddess box braids are a very popular hairstyle. This is no surprise since these braids are just gorgeous and many celebrities have been seen rocking the look from Beyonce to Zoe Kravitz. Not only that, but box braids are a protective hairstyle so these braids will also protect your natural hair! You may have seen this look on Instagram, but if you haven't, think of the style as a gorgeous mesh between box braids and curly hair.
For the loose curls, we recommend you use 100% human hair if you want this style to last. If you use synthetic curly hair it may get tangled and nappy. Also, you want to add the human hair in at different spots for each braid to achieve that messy, boho look. If you follow this tip, your goddess box braids may last for a month or more. For this protective style, we don't recommend dipping the hair in hot water because the hair will loose its wavy pattern and curly texture. You will end up with flat and messy hair. Dip it in hot water only if you are using 100% human hair. Some hair companies blend human and synthetic hair and sell it as 100% human hair, so be careful!
If you don't love these braids all ready, then you will after today because we have found 45 of the most beautiful goddess box braids. You will find bright colors, different lengths and more. There is something for everyone, so take a look before you book your next hair appointment.
1. Glam Goddess Box Braids
The first hairstyle we have to show you features glam goddess box braids. For this look the hair is very long with thick braids and lots of curls. Hair like this is perfect for the ladies who love long hair. Braids like these will make you look stylish for any occasion. You can recreate this look or you can choose braids and curls in a shorter length too.
2. Goddess Box Braid Bob
If you do prefer shorter hairstyles, then you need to see this next hair idea. Here we have a box braid bob. The bob has trendy triangle parts and it looks so chic. A bob like this would be perfect for the summer as it is easy to wear and manage. Recreate this longer length or go for an even shorter bob style. Either way, your hair will look gorgeous.
3. Bold Purple Box Braids
Next, we have bold box braids. These braids are very long and are a bright and beautiful purple color. Some braids are also accessorized with gold cuffs and cords too. Vibrant hair like this is fun, stylish and perfect for the summer. The gold accessories really jazz up the look. Try a similar style to this or you can use a different purple shade. Hair used: 4 packs of EZ Braid hair in the color Purple and 1 pack of Freetress Gogo Curls in color Purple 26″.
4. Cute Braided Hairstyles
The next hair idea we have features two different ways to wear goddess box braids. One look features a cute half up, half down style and the other one has hair that is styled up and accessorized with a scarf. Both hairstyles are gorgeous and pretty. The one with the scarf will be great for the summer season and it will make you look unique too, as you can use any scarf for your hair.
5. Blonde Goddess Box Braids
Blonde braids are a very popular hairstyle and this is no surprise when stunning hairstyles like this are being created! Here we have gorgeous goddess box braids that are a beautiful light blonde color. We love the blonde shade because it really glams up the braids. Hair like this will make you feel like a Queen everyday!
6. Goddess Box Braids with Tight Curls
This next hair idea features chic and elegant braids. Here we have mid length box braids with beautiful, tight curls. The braids are so neat and sleek and the curls give the braids a touch of glamour. Hair like this will suit everyone. You can recreate this or try longer braids and shorter curls.
7. Accessorized Goddess Box Braids
Next, we have beautiful goddess box braids. The hair is styled into long and sleek braids with gorgeous curls at the end. There are also gold cuffs and cords too. Hair like this easy to wear and looks effortlessly stylish. Recreate this look or you can keep it simple and wear similar braids without the accessories.
8. Long Braids with Trendy Triangle Parts
Looking for a trendy braided style? Then this could be perfect for you. Here we have stunning long box braids that have triangle parts. As you can see, the triangles look so stylish and gorgeous. You can recreate this long and accessorized look. If you want a bolder hairstyle, you could try the triangle part braids in a different color. Red would look amazing.
9. Gorgeous Thin Goddess Box Braids
If you prefer to wear thinner braids rather than the jumbo ones, then this hairstyle is for you. For this look the hair is styled into long and thin goddess box braids. These are just stunning and it is one of our favorite looks. You can check out a tutorial on how the hairstyle was created and see what hair was used on the YouTube tutorial down below.
10. Goddess Braids for the Summer
The next hair idea we have will be perfect for the summer! This hairstyle features long goddess box braids that are a stylish light brown color. There are also blonde braids too. The colors are gorgeous and similar colors will give you a bright and sun-kissed look for the summer season. Recreate this look or try the multi tone braids in a shorter length.