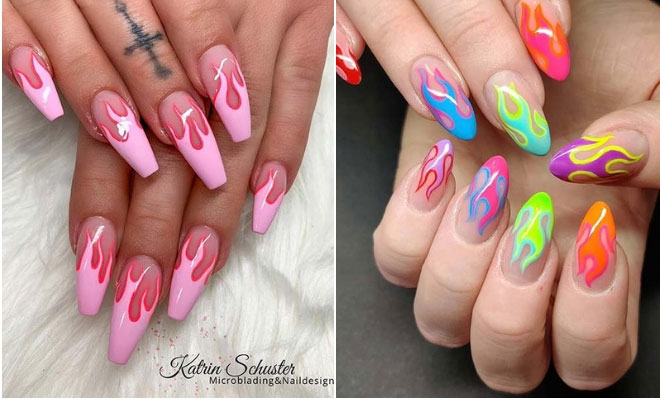 Instagram
Beauty
21 Flame Nail Ideas – the Newest Summer Manicure Trend
By
|
11. Colorful Flame Nail Art
Next, we have another colorful design to show you! This time the nails are nude and each nail has a different colored flame with another color used for the outline. It is such a fun, bold and statement making idea. You can also wear lots of stylish colors at once. Try a similar look or use your own color palette. Either way, this mani will be great for the spring and summer.
12. Rose Gold Nails with White Flames
This next idea is another one of our favorites. This mani features long nails that are painted in a pretty rose gold color. The nails are finished off with white flames. We love the white and the rose gold together. It is such an elegant and pretty combo but it has a trendy edge because of the flames. Nails like these would be perfect for a party.
13. Bright Pink Nail Idea
Love the color pink? If so, this design is for you. Here we have long coffin nails. The nails start with a nude color and then the flame art is added towards the tips. These flames are light pink the middle with a dark pink outline. It is a fun, pretty and stylish design. Try and recreate the look or you can swap the colors around. So, have a dark pink flame with a pastel outline.
14. Orange Flame Nail Design
If you like your manicures to be bold and bright, the check out this idea. Here we have super long nails and most of them have a different design. Two nails have pink ombre, one nail is orange and is adorned with gems while the other nail is nude with a purple metallic flame. You can buy holographic flames online and stick them on your nails, so you can recreate a similar look at home.
15. Pastel Flame Art
The next nail idea is perfect for the spring and summer seasons. This mani features short and nude nails with pastel flames. As you can see, the pastel colors look so cute with the flames. You can try using a few different colors like this or you can choose one pastel color for all nails. The art will look great on all nail lengths and shapes.
16. Neon Pink Flames
Earlier in the post we featured neon flames. If you loved that idea, then take a look at this one too. This time we have neon pink and orange flames. As you can see, the different neon colors look amazing! A mani like this is perfect for vacations, the summer and festivals. Recreate the orange and pink look or you can just choose either pink or orange for all nails.
17. Fiery Nails with Glitter
This next nail idea is inspired by real fire. All of the nails are sparkly and some either have flames or ombre art. We love these flames because they have orange and yellow tones like real flames. This is a fiery, fun and fierce look that will make a statement. The different nail shapes look very trendy too. If you like to wear unique nail art, then this is perfect for you.
18. Vivid Pink Nails with Flame Art
Next, we have another pink and orange idea. This time the art is placed on short nails. Most of the nails are vivid pink and the two accent nails are nude with pink and orange flames. This is a cute, bold and easy to wear look. Recreate this or you can use orange as the main color instead of pink.
19. Trendy White and Black Flames
If you loved the white flame idea, then this could be great for you too. Here we have another white flame mani. The nails are long and nude with white flames on the tips. A black outline has been added to the flames as well. We love this because black and white is such a chic and trendy combination. You could even try wearing black flames with white outlines .
20. Bold Pink and Blue Nail Design
Blue and pink is another cute color combo and with flame art it looks amazing. As you can see, these nails are blue with vibrant pink flames. It is such a fun and bold design. You could try a similar look or have either pink or blue nails with the flame design as an accent nail. This art was created with pink acrylic polish from Mag Cosmeticos and color Cockeyed by Masglo Belleza Professional.
21. Marble Art with Red Flames
The last nail idea is another one that combines two must-have nail trends. Here we have pink marble nails with red flame outlines over the top. We love this because marble art is so trendy right now and it looks so chic. The flames give the marble a unique and stylish edge. You can find marble nail art tutorials online and you can use any color combo if recreating the look.
We hope you have found a fiery flame nail design to try!