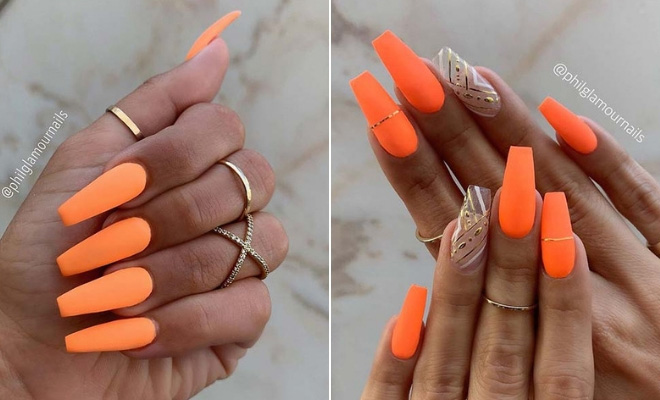 Instagram
Beauty
43 of the Best Orange Nail Art Ideas and Designs
By
|
There are so many amazing nail colors available so it can be very difficult to choose which one you want to wear. Maybe you should go for a classic red, chic nude or what about orange?! Orange can be used to create amazing nail designs from bold flames to beautiful ombre. Not only that, but there is a shade to suit everyone, from vivid orange to soft, pastel tones. So you can see how amazing orange can be, we have got 43 of the best orange nail designs to show you. Orange nails are popular during summer, but we have some cool designs that you can wear during fall and winter. If you didn't love the color orange before, you will after you have seen these stunning manicures!
1. Bright Matte Orange Nails
We would like to begin by showing you these bright orange nails! The nails are long and coffin shaped. Each one is painted in vivid and vibrant matte orange. We love this orange shade because it is fun and bold. Nails like these will be perfect for the summer. You can recreate this look in matte or glossy color. The color will look amazing on any nail length and shape.
2. Matte and Glitter Nails
Next, we have a unique nail design that would be great for the fall season. For this look, each nail is painted in a different color including yellow, warm orange and rust. There is also a sparkly accent nail too. The colors used are stunning and look inspired by fall leaves. If you love bold nails, then recreate this design or you can create a subtler mani by using the warm orange and rust without the yellow.
3. Beautiful Butterfly Nail Idea
This next nail idea is one of our favorites because it is so elegant and beautiful. One nail is a light and bright shade, the next is sparkly and two nails have stunning butterfly wing art. The butterfly nails feature orange ombre with a delicate wing design over the top. This is such a pretty idea. There are lots of easy to follow tutorials online for creating butterfly wing nail art.
4. Ombre Orange Nails
If you want your nails to make a statement, then this idea is perfect for you. Here we have long coffin nails with nude and vibrant orange ombre. The nail shape and the vivid color really create a bold manicure. You can keep it simple and recreate this look or you could go all out and add glitter or rhinestones too. Either way, your nails will look amazing and will allow you to stand out from the crowd in style.
5. Neon Nail Design
Love unique nail art? If so, you need to check out this next idea! These nails are short and each nail is different. One nail is all green and the others are orange and green with different black line designs. The color palette used is so striking and colorful and the orange and green are such a great match. Try a similar look to this or you can try just one of the designs. Nail art like this can be created with orange, green and black polish and nail tape.
6. Ombre Nails with Rhinestones
Next, we have a chic ombre nail design to show you. Three of the visible nails feature an ombre design and there are two accent nails with matte finish and pink rhinestones. As you can see, the ombre effect and rhinestones really glam up the orange. Recreate this design or you can have all orange and rhinestone nails. You can find ombre nail art tutorials online.
7. Perfect Fall Nails
We love this next idea! This manicure features long coffin nails and some are painted matte rust orange and the others are clear and have a gold leaf design. The orange and gold leaves look perfect together and they remind us of fall. This is a stylish and bold nail idea that is easy to recreate. You can hand-paint leaves or for easier application, you can use nail foils.
8. Matte Neon Nails
Orange is a fun and bright color but it can also look very glam too. This next nail idea is a great example. Most of the nails are light orange and there is one clear accent nail. Two nails on each hand are also decorated with a gold pattern too. As you can see, the soft orange and gold compliment each beautifully and create a chic and classy look. If you love trendy nails, then recreate with the glass nail or you can just try the orange and gold.
9. Sparkly Orange Ombre
Next we have another ombre design. This time, the nails are nude and then they change into a light orange shade with sparkle. What we really love about this manicure is that most of the nails are coffin shaped but there is one stiletto shaped nail too. It is just a very unique and amazing idea. The orange and subtle glitter are gorgeous together. A mani like this will glam up your look and it would be perfect for a special occasion.
10. Matte Coffin Nail Design
The next nail idea is another summery one. Each nail has a different design – some are just one color, one features ombre and the last nail has stunning floral art. The floral nail is nude with hand-painted orange flowers. It is also adorned with gold studs too. Overall, it is a pretty and bright manicure that would be great for the summer or even fall. You can recreate this or choose to have all floral nails. There are tutorials online that can give in depth instructions about how to hand-paint flowers.