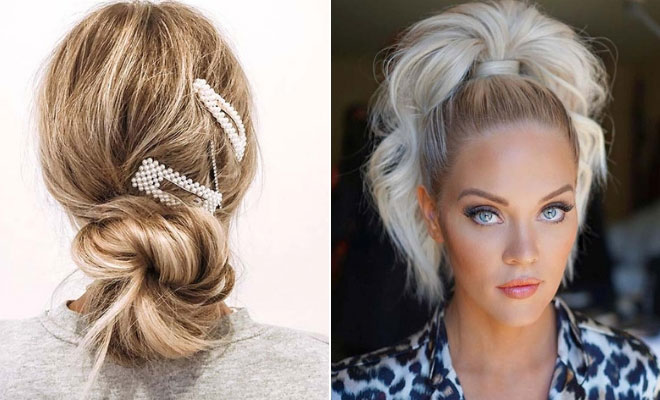 Instagram
Beauty
23 Super Easy Updos for Busy Women
By
|
If you are bored of the same old hairstyle and want to try something new, then we are to help! Today we would like to share 23 super easy updos with you. There are ponytails, glam updos, buns, accessorized hairstyles and more. You will find an updo for any occasion and you can recreate these yourself at home. Try something new and take your hair from drab to fab!
1. Simple High Bun
The first hairstyle we have to show you is a simple high bun. This is a gorgeous updo that you can dress up or down to suit any occasion. The stylist who created this look said that a bun like this can be created by putting your hair in a ponytail and then twisting it up into a high bun. There are tutorials online that will show you in more detail to if you need more help.
2. Accessorized Bubble Ponytail
Bubble ponytails are a cute and popular updo idea. We love these ponytails because the bubble style is a great way to jazz up the classic hairstyle. You can create a bubble ponytail with clear elastics. Put your hair into a ponytail and then create sections further down the hair with the elastics. Pull out each section to give it volume and to create the bubble look. You can add a cute scrunchie like this and you can create with or without the wraps of hair.
3. Cute and Short Side Braid
Next, we have a cute side braid. The hair is parted on the side and styled into a short braid. A beautiful bow has been added to the hair too. This is an easy to wear updo and it will suit everyone. To make the hairstyle unique to you, you can use any bow and try a different braid type too. You can find hair bows online. The braid will also look gorgeous with longer hair.
4. Stylish Two Bun Updo
Another updo you could try are two buns and this next hair idea is a stylish example. For this look, the hair is styled into low buns. The hair features chic accessories too. This is a cute and pretty hairstyle and it will be perfect for the summer. You can create this look the same way you would with one bun, but just do it twice. You can choose to accessorize or not to.
5. Pull Through Braid
Our next updo idea features a pull through braid. Pull through braids are very trendy and they give you a stunning braided look without the hassle of weaving the hair. Instead of weaved hair, this braid is created with small ponytails. As you can see, it is a gorgeous hairstyle and it will suit any occasion. There are lots of tutorials online that can help you recreate a similar braid to this one.
6. Sky High Ponytail
Looking for a hairstyle that is chic and easy to wear? If so, this could be perfect for you! Here we have a sky high ponytail with sleek hair on the head and the loose hair is curly. It is a beautiful updo and and it will look amazing for the summer season. You can try a similar ponytail to this or you can try it with straight hair too.
7. High Bun with a Scarf
Next, we have another bun hairstyle to show you. This bun sits very high on the head and it features a scarf accessory too. We love this idea because the scarf jazzes up the simple updo. You can use any scarf for this hairstyle, maybe it could match your outfit. Accessories like this make the hairstyle unique to you.
8. Half Up Fishtail Braid
If you do not want to put all of your hair up, then you could try a half up hairstyle like this one. The top section of hair has been styled into a fishtail braid and the rest is left loose. With hair like this you get the best of both worlds. You can try a hairstyle like this or you could even try a braided bun too.
9. Chic Ponytail
Love ponytails? Then you need to check out this next look. Here we have a low ponytail with a chic hair tie. Just by adding a gorgeous hair tie, you can really glam up the classic ponytail and turn it into a beautiful updo. Hair like this would be perfect for work or a special occasion. You can find out where to buy these hair ties on the page below.
10. Cute and Easy Bun Tutorial
The next idea features a stunning low updo. Here we have a low bun at the nape of the neck. It is a beautiful updo and it was created by twisting the hair. You can follow the pictures below to recreate this look yourself at home. It looks simple to do and the result is a glam hairstyle that you can wear anywhere.