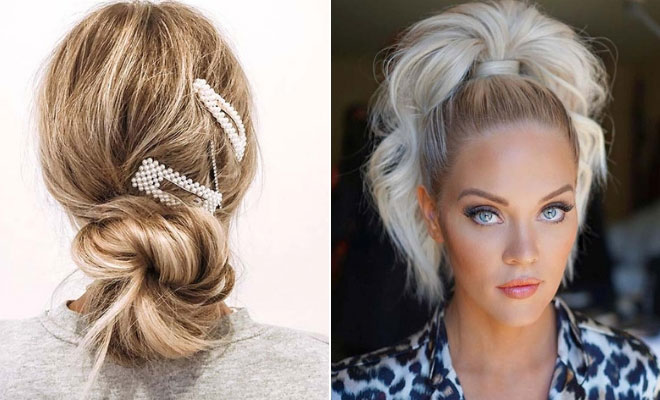 Instagram
Beauty
23 Super Easy Updos for Busy Women
By
|
11. Textured Ponytail with a Bow
Next, we have another ponytail. The ponytail is styled high and it is textured too. It also has a beautiful blue bow. We love the bow because it gives the ponytail a chic and unique look. The textured hair makes the bow look edgy. You can recreate with any bow, and a similar style would look so cute and elegant for a special occasion like a wedding.
12. Simple Side Braid
If you love braided hairstyles, then you need to see this next look. The hair is styled into a fishtail braid and it is worn on the side. It is a simple and easy to wear hairstyle that will suit everyone. You can recreate the fishtail look or you can use a different braid of your choice. A hairstyle like this will be great for shorter hair too.
13. Colorful Half Up Hairstyle
The next hair idea is colorful and unique. For this look, three individual ponytails have been created with three bright hair elastics. Some of the hair is left loose too, which creates a stylish half updo. We love this hairstyle because it looks like one of the bubble styles. It is a cute and pretty updo. You can recreate on shorter hair and you can use different hair elastics too.
14. Sleek High Ponytail with Braids
Need a glam updo? Then this is for you. Here we have a sky high ponytail. All of the hair is sleek and straight. The hair is also finished off with two braids. An updo like this will be perfect for festivals, the summer or for parties. For a statement hairstyle, try with long hair, but you can wear it with shorter hair too.
15. Accessorized Low Bun
Next, we have a beautiful updo. The hair is swept back into a relaxed bun at the nape of the neck. This hairstyle has stunning pearl accessories too. We love this combination because the textured bun makes the pearls look edgy and the pearls give the bun a touch of elegance. It is a gorgeous hairstyle and something similar would look beautiful at a wedding. You could also tone it down a little and wear a bun like this with no accessories.
16. Long Braid Ponytail
Your updo does not have to be very complicated to wow. You could try something like this. Here we have a sky high ponytail and the hair is styled into a three strand braid. As you can see, the braided ponytail looks amazing! You may also notice that the braid has been accessorized with letters to spell out the name Bella too. This is very unique and a similar style will make your hair stand out from the crowd. You can buy clips with letters or words online and use them create your own personalized braid.
17. Stylish Low Ponytail
Need an elegant hairstyle for a special occasion? If so, this could be perfect. Here we have a very low ponytail that has been accessorized. The actual ponytail looks relaxed and it is beautifully curled. There is also a gold hair accessory with white flowers. The flowers and loose curls create a stylish and romantic hairstyle that would be perfect for wedding. For a different occasion such as a date night, you could try the hairstyle without the accessory.
18. Two Cute Buns
Earlier in the post we featured a hairstyle with two buns. If you loved that hairstyle, then you may like this one too. Half of the hair is put into two buns and the rest of the hair is left loose. This creates a trendy half updo and it will look cute and stylish on anyone. You can recreate this style with the braids and rings or keep it simple with just two buns and loose hair.
19. Side Braid and Headband
Another cool way that you can jazz up your hair is with a headband. You could try an updo like this. Here we have a loose and textured side braid that has been accessorized with a bright pink headband. As you can see, the headband looks so cute and will add a pop of color to your look too. You can wear any updo with a headband and the headband can be in any color of your choice.
20. Chic and Unique Ponytail
Next, we have a unique updo idea. The hair has been put into a half style and instead of just leaving the hair loose like it usually is with this type of updo, the bottom layer of hair has been put into a ponytail. So, you get a double ponytail look. It is a chic and trendy hair idea that will suit everyone.
21. Bubble Pigtails
Love the bubble hairstyles? Then you need to see this! Instead of one bubble ponytail, here we have two! The two ponytails create bubble pigtails. This is such a cute and unique hairstyle and it will be perfect for the summer. It is a great choice for the ladies who like to stand out from the crowd. You can recreate with any hair ties.
22. Vintage Style Ponytail
The next updo we have to show you has a stylish vintage vibe. The hair is styled into a ponytail and it has been accessorized with a vibrant red headscarf. It is a gorgeous hairstyle and it will give you a 1950's look. You can view a tutorial on the page below to help you recreate the ponytail at home and you can use any color headscarf too. If the ponytail is not for you, then a bun and scarf would also look cute.
23. Trendy Accessorized Updo
Last on our list of easy updos is this trendy bun. Here we have a bun that is high on the head. The hair at the back of the head is decorated with trendy gold clips. This accessorized look has been a must-have for a while so you should consider giving it a try! You can use hair clips in any color and try different patterns too. Triangles are a popular choice.
We hope you've been inspired with our list of super easy updos. We know we did!