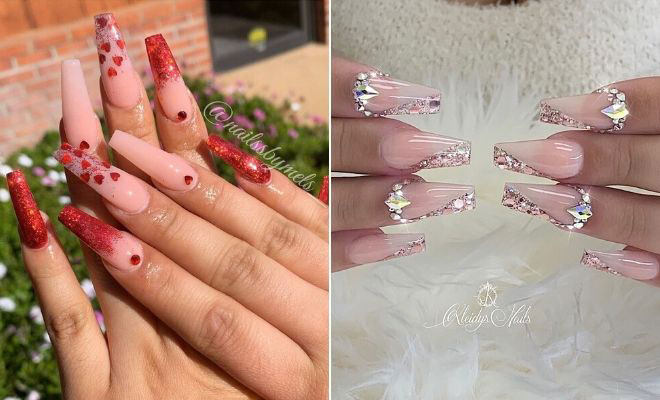 Instagram
Beauty
21 Cute Coffin Nails You'll Fall in Love With
By
|
If you like many others love the coffin nail shape, then you are in for a treat. We have been searching on Instagram for cute coffin nails and today we have 23 of the best designs to show you. You will find quirky patterns, glam manicures with rhinestones, stylish nail art and more. These are perfect for those who love having their nails done and are in need of some fresh and new design inspiration. There is a mani to suit all occasions and you can even try some of the nail art at home. So, read on and see which design is your favorite.
1. Cute Coffin Nails with Colorful Stars
The first nail idea that we have to show you is so cute and colorful! Here we have matte black coffin nails. Each one is decorated with small stars in different bright colors. It is such a fun and pretty idea. We love the matte black because it makes the other colors stand out. You can recreate this look with similar nail colors and a star stencil which can be bought online.
2. Elegant Butterfly Nails
Butterflies have become so popular for nail art and with designs like this, we can see why! This manicure features long coffin nails. Some are painted a neutral tone while the others are white. The neutral nails are decorated with rhinestones and the white with beautiful butterfly wings. As you can see, the wings look stunning when put together. This is a gorgeous idea and the design can be recreated in any color.
3. Colorful Long Coffin Nails
Another must-have look is gradient nail art. A gradient is when the colors change from one shade to another. There are different ways to create this look. You can use an ombre effect on your nails or you can paint each nail in a different shade which creates the color change. Below is a beautiful example of how to wear it. Each nail is painted in a different shade from pink to yellow. As you can see, the color change is stunning. This is a fun and bright look. Recreate this or use different colors.
4. Light Pink Nails with Dark Pink Backs
The next nail idea is one of our favorites because it is so cute and unique. For this look, the coffin nails are painted bright pink while the backs of the nails are dark pink! We love the color change on the back of the nails because it is so stylish and quirky. You can try the pretty pink look or choose two different colors. Nail art like this is best suited to long nails so you can really see the color on the backs.
5. Most Beautiful Coffin Nails
Next, we have a pretty and sparkly nail design that will wow. These cute coffin nails are a work of art. The nails are decorated with rhinestones, 3D flowers and gold tips. We love the color and nail art because it all compliments each other perfectly. You can recreate this look or have only one accent nail with flowers and rhinestones. Either way, it will be a gorgeous mani and it is perfect for a special occasion.
6. Neon Coffin Nails
If you like to wear bright and bold colors, then this mani is for you. For this look, most of the nails are nude with vibrant art and there is one ombre nail too. It is such a trendy look because different designs are used from tips to diagonal art. We love the amazing colors used. This is a unique mani and it is another one that is great for the summer season. You can also create a similar look using different neon colors.
7. Trendy Nail Art with Butterflies
This next nail design is so pretty and trendy. Each nail has a different design and these include dark purple color, butterfly nail art, and light purple nail with tiny crystals. All these elements and colors just create a stunning mani. We love the butterfly nail because it looks like flowers. There are 3D nail tutorials online and you can always hand-paint the butterflies or buy stickers.
8. Sparkly Pink Nails
Love the color pink? Then this is for you. Here we have pink butterfly nails. So, the nails are light pink but there is a beautiful pop of dark pink tone too. Each nail is also decorated with stunning silver sparkles. This is such a pretty and cute design. It will suit everyone and it will look amazing on long and short coffin nails. A mani like this can also be dressed up or down to suit any occasion.
9. Cute Heart Coffin Nails
Next, we have a super cute nail design and it is another one of our favorites! Here we have long coffin nails. The area around the cuticle is adorned with a red rhinestone and some tips of the nails are decorated with either red glitter or red hearts. It is such a unique and cute nail idea. This nail design is popular during the February because it reminds us of love and Valentine's Day. Try this look or put the same design all over your nails.
10. French Coffin Nails with Ombre Glitter
The next nail idea is like a trendy twist on a French mani. These coffin nails are light pink with white V tips. Some nails are simply light pink, and there of the nails have a glitter ombre design. The larger V tips and glitter ombre look amazing  together and it really modernizes the classic French mani. Recreate this or try the stripe in a different color. You can get the neat line with nail tape or a stencil.