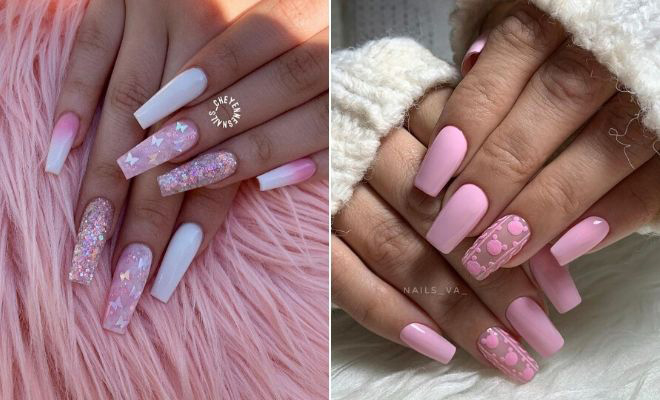 Instagram
Beauty
23 Really Cute Acrylic Nail Designs You'll Love
By
|
11. Cute Acrylic Nails with Peaches
Earlier in the post we shared fun and fruity nails. If you loved those, then you need to see this next nail idea too. Here we have another fruit inspired mani. This time the nails are nude with cute peaches and white stripes. This is a summery and pretty look. We love this mani!
12. Stiletto Nails with Butterflies
Next, we have another butterfly nail idea to show you. For this look, some of the nails are glossy blue and some are sparkly blue. There is also an accent nail which is nude with blue butterflies. This is a beautiful nail idea and the butterflies are so cute. Recreate the blue look or try a similar design in a different color of your choice.
13. Cute Acrylic Nails with Lips
The next acrylic nail idea is cute and girly! All nails have a matte nude base that is jazzed up with glittery tips and lips. The colors and nail art used are stunning and unique. A manicure like this is perfect for those who want to stand out from the crowd. Try and recreate a similar manicure or just choose one of the designs for all of your nails.
14. Colorful Stars
Looking for a cute and colorful nail design? If so, this could be perfect for you. Here we have nude nails that are covered in brightly colored stars. This is such an easy to wear and stylish look. You can recreate these stars or you can try using different colors. Maybe add some glitter so the stars will sparkle!
15. Matte Neon Nails with Polka Dots
This next nail idea is one of our favorites! Here we have super cute polka dot nails. Some of the nails are painted bright yellow and the rest have either a polka dot or rhinestone design. It is such a vibrant and fun nail idea. We also love how different nails shapes have been used because this makes the mani so unique. These nails are perfect for the spring and summer.
16. Pretty Purple Ombre
Next, we have another ombre nail design to show you. This time the nails are light and gradually blend into a gorgeous purple shade towards the tips. The purple color is stunning and nails like this would look so stylish on anyone. You can recreate the design on any nail length and shape. Maybe even glam up the nails with some rhinestones.
17. Trendy Pink Flame Nails
If you like bold and cute nail art, then this idea could be great for you! Here we have light nails with pink flames. The flames are quite edgy and trendy and the pink gives the nails a pretty look too. It is such a cool idea! There are flame nail art tutorials online if you wanted to have a go at recreating the look yourself.
18. Summery Flamingo Nails
The next acrylic nail idea is another summery look. Some of the nails have vibrant ombre, one nail has a tropical leaf, the next has flamingo nail art and the last nail is covered in glitter. It is such a stylish and unusual idea! You can recreate the whole look or just choose one or two of the designs that you like best.
19. Matte Marble Coffin Nails
Marble nail art has become one of the must-have looks and this next idea shows how to wear it in style. Some nails are pastel purple and the rest feature pink and gold marble nail art. It is a chic and vibrant nail idea. You can recreate this or have all of your nails decorated with marble art. Either way, you will have one trendy mani, that's for sure!
20. Glitzy Orange Nails
This next idea features another one of our favorites looks! Here we have glitzy and bright nails. All of the nails have a different design that is repeated on the other hand. The designs include ombre, rhinestones and more. Nails like these would be perfect for a party, special occasion or for the days where you want to be glam and statement making.
21. Cute Flower Accent Nail
Love chic and classy nails? If so, you need to see this next idea. Here we have French ombre nails with a floral accent nail. French ombre uses the colors of a French manicure but the shades are blended instead of having white tip. The look is finished off with elegant flowers. This is a stunning mani that would be perfect for a wedding or special occasion.
22. Cute Acrylic Nails Inspired by Disney
Next, we have a pink and stylish nail idea to show you. For this look, the nails are light pink with Disney inspired accent nail. We love these nails because they are simple but so stylish and stunning. The design is easy to wear and will suit all nail lengths and shapes. You can recreate this design or add some rhinestones to jazz it up.
23. Neon Ombre Nails
Last on our list of cute acrylic nails is this vibrant design. Some of the nails are pink or yellow neon ombre and the other nails have floral nail art. The flowers are stunning and the neon shades give the mani a stylish and bold look. Try a similar mani to this or you can try using different colors for the ombre.
We hope you have been inspired by these cute acrylic nail ideas!