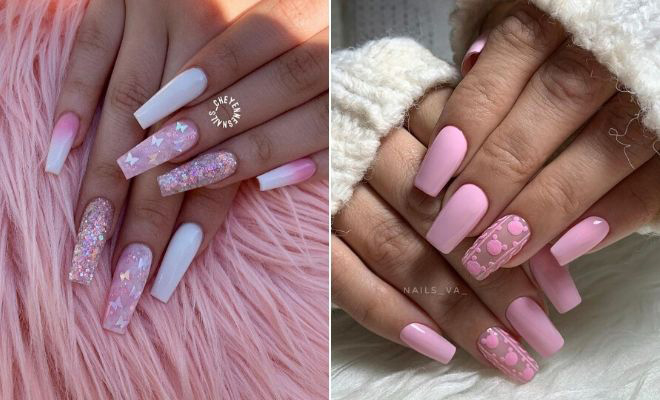 Instagram
Beauty
23 Really Cute Acrylic Nail Designs You'll Love
By
|
Fed up with your nails and feel like they need jazzing up? Or maybe you always choose a similar design so now you are bored with your manicures? If this sounds like you, then this is the place to be! Today we will show you a list of cute acrylic nails. There are butterflies, ombre nail designs, rhinestones and more. So, take a look and take your nails from drab and boring to fab and stylish. There is something for anyone and there are nail designs to suit any occasion!
1. Cute Acrylic Nails
We would like to begin by showing you these super cute butterfly nails. Most of the nails are simply pink and two of the nails have butterfly nail art. These nails are bright and very stylish. You can recreate this manicure or you can try using different colors, purple would be beautiful. If you wanted to try the design yourself, then you can hand-paint butterflies or buy nail stickers. You can find butterfly nail art tutorials online.
2. Pink and White Coffin Nails
Next, we have a beautiful and elegant nail idea. This manicure features pink and white nails with two accent designs. One accent nail is covered in pink and silver glitter and the other one is light pink with silver butterflies and some glitter. This is stunning nail design that would be perfect for a special occasion. You can recreate this look or you can try white nails with just butterflies. This design is our favorite!
3. Neon Pink and Yellow Nails
Add a pop of color to your look with vibrant acrylic nails like these. Here we have stiletto shaped nails and each nail has a different design that uses neon colors. Some nails are plain, one nail is sparkly, the next has ombre and the other nails are decorated with rhinestones. This is a bright and fun look. Recreate these nails or use a different neon color combination.
4. Chic Cherry Nails
This next idea is one of our favorites. These nails feature chic French ombre with red glitter and cute cherry nail art. We love the cherry pattern because it is fun and gives the nails a vintage look. You can buy cherry nail stencils and stickers online so you can recreate a similar manicure yourself.
5. Metallic Ombre Nails
If you love ombre nail art, then you need to check out this next idea. Here we have glam ombre nails that start nude and end in a magical metallic purple shade. This is a beautiful and bold manicure that will suit everyone. Keep it simple like this or you could jazz up the nails even more with some rhinestones!
6. Fun Fruit Nails
Next, we have such a cute, fun and unique nail idea to show you. These nails are long and coffin shaped. Each one is painted in a light, peachy shade and is covered in fruit! There are oranges, strawberries, lemons and more! Nails like these will be perfect for the summer. If you want to recreate nails like these you can buy fruit nail stickers online.
7. Stylish Nails with Clear Tips
Looking for trendy and chic nails? If so, this idea could be perfect for you. The nails are a stylish light shade and the tips are clear with a colorful pattern. This is such a cute nail idea and it features different nail trends too. You can recreate this mani or use a similar idea but with different colors. Either way, your nails will look gorgeous.
8. Pink Nails with Hearts
The next nail idea is pretty and cute! Here we have light pink nails and there are also two accent designs. One accent nail is covered in glitter and the other has a beautiful love heart pattern. Nails like these would be perfect for events like date night or Valentine's Day. You can buy hearts like these online or you could hand-paint the hearts on your nails.
9. Bright and Floral Nails
Brighten up your look with nails like these! These nails are light pink and some of the nails have a splash of vibrant pink and yellow glitter color too. Some of the nails are also decorated with rhinestones or flowers. This is a cute and easy to wear look that will suit everyone. You can recreate a similar design on any nail length and shape.
10. Bright Pink Nails with Rhinestones
Next, we have a chic and glitzy nail idea. For this look, most of the nails are a bright pink shade, one nail is glitter pink while the rest are decorated with sparkling rhinestones. The colors are gorgeous and the gems really glam up the mani. Nails like these will suit any occasion and you can recreate this look or choose more neutral colors. Either way, your nails will be beautiful and statement making!