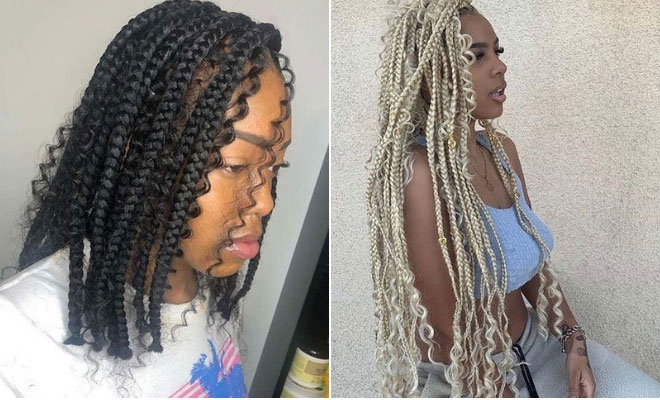 Instagram
Beauty
25 Gorgeous Braids with Curls That Turn Heads
By
|
11. Simple and Pretty Box Braids
Next, we have simple and pretty box braids. The hair is styled into long braids with large curly sections. Hair like this versatile and can be as glam or as subtle and chic as you like. It all depends on how you wear it. As the curls really stand out, it is perfect for those who love curls and want them to be noticed.
12. Messy Goddess Braids with Curls
The next hairstyle features messy goddess braids with beautiful curls. These more relaxed braids are gorgeous and they give the hairstyle a textured bohemian vibe. The hair is also decorated with cords and cuffs. Hair like this is perfect for the summer and you could even add some shells for a beachy look.
13. Jumbo Triangle Part Braids
Like the triangle part braids? If so, you need to see this next hair idea. Here we have jumbo braids with curls. As the braids are bigger, the triangle part is more statement making. This is a trendy and easy to wear hairstyle that will suit everyone. We think this hairstyle would look amazing in red or blonde color too.
14. Bohemian Feed in Braids
Next, we have a cute braid idea. The hair is braided into a long hairstyle complete with curls. This style is finished off with gorgeous accessories. This is a trendy and edgy hairstyle. It is another braided hairdo that will look different depending on how you wear it. It can look great for work, stylish for casual days and glam for nights out too.
15. Chunky Box Braids
Make a statement with your box braids. This style features large box parts that really stand out. The braids are also mixed with curls. This is a trendy and edgy hairstyle and it will suit everyone. You can recreate this hairdo or we think it would look amazing with ombre color. Bright blonde ombre will look amazing with braids like these.
16. Platinum Blonde Braids with Curls
If you love to wear blonde hair, then you need to check out this next hairstyle. Here we have beautiful braids with curls at the end. The hair is also a platinum blonde color. As you can see, the blonde is so bold and it completely transforms the hairstyle. You can recreate this or your can try a different shade of blonde.
17. Gorgeous Multi Tone Braids
The next hairstyle features another hair color idea. This hairdo has thin braids with stunning curls. The braids are also multi tone because they are black with an added warm coppery tone. Color like this is great for the ladies who want to try a new shade but who don't want the color to be too over the top. You can recreate this or you can try adding a different color. Any would look amazing wit this style.
18. Bob Braids with Curls
When choosing braids, you don't have to go for the very popular longer lengths. You can go a bit shorter. Here we have a short style that features chunky braids with curls. This is a trendy and easy to wear style that will suit women of all ages. You can recreate this or go even shorter. This style would be great for the summer.
19. Stunning Ombre Ponytail
Earlier in the post we shared an ombre hairstyle. If you liked that, then you need to check out this hair idea too. For this look, the hair is styled into thin braids with curls. All of the braids are styled up into a high ponytail. As you can see, the ombre color and ponytail is such a stylish combo. Recreate this or you can choose a different color for the ombre.
20. Long and Beautiful Chunky Braids
Next, we have long goddess braids. These braids are super long and are worn to one side. It is such a stunning and glam hairstyle. Braids like these are perfect for the occasions where you want your hair to impress. Keep it simple like this or you can add some accessories as a stylish finishing touch.
21.  Stylish Half Up Bun with Curls
This hair idea is another one of our favorites! Here we have long braids with curls. Half are left loose and half are styled into a high bun. We love the high bun because it looks so trendy. You also get the best of both worlds because you have the loose braids and an updo too. This updo is another one that is perfect for the summer.
22. Burgundy Braids and Red Curls
We love this next color combo. This hairstyle features burgundy braids with loose red curls. The red and burgundy is such a trendy and unique combination. Recreate this bold hairstyle or you can swap the colors around and have red braids with burgundy curls. You could even choose two different colors and experiment with your hair.
23. Gorgeous Braided Hairstyle
If you want a hairstyle that will wow, then this is for you. Here we have super long braids with lots of curls. We love this because there are more braids then curls which gives you a completely different look. This is a super glam hair idea and it looks stunning. Recreate this or you can add some gold accessories.
24. Trendy Long Braids and Curls
The next hair idea is trendy, beautiful and easy to wear. This style features super long braids with thin and tight curls. It is another versatile hairdo that will suit everyone and it can be glammed up or down to suit any occasion. You can recreate this or add more colors. Maybe use a warm copper tone for the curls, that would look amazing.
25. Bold Red Boho Braids
Last on our list is this beautiful red boho braid style. These braids are long and use different shades of red. It is a bold and statement making hair idea. Hair like this is perfect for the women who want to stand out from the crowd. Try a similar style or go for a different vivid color such as purple.
We hope you have found a beautiful braided hairstyle to try!