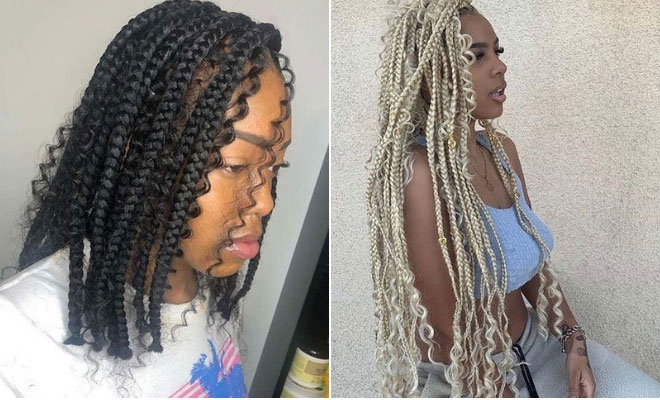 Instagram
Beauty
25 Gorgeous Braids with Curls That Turn Heads
By
|
If you have tried many braided styles and are a bit fed up of the hairstyles that are on offer, then this is the place to be. Today we have 25 stunning braids with curls. Curls can really jazz up your braided styles and they look super glam too. In this post, you will find different braid lengths, stylish colors and more. So, have a look at some of these amazing hairdos for some inspiration. There are some gorgeous hairdos for the upcoming spring and summer such as bobs and blonde braids. Take a look and find your next braided style.
1. Box Braids with Curls
The first hair idea is so glam! Here we have beautiful braids that are worn to one side. When the braids hit around chin length, the hair transforms into loose curls. This is a stunning hairstyle and it is chic and easy to wear. Not only that, but it will suit any occasion. Recreate this or you can choose a shorter curl length.
2. Beautiful Red Goddess Box Braids
If you want to try a new hair color as well as a new hairstyle, then this is perfect for you. Here we have long goddess box braids that are rich red shade. These braids are mid length and have a small curled section on each end. There are also some loose curls. It is a stylish and bold hair idea. Try a similar braided style or you can use a different shade of red.
3. Ombre Box Braids with Curls
Next, we have more goddess box braids but these ones are long and they have trendy ombre color. Ombre color is still a must-have style and it allows you to try a new hair color without being too bold. A lighter and warmer shade like the one used is perfect any season and will suit everyone. You can go for something similar or try one of the other popular colors such as blonde or red.
4. Braided Long Bob with Curls and Accessories
This next hairstyle is so cute! This look features a braided long bob with a length that curls just under the chin. The hair is beautifully braided and has loose curls. This style is complete with accessories like cords, cuffs and shells. It is a gorgeous hair idea that will be perfect for the summer because of the shells and the bob style is easier to manage on hot days. You can recreate this or you can try a longer bob length. For a subtler hairstyle, you can just have the bob without accessories.
5. Triangle Part Braids
Different part shapes can really jazz up your hair. Box braids are popular and so are triangle parts. This hairstyle features triangle part braids and as you can see, it looks so trendy! We love this idea and the actual braids used are goddess bohemian braids. This is a beautiful and easy to wear style. You can check out the braider's YouTube channel and see other styles similar to this one being created. Each video also tells you what hair was used.
6. Goddess Feed Ins and Curls
Looking for a trendy and easy to wear style? If so, this could be perfect for you. Here we have long feed in goddess braids. The braids are also tied to create a ponytail look. It is a stylish hair idea and the ponytail looks amazing with the curls. You can recreate the hair or you can try a shorter length. Maybe even try a high ponytail, that would look super glam.
7. Stunning Braided Ponytail
Next, we have a stunning high ponytail to show you. The hair is braided into tribal cornrows and the braids are styled high on the head. A large section of each braid also has loose and beautifully curled hair. The ponytail gives you best of both worlds if you can't decide between braids and curls. You can try a similar style with the accessories or try a simpler look without the accessories. Either way, your hair will look glam!
8. Braids to the Side
This next hair idea is one of our favorites! Here we have long braids that are styled and worn to one side. The braids also have loose sections with tight curls. This is such a chic hairstyle and it will suit all women. Not only that, but it will look amazing for casual occasions but also for events where you want to look glam. We would keep this hairstyle long if recreating to keep the wow factor.
9. Knotless Braids with Curls
Maybe you just want a braided style that is beautiful, simple and easy to wear? If so, check this out. Here we have long and thin box braids with long and loose curls. The hair will suit everyone and you could even style it different ways. A ponytail, bun or half up hairstyle would look amazing. This is a versatile hair idea and it is just stunning.
10. Jumbo Box Braids with Curls
If you prefer to wear thicker braids, then this perfect for you. Here we have jumbo box braids with curls. As you can see, the hairstyle is simple and stunning. We love the thicker braids because they make more of a statement. Recreate something similar or you could even add more curls. Cords would also look gorgeous and glam with a braided style like this.