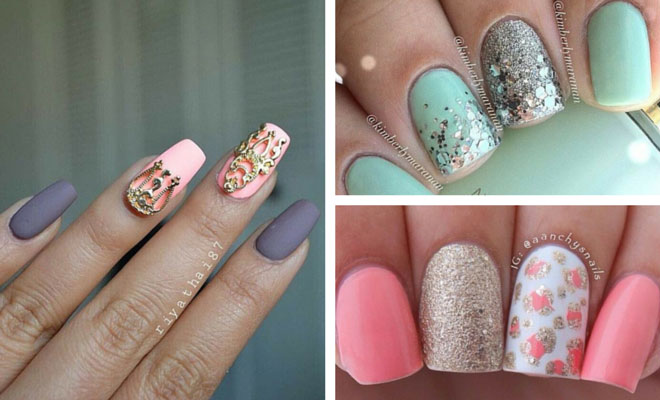 50 Best Nail Art Designs from Instagram
Craving some nail art in your life? You're at the right place. Nail art is incredibly fun and can boost your mood instantly… even on a Monday morning. There's just something about beautifully painted nails.
We've searched Instagram for best nail art designs and selected our top 50. We made sure to include the designs that are easy to achieve and don't require a nail art kit. Check them out below!
1. Glitter Ombre Design
When you pair a solid color with glitter, you get an easy, simple and sophisticated design. Glitter nail polish adds an instant and major glam. This one is Essie "A Cut Above", while the base color is OPI "Others Pale by Kim-Parison".
2. Dark Matte Nails
Matte finish can make even the most boring nails fun and interesting, but this nail design is definitely not a boring one. Gold studs go perfectly with these dark colors. If you want a more playful look, you can replace the colors with brighter shades.
3. Polka Dot Accent Nail
This nail design proves that for a stunning nail design, you don't have to own a large number of nail polishes or use any nail art accessories. Polka dots are an easy way to add a cool and cute vibe to your nail design. The pink nail polish is China Glaze "Feel the Breeze".
4. Nude Matte Stiletto Nails
If you want to add a little spice to your look, do it with stiletto nails. This nail shape can make your fingers appear longer and slimmer. Matte finish gives stiletto nails a modern and elegant look. A few rhinestones on your fingernail will instantly transform your simple nail design to a snazzy one.
5. Cute Nail Design
Animal print nails have been around forever, and they're not going anywhere. Cheetah print is one of our favorite animal prints because it's easy to do and goes with everything. As shown, you can even pair it with sequins and hearts – crazy!  The nude nail polish is OPI "Don't Bossa Nova Me Around", while the chocolate shade is called "Scores a Goal" and is also by OPI.
6. Pink & Gold Nails
This cute and girly nail design is perfect for warmer months. Create your cheetah print using a bright and fun colors for an eye-catching and unique nail design. The gorgeous gold shade is by L'Oreal "The Statement Piece".
7. Red & Gold Nails
Red and gold are classic and elegant colors. Whenever you pair them together, you know that you'll end up with a stunning nail design. Negative space nail art and gold studs add an instant dose of edginess. Stunning!
8. Mint & Silver Glitter Design
A pastel green (or mint) base coat is the perfect canvas for falling flecks of silver glitter. Adding sequins and glitter is one of the easiest ways to instantly amp up your mani. Revlon "Minted", Color Club "Platinum Record" and China Glaze "Silver Lining" are the nail polishes used to create this simple but still jaw-dropping nail design.
9. Black & Red Matte Almond Nails
If you're not a fan of glitter, rhinestones and studs on your nails, then you'll definitely love this elegant and sophisticated design. Red roses really bring this whole look together. We love everything about these nails – shape, colors, and the lovely design.
10. White & Gold Nails
To make your white nails a bit fancier adorn them with gold studs and glitter hearts. White goes with everything so it's ideal choice if you want to experiment with 3D nail accessories in various designs and colors. The white nail polish used to create this look is Essie "Blanc" while the gold one is OPI "Love.Angel.Music.Baby".
11. 3D Flower Accent Nail
This elegant and girly nail design is fit for everyday wear. Besides being absolutely beautiful, this nail design is also quite easy to create. You just need to place some pearl studs and a 3D nail flower to your fingernail and you're good to go!
12. Nude & Dark Blue Coffin Nails
Coffin nails are the latest nail trend. Women went crazy for this nail shape because it's sexy and ideal for wearing heavy 3D nail accessories. Apparently, long nails can give you energy and power… especially if you adorn them with some bling bling.
13. Dark Nude Nail Design
What a gorgeous nude color, right? Polka dots and a sequin heart are a great way to break up an all-nude look. Don't own a dotting tool? No worry, you still can dot your nails using a bobby pin or toothpick.
14. White & Silver Nail Design
Why choose between a glitter, rhinestone, or sequin manicure when you can wear all three at the same time? This nail design might seem hard to create, but it's actually really simple.
15. Black & Pink Design
You can recreate this nail design even if you're a nail art newbie. Chevron pattern provides a gorgeous design, and it's quite easy to do. It looks great in every color combo.
16. Colorful & Simple Design
Here's a nail design where less is so much more. Pastel colors with a single glittered nail create a simple, trendy and elegant look. It's so simple to do, yet so stunning. Right?
17. Black & Yellow Nails
The contrast between glittery yellow and black nail polish is so striking. If you want an eye-catching nail design, always pick shades with  an intense contrast.  That big rhinestone on a fingernail brings this design to a whole new level.
18. Dark Red & Gold Design
A floral accent nail is fun and trendy, and an easy way to update your simple manicure. This nail design is perfect for fall.
19. Light Pink Heart Design
We are always in the mood for some hearts on our nails, whether it's Valentine's Day or not. Rhinestones really bring the whole look together. Products used: OPI "Alpine Snow" and "I Love Applause".
20. Matte Grey & Pink Nails
If you still haven't given 3D nail art a try, you definitely need to! Nail art accessories are compatible with both natural and artificial nails, they are easy to apply and they can last for a long time.
21. Light Pink Nails + Rhinestones
Don't be afraid to go crazy with rhinestones when wearing light pink and nude base colors. Nail art rhinestones come in various colors and sizes and they are a cheap way to make your nails stand out. You can get 100 pieces for only $1.99. Insane deal!
22. Nude & White Nail Design
Nude and white are a classic and chic combo, plus they are totally in right now. When paired with rhinestones, they create an ultimate polished look. The nude nail polish is OPI "Samoan Sand".
23. Light Pink & Silver Design
Keep it feminine and flirty with a light pink base coat and silver designs. Bling the fingernail up with some rhinestones and a flower in the same colors. OPI nail polishes used to create this manicure are – "Mod About You" and "This Gown Needs a Crown".
24. Ombre Coral & Gold Nails
A gold sequin nail polish might be the easiest way to amp up your manicure. This one is Essie's "Summit of Style". The ombre effect is created using Essie's "Tart Deco" and "A Crewed Interest".
25. Pastel Nails + Gold Details
This nail design is a bit more time consuming, but the effort is worth it. Pastel colors and gold details make this nail design perfect for spring. The green nail polish is L'Oreal "Pistachio Drage".
26. Dark Blue & White Nails
Glitter gradient is one of our favorite nail designs. You wouldn't believe how easy it is to make. Apply your white base color and let it dry. Then, apply a sequin nail polish, concentrating more product on the tips. Sequin nail polish makes this design easy to achieve because it does all the job for you. This gorgeous royal blue shade is Butter London "Royal Navy".
27. Dark Grey & Gold Glitter Nails
A combo of dark grey and sequin gold nail polish make these nails look like a million bucks! The design works great for any nail length and shape. Products used: China Glaze "I'm not Lion" and "Release".
28. Matte Black & Nude Nails + Gold Details
A matte manicure always looks elegant and sexy. Recently, matte nail trend has taken the nail art community by storm. If you love this trend as much as we do, consider buying a matte top coat. This amazing product will transform any shiny nail polish into a pretty satin finish. OPI products used to create this design: OPI "Honey Ryder", "Black Onyx" and "Don't Pretzel my Buttons".
29. Light Pink & Green Nails
Pink and green are probably not the colors you would usually pair, but as you can see, they look absolutely stunning together!  The green shade is Essence "L.O.L" and the light pink is OPI "Mod About You".
30. Pink Heart Nail Design
Pink nails with hearts and sequins are always a great option. These lovely colors will instantly brighten up your mood. Nail polishes used: OPI "Chic from Ears to Tail" and Zoya "Ginni".
31. White Nails + Gold Glitter
If heavily decorated nails aren't your thing, you will love this simple white and gold mani. White and gold are one of our favorite summer combos. It's elegant and timeless. This sparkly gold nail polish is OPI's "Love.Angel.Music.Baby".
32. Dark Red Flower Design
These simple but cute flowers can be on your nails, too! To make them so clean and perfect, you'll need a dotting tool. Products used: OPI "Meet me at the Disco" and "Snow me White".
33. Simple Black & Gold Design
Go goth with this matte black mani with a pop of gold. This nail design is ridiculously easy to do and can never go wrong.  The black nail polish is Essie's "Licorice" finished with Essie's "Matte About You".
34. Pink Rhinestone Accent Nail
You don't have to go crazy with your rhinestones to have a sparkly manicure. With a different color on an accent nail, this nail design would work great as a bridal mani. Right?
35. Tiffany Blue, White & Gold Nails
Having trouble choosing between gold, white and Tiffany blue color? Why not go with all three? Products used: Zoya "Bar", Sally Hansen "Golden" and China Glaze "Too Yacht to Handle".
36. Dark Blue Chevron Design
This navy blue nail polish (OPI "I Saw… U Saw… We Saw… Warsaw) is a perfect choice if you like the look of dark nails, but are tired of wearing burgundy and black shades.
37. Pink & Gold Nails + Flower Accent Nail
Nothing says "spring" quite like a colorful and floral manicure. Flowers in any size and color, are always an awesome choice for an accent nail.
38. Ombre Silver Glitter Design
Need a quick but elegant manicure? Opt for this lovely and easy nail design. Sparkly manicures are so magical and pretty! Products used: Zoya "Madeline" and "Lux".
39. Black & Nude Design with a Pop of Gold
This vampy nail design would go perfect with an attractive black dress and red lips. Nude and golden nails make this manicure more feminine and subtle.
40. Simple Nude, White and Silver Design
This nude and white nail design is ideal to wear all season long. Nude colors compliment all skin tones. Whenever you're creating an elegant nail art, make sure to include something sparkly. A pop of gold or silver glitter can make a huge difference.
41. Long Pink & Nude Nails
Headed on vacation? Opt for these super-girly shades. This nail design will make your tan really pop. The sparkly nail gives this manicure a gorgeous twist.
42. Nude Nails + Glitter Tips
Nude and creamy shades are a perfect choice for a background base. They are very versatile and can go with a lot of colors. Products used: Essie "Brooch the Subject" and OPI "The Living Daylights".
43. Black & White Design
Make a statement with your manicure! Rhinestones add just the right amount of glam and sparkle to this black and white nail design.
44. Pink Matte Nails
There's just something about matte nails. This bright nail design will make you ready for summer in snap! For a less bold take, instead of black use a nude or white shade on your accent nail.
45. Dark Red Nails with a Pop of Gold
As soon as you re-create this nail design, you'll be showing it off to everyone. Red and gold combos are always a good choice for holiday season. Products used: China Glaze "Angel Wings" and OPI "Miami Beet".
46. Pink and Gold Nail Design
Gold is a great accent when you're creating nail art… and pink is the perfect shade to pair it with. The gold nail shade is China Glaze "Angel Wings".
47. Nude & Gold Nails
This nude and gold nail design is both chic and sophisticated. Such a classic color combination no matter the season! Love it!
48. Neon Pink Nails + Silver Glitter
A chunky glitter nail polish swiped over a bright pink nail makes a stunning nail design for any occasion. Products used to create this gorgeous manicure are: China Glaze "Feel the Breeze" and Zoya "Bar".
49. Pastel Orange Nails + Rhinestones
This nail design will dress up any outfit. Rhinestones are very versatile and can go with any shade. Product used: Zoya "Cole".
50. Simple & Elegant Nail Designs
When your base is nude or beige, you can always have fun with different embellishments, patterns, graphics and glitter. This nail design is wild enough for a party and subtle for a daytime manicure.
Last modified on November 13, 2022